Telekom Romania marks one year on the market, by launching the best integrated offer for the entire family

Commercial premieres, customer excellence focus, all-in-one philosophy, significant investments in technology and infrastructure are some of the major outcomes of Telekom Romania's strategy based on innovation and technological leadership

After the first year of Telekom presence on the Romanian market, the focus on MagentaONE offers paid off, as approximately 150,000 customers chose fixed-mobile convergent bundles.

"A year ago, Romania was joining the worldwide Deutsche Telekom family. Since then we have strived to bring to our customers the best and the simplest solutions for both their families and businesses. We launched the fixed-mobile integrated bundles one year ago and up to now MagentaONE packages were chosen by approximately 150,000 customers who are the most satisfied and engaged, according to our internal studies. We continued the optical fibre coverage expansion, we enhanced the interactive television platform and we remained the most trusted partner for business. In 2015, we welcomed Robbie Williams for the first time in Romania and we became the main sponsor of the National Football Team. Thus, we are committed to provide memorable experiences to our customers. Now we share with our customers the best bundle MagentaONE for the entire family", stated Nikolai Beckers, CEO of the Telekom Romania operations.

New benefits for MagentaONE customers

For the residential segment, starting September, MagentaONE offers the best deal for the entire family with more data, more voice benefits and other features. The new commercial offer includes for integrated fixed-mobile MagentaONE customers up to 6 supplementary mobile services. New or existing MagentaONE customers can add, without a minimum contract duration, up to 4 Mobil Voce Familie or Mobil Date Familie supplementary services for 4.95 Euros/month, VAT included, per package. Depending on customers' preferences, on top of unlimited on-net (voice and SMSes), they can choose more voice benefits with Mobil Voce Familie, bringing monthly 1000 national minutes/SMSes, 200 mobile international minutes and 750MB data traffic or can opt for more data traffic with Mobil Date Familie including 500 national minutes/SMSes, 200 mobile international minutes and 1.5 GB traffic. In addition to these two packages combining voice and data, customers can opt for up to two data focussed subscriptions called Date Tableta Familie. With all the new family offers the mobile phones or tablets can be bought and paid in monthly instalments. As additional benefit for each supplementary package, the customer will receive 1GB traffic for the main mobile service.


New customers have 50% off for first 6 months for promotional bundles which include Mobil L and TV L, Internet L, VoceFixa S, at 72 lei, VAT included, or Mobil L with TV M, Internet L, VoceFixa S, at 69 lei, VAT included, for the same period.


For the business segment, the fixed-mobile bundles portfolio has been enhanced with extra options, targeting mainly SME customers. Thus, presently, all the existing business customers having at least one Telekom fixed service and one Telekom mobile service can get an OneDrive for Business account at no cost, including 1 TB of secure storage space (ISO certified) and access to the online version of the Microsoft Office software. Moreover, this segment of business customers is served in call-centers, in average, in 10 seconds.

New exclusivities for TV customers

In terms of satisfaction level, interactive television customers are the happiest, as a result of constant developments of the features available on IPTV platform, which, in terms of preferences, had the fastest adoption rate among the TV platforms available in Telekom portfolio. In general, Telekom TV customers appreciate content, HD quality and interactive functionalities, besides the number of channels.

In time, on the TV platform were added more than 10 exclusive TV channels. The most recent one is Nat Geo People for linear TV, available for all customers starting with the beginning of September. Nat Geo People is the newest brand from National Geographic portfolio that offers access to inspiring stories of real people all over the world. Also, on Telekom TV Interactive and Web & Mobile platforms a new exclusive VoD package can be accessed by movie fans: Dolce Movies on Demand with PictureBox from NBCUniversal, available for the first time in Romania and bundled with other existing extra-packages (MUBI & Disney Movies on Demand).

Football fans can benefit of HD quality as Dolce Sport HD becomes part of all basic packages for all TV technologies. Moreover, Dolce Sport 2 HD is now available also for satellite TV customers in all basic packages, in addition to the ones dedicated to Interactive TV users. Therefore, Telekom TV customers can enjoy a full experience, while watching all matches of UEFA Champions League and UEFA Europa League in exclusivity.

Enhanced ICT capabilities for business customers

In the next period, corporate business customers will benefit from the outcomes of pilot projects for Smart Cities such as: Smart Lighting, Smart Parking, Video Surveillance, Smart Transportation. Among the strategic ICT objectives of Telekom for the next 12 months are the further development of managed services and new services in ICT area such as Mobile PoS, Branch of the Future for banking, Managed Wi-Fi as a Service, digital signature solutions, electronic archive, Cloud CRM and ERP. The M2M portfolio is also growing with solutions like Elevator Emergency, Taxi dispatch solution.

---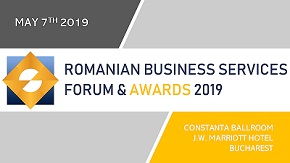 » Huawei opens a centre on cyber securit...
» ROMANIAN OUTSOURCING AWARDS FOR EXCELL...
» Romania ranks above EU average in gend...
» Bucharest, in the top of cities in Eur...
» Berg Software Romania: Reasons to outs...
» KPMG launches an application enabling ...
» Bogdan Pelinescu, president of ABSL: A...
» Meet the experts who will decide the w...
» ABSL GALA AWARDS celebrated its winner...
» Oracle reaches 4,200 employees and pla...

Colin C. Lovering: Meet the speakers at Romanian Business Services Forum & Awards 2019, on May 7

Colin C. Lovering has been living and working in Romania since 2009 when he arrived to offer consultancy and advice to organisations looking for growth and profitability and founded Achieve International.
Read Full article »
Antoniu Panait: Meet the speakers at Romanian Business Services Forum & Awards 2019, on May 7

Managing Director for VASTINT Romania since 2009, Antoniu Panait has an executive experience of more than 10 years, mainly in real estate.
Read Full article »
Andrei Voica: Meet the speakers at Romanian Business Services Forum & Awards 2019, on May 7

Andrei Voica, Director Project Management and Workplace Consultancy, Colliers International. Truly passionate about his work and always eager to add value to each project.
Read Full article »
Romulus Caralicea: Meet the speakers at Romanian Business Services Forum & Awards 2019, on May 7

Romulus is Wipro's Information Security, Risk & Compliance Lead for Europe. In his role he is managing internal audits and compliance activities for all clients and internal functions based on the corporate ISO
Read Full article »
George Didoiu: Meet the moderator of Romanian Business Services Forum 2019 CEO LEADERS DEBATE, on May 7

In his 15 years of real estate, George Didoiu advised on the relocation of top IT&C, finance-banking and consultancy companies, which total over 10,000 employees.
Read Full article »