ABSL launches a master in partnership with ASE

The Association of Business Service Leaders in Romania (ABSL) announced the launch of Business Services 2 year-master program developed in partnership with The Bucharest-based Academy of Economic Studies (ASE).

This program answers to the increasing need for professionals in business services, as over 60.000 are currently hired in the field and the companies that are member of ABSL amount 25 per cent.

The newly launched programs aims at supporting the development of business services and contribute to the professional tuition to the next wave of industry specialists. The academic program offers for this university year, 50 places. According to Daniel Bratu, vice president of Genpact and founding member of ABSL, the program will offer a real tuition in practical matters to the young professionals. "We expect that 80 per cent of students to be recruited by the companies member of ABSL after graduation," said Bratu.

Within the two years, the students will learn about operational management, sales and marketing, risk management, ERP systems, financial analysis and processes of business services, from trainers and managers of ABSL and Academic professors. In the fourth semester, the master students will put intro practice their knowledge in a six-year practice in companies members of ABSL. In this interval, they will be able to prepare for the dissertation paper.

The Association of Business Service Leaders in Romania (ABSL) is a leading organization representing the business services sector, gathering high profile companies which conduct business in the area of Shared Services Center (SSC), Business Process Outsourcing (BPO), Information Technology Outsourcing (ITO), Research and Development (R&D) and has members: Accenture Services, APT Resources & Services, Automobile Dacia, AWP Romania, CBRE Real Estate Consultancy, Connections Consult, DB Schenker, EUCOM Business Language, Genpact Romania, Global Remote Services, Hewlett Packard Global Business Center, Luxoft Professional Romania, Microsoft Romania, Office Depot Service Center, OMV Petrom Global Solutions, Optima Solutions Services, PricewaterhouseCoopers Servicii, Process Solutions, Renault Business Services, Société Generale European Business Services, Stefanini Romania, TELUS International Europe, UCMS Group Romania, Unicredit Business Integrated Solutions, Valoris Center, Vauban, Vodafone Shared Services Romania, Wipro Technologies, WNS Global Services, iar partenerii strategici ai asociaţiei sunt ACCA, Colliers International, Corporate Office Solutions, Fine Law, Hays Talent Solutions, I-Future, KPMG, McCann PR, Mikomax and Skanska.

---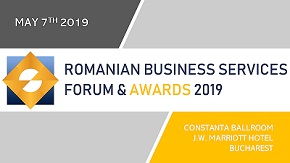 » Huawei opens a centre on cyber securit...
» ROMANIAN OUTSOURCING AWARDS FOR EXCELL...
» Romania ranks above EU average in gend...
» Bucharest, in the top of cities in Eur...
» Berg Software Romania: Reasons to outs...
» KPMG launches an application enabling ...
» Bogdan Pelinescu, president of ABSL: A...
» Meet the experts who will decide the w...
» ABSL GALA AWARDS celebrated its winner...
» Oracle reaches 4,200 employees and pla...

Colin C. Lovering: Meet the speakers at Romanian Business Services Forum & Awards 2019, on May 7

Colin C. Lovering has been living and working in Romania since 2009 when he arrived to offer consultancy and advice to organisations looking for growth and profitability and founded Achieve International.
Read Full article »
Antoniu Panait: Meet the speakers at Romanian Business Services Forum & Awards 2019, on May 7

Managing Director for VASTINT Romania since 2009, Antoniu Panait has an executive experience of more than 10 years, mainly in real estate.
Read Full article »
Andrei Voica: Meet the speakers at Romanian Business Services Forum & Awards 2019, on May 7

Andrei Voica, Director Project Management and Workplace Consultancy, Colliers International. Truly passionate about his work and always eager to add value to each project.
Read Full article »
Romulus Caralicea: Meet the speakers at Romanian Business Services Forum & Awards 2019, on May 7

Romulus is Wipro's Information Security, Risk & Compliance Lead for Europe. In his role he is managing internal audits and compliance activities for all clients and internal functions based on the corporate ISO
Read Full article »
George Didoiu: Meet the moderator of Romanian Business Services Forum 2019 CEO LEADERS DEBATE, on May 7

In his 15 years of real estate, George Didoiu advised on the relocation of top IT&C, finance-banking and consultancy companies, which total over 10,000 employees.
Read Full article »