Indian IT & services industry on track to reach USD 225 billion by 2020

Indian technology and services industry is on track to reach its goal of USD 200 billion to USD 225 billion in revenues by 2020 and furthermore, to reach revenues of USD 350 billion by 2025, said NASSCOM in its latest report, quoted by firstpost.com.

The report, titled Perspective 2025: Shaping the Digital Revolution, which is based on research conducted for over a year by McKinsey & Company, stated that technology is becoming a dominant factor in capex, making return on technology investment a key success factor for enterprises.

With a $6 trillion cumulative technology capital investment globally, the economic landscape will be split among three types of enterprises: digital leaders and attackers, smart followers, and digital laggards.

Each of these enterprises will operate a varied mix of disruptive, transformative, and traditional technology, mirrored in their investment choices. Driven by the adoption of digital technology, the total addressable market for global technology and business services will likely expand to about $4 trillion by 2025, growing at an average annual rate of about 3.6 percent, the report added.

The big implications for companies are: the need to develop new service lines. New service lines will account for 40 percent of all revenues by 2025; shifting portfolios to advanced, disruptive technologies; managing customer digitization at different speeds. Companies will need to cater to customers who are Digital leaders, Smart followers as well as the Digital laggards; re-skilling of people as revenues decouple from headcount; and forging new capabilities through M&A, partnerships, incubators and open innovation.
CP Gurnani, vice chairman, NASSCOM, said, "Digital leaders and attackers will make significant investments to convert their entire system into digital architecture. Smart followers will deploy digital technologies into their front end services, while retaining the legacy technologies for the moment. Digital laggards will keep most of their legacy systems, making only incremental investments in digital tech.''

Probably the most pressing need is for companies to develop offerings along new digital service lines, even as they re-invent their traditional service lines. Noshir Kaka, managing director, McKinsey & Company, India said, "Companies hoping to prosper in the new environment will have to closely watch six new service lines - including the Internet of Things, cybersecurity, social, mobility, analytics and cloud."

Overall, the share of digital technology investment in cumulative expenditures will rise from 10 percent in 2014 to 35 percent in 2020 and 60 per cent in 2025, according to the report.
About 80 percent of incremental expenditures will be driven by digital technologies. These could be platforms, cloud-based applications, big data analytics, mobile systems, social media, and cybersecurity, as well as services needed to integrate these technologies with legacy tech.
Half of this incremental investment will be funded by a projected 20 to 25 percent cut in legacy expenditures. These reductions will be largely in spends on infrastructure, traditional application development and packaged software.
The global addressable market for Business Process management (BPM) services will likely touch about $ 260 billion by 2025, for an annual average growth rate of 4 to 6 per cent. Expansion will be driven by business process-as-a-service offerings and big data analytics.
The global total addressable market for engineering services will likely reach up to $480 billion by 2025, a compound average growth rate of 8 percent. The share of embedded software will rise significantly and lines between investment in engineering services and information and communications technology will blur.
Technology and business services expenditures in India is projected to reach $120 billion to $130 billion by 2025, an average annual growth rate of 10 percent.
Over the next decade, five disruptive forces will shake the global economy and touch all aspects of society. These forces will create a world that is more interconnected, more interactive, and more aware, while at the same time one that is trying to harness and protect the same set of finite resources.

This digital transformation that is impacting the global economy is also creating new imperatives for India's growth, with many companies adopting digital technologies into their business models. For 2015 & beyond, the growth rate is likely to be ahead of many other leading economies such as China, Brazil and Russia, the report claimed.

The report outlines key steps that are needed to become a global centre for innovation in digital technology:
-- Foster Innovation clusters: that will fund research in key emerging technologies and linked to technology institutes.
-- Build Capabilities: Design, develop and rollout a massive reskilling programme to train and reskill 4-5 million people.
-- Entrepreneurship: Turbo-charge the startup economy and government's ongoing Startup India programme.
-- Branding: Undertake a branding and public relations exercise, media campaign to reposition India as a global Digital Innovation Hub, moving ahead from its current pole position of low cost and efficiency leader.
-- Regulatory: To support the development of India as a centre for digital innovation, new regulations should help create a domestic market, protect intellectual property, strengthen cyber-security laws and ease the creation of public-private partnerships in education.


---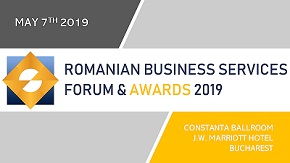 » Huawei opens a centre on cyber securit...
» ROMANIAN OUTSOURCING AWARDS FOR EXCELL...
» Romania ranks above EU average in gend...
» Bucharest, in the top of cities in Eur...
» Berg Software Romania: Reasons to outs...
» KPMG launches an application enabling ...
» Bogdan Pelinescu, president of ABSL: A...
» Meet the experts who will decide the w...
» ABSL GALA AWARDS celebrated its winner...
» Oracle reaches 4,200 employees and pla...

Colin C. Lovering: Meet the speakers at Romanian Business Services Forum & Awards 2019, on May 7

Colin C. Lovering has been living and working in Romania since 2009 when he arrived to offer consultancy and advice to organisations looking for growth and profitability and founded Achieve International.
Read Full article »
Antoniu Panait: Meet the speakers at Romanian Business Services Forum & Awards 2019, on May 7

Managing Director for VASTINT Romania since 2009, Antoniu Panait has an executive experience of more than 10 years, mainly in real estate.
Read Full article »
Andrei Voica: Meet the speakers at Romanian Business Services Forum & Awards 2019, on May 7

Andrei Voica, Director Project Management and Workplace Consultancy, Colliers International. Truly passionate about his work and always eager to add value to each project.
Read Full article »
Romulus Caralicea: Meet the speakers at Romanian Business Services Forum & Awards 2019, on May 7

Romulus is Wipro's Information Security, Risk & Compliance Lead for Europe. In his role he is managing internal audits and compliance activities for all clients and internal functions based on the corporate ISO
Read Full article »
George Didoiu: Meet the moderator of Romanian Business Services Forum 2019 CEO LEADERS DEBATE, on May 7

In his 15 years of real estate, George Didoiu advised on the relocation of top IT&C, finance-banking and consultancy companies, which total over 10,000 employees.
Read Full article »