Romania sees office investments worth 600 mln euro at 9M

Romania posts an investment level of 600 million euro worth of office buildings under construction for the first nine months (9M) of 2015, according to Jones Lang La Salle (JLL).

The Q3 preliminary volumes keep CEE on track for a record level of investment activity in 2015, states JLL.

The breakdown of preliminary volumes for Q1-Q3 2015 is being led by The Czech Republic, with about 2.4 billion euros investments, followed by Poland, with 1,55 billion, and Romania, with 60 million euro worth of investments into commercial properties.

The summer months have again seen a hive of activity across the CEE with a preliminary transaction volume of well over 2.8 billion euro recorded in the third quarter. This quarterly figure represents one of the strongest third quarters in the market's history and is only marginally short of the record breaking year of 2007. This activity brings the preliminary year-to-date regional investment volume to more than e5.5 billion euro and represents a 22% growth year on year.

Kevin Turpin, Head of Research CEE at JLL, commented: "With the final quarter of the year often representing one of the busiest periods for our investment teams, and looking at the pipeline of deals that are in advanced stages, we predict that the CEE regional volume could reach the €8 billion mark by the year end. Should the latter happen, it would put 2015 at the highest level since the economic downturn and third highest in the past 12 years".

The Czech Republic currently leads in terms of investment volumes with a share of 43% followed by Poland with 28%, Romania with 11%, Hungary with 10%, Slovakia with 2% and the SEE countries recording improved activity with a 6% share.
B.T.

---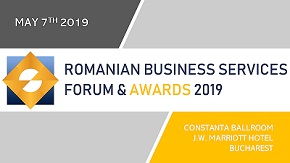 » Huawei opens a centre on cyber securit...
» ROMANIAN OUTSOURCING AWARDS FOR EXCELL...
» Romania ranks above EU average in gend...
» Bucharest, in the top of cities in Eur...
» Berg Software Romania: Reasons to outs...
» KPMG launches an application enabling ...
» Bogdan Pelinescu, president of ABSL: A...
» Meet the experts who will decide the w...
» ABSL GALA AWARDS celebrated its winner...
» Oracle reaches 4,200 employees and pla...

Colin C. Lovering: Meet the speakers at Romanian Business Services Forum & Awards 2019, on May 7

Colin C. Lovering has been living and working in Romania since 2009 when he arrived to offer consultancy and advice to organisations looking for growth and profitability and founded Achieve International.
Read Full article »
Antoniu Panait: Meet the speakers at Romanian Business Services Forum & Awards 2019, on May 7

Managing Director for VASTINT Romania since 2009, Antoniu Panait has an executive experience of more than 10 years, mainly in real estate.
Read Full article »
Andrei Voica: Meet the speakers at Romanian Business Services Forum & Awards 2019, on May 7

Andrei Voica, Director Project Management and Workplace Consultancy, Colliers International. Truly passionate about his work and always eager to add value to each project.
Read Full article »
Romulus Caralicea: Meet the speakers at Romanian Business Services Forum & Awards 2019, on May 7

Romulus is Wipro's Information Security, Risk & Compliance Lead for Europe. In his role he is managing internal audits and compliance activities for all clients and internal functions based on the corporate ISO
Read Full article »
George Didoiu: Meet the moderator of Romanian Business Services Forum 2019 CEO LEADERS DEBATE, on May 7

In his 15 years of real estate, George Didoiu advised on the relocation of top IT&C, finance-banking and consultancy companies, which total over 10,000 employees.
Read Full article »