Jacek Levernes: Promoting Romania and CEE to worldwide leaders

As Jacek Levernes and other business services industry leaders promoted Romania in their recent business tour to New York, major investors with assets worth billions of dollars showed their interest for the region.

"Some of us went to New York at the ABSL- Bloomberg conference, where we met some of the leaders of the world. There was the COO of Goldman Sachs, the CFO of Moneygram, the COO of Franklin Templeton, other senior leaders of P&G and other companies, and guess what? They were talking to other senior americans and explaining how fantastic is to invest in Eastren Europe and how great is to have operations there."

Jacek Levernes is the President of ABSL Poland, Vice‐President, HP Global Business Services – Europe, Middle East & Africa (EMEA), and member of HP EMEA Executive Leadership Team President of the Association of Business Service Leaders in Poland (ABSL).

Levernes is responsible for Hewlett‐Packard′s Global Business Service across EMEA since 2009, and member of HP EMEA's Executive Management Board. He previously served as Managing Director of HP Global Business Center in Wroclaw, Poland.

He also worked as the Global Account Manager at HP BPO, where he was responsible for worldwide services provided to, amongst others, Procter & Gamble. Between 1996 and 2005, Mr. Levernes worked with Baxter International in Chicago, Brussels, and Zurich.

His areas of expertise are the European and global business services and outsourcing sectors, foreign investment, client advisory, operational management, procurement as well as strategy and business development. Mr. Levernes was born in Wroclaw/Poland, but is a Norwegian citizen, speaks multiple languages, and was educated at Indiana University in the USA, NHH in Norway, NUS in Singapore, as well as INSEAD in France.

Jacek is also the co‐founder and President of the Management Board of the Association of Business
Service Leaders ‐ ABSL (the national business service sector body) in Poland since 2009 ‐ representing 80.000 jobs, and investors like IBM, Google, McKinsey, Sony, Shell, UBS, Citi, Credit Suisse, Franklin Templeton, CapGemini, P&G, and Thomson Reuters. (Photo credentials: Parkiet.com).


---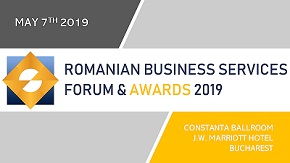 » Raiffeisen Bank Romania outsources onl...
» Horváth & Partners launches Steering ...
» Genpact, Luxoft and Oracle, top lessee...
» JLL: Total office space in Bucharest t...
» Oracle results pushed down by a strong...
» SSC in Romania. Who takes the lion's s...
» World-class HR organizations now spend...
» Romanian employers report the stronges...
» Eucom: Nine out of ten corporate Roman...
» DTZ: Office demand outside Bucharest t...

My HR Lab: Research of suitable candidates and giving feedback to rejected ones, the biggest challenge in HR

During June 2019, My HR Lab company run an online (social media platforms) survey "Challenges of the recruitment process" which enrolled over 100 professionals working in HR and recruitment in Romania.
Read Full article »
The local market needs more added-value and complex projects to be developed by the companies

The statement has been uttered within this year's Romanian Outsourcing and Shared Services Summit by Catalina Dodu, Country Manager at Atos, pointing to the local enablers that could enhance the innovation and
Read Full article »
The office market at a glance: The round for tenants is on

Data provided by CBRE show that the office spaces segment will continue to grow rapidly in 2019, and 15 new projects covering 304.000 sqm will be delivered. According to the real estate consultancy agency, curr
Read Full article »
People Empowering Business Forum 2019 to take place on October, 30 at Bucharest

Latest trends like demographic upheaval, globalization, digital technology, and changing social values and worker expectations, are disrupting business models and radically changing the workplace. These are req
Read Full article »
Addressing the mantra of cyber-security: Confidentiality, integrity and availability

The fast advancement of technology in all the aspects of everyday life, either personal or professional, and the emerging of AI (Artificial Intelligence) and ML (Machine Learning), not to mention cloud technolo
Read Full article »