Jacek Levernes: Promoting Romania and CEE to worldwide leaders

As Jacek Levernes and other business services industry leaders promoted Romania in their recent business tour to New York, major investors with assets worth billions of dollars showed their interest for the region.

"Some of us went to New York at the ABSL- Bloomberg conference, where we met some of the leaders of the world. There was the COO of Goldman Sachs, the CFO of Moneygram, the COO of Franklin Templeton, other senior leaders of P&G and other companies, and guess what? They were talking to other senior americans and explaining how fantastic is to invest in Eastren Europe and how great is to have operations there."

Jacek Levernes is the President of ABSL Poland, Vice‐President, HP Global Business Services – Europe, Middle East & Africa (EMEA), and member of HP EMEA Executive Leadership Team President of the Association of Business Service Leaders in Poland (ABSL).

Levernes is responsible for Hewlett‐Packard′s Global Business Service across EMEA since 2009, and member of HP EMEA's Executive Management Board. He previously served as Managing Director of HP Global Business Center in Wroclaw, Poland.

He also worked as the Global Account Manager at HP BPO, where he was responsible for worldwide services provided to, amongst others, Procter & Gamble. Between 1996 and 2005, Mr. Levernes worked with Baxter International in Chicago, Brussels, and Zurich.

His areas of expertise are the European and global business services and outsourcing sectors, foreign investment, client advisory, operational management, procurement as well as strategy and business development. Mr. Levernes was born in Wroclaw/Poland, but is a Norwegian citizen, speaks multiple languages, and was educated at Indiana University in the USA, NHH in Norway, NUS in Singapore, as well as INSEAD in France.

Jacek is also the co‐founder and President of the Management Board of the Association of Business
Service Leaders ‐ ABSL (the national business service sector body) in Poland since 2009 ‐ representing 80.000 jobs, and investors like IBM, Google, McKinsey, Sony, Shell, UBS, Citi, Credit Suisse, Franklin Templeton, CapGemini, P&G, and Thomson Reuters. (Photo credentials: Parkiet.com).


---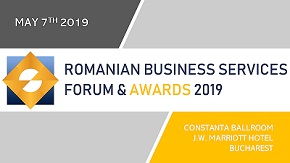 » Huawei opens a centre on cyber securit...
» ROMANIAN OUTSOURCING AWARDS FOR EXCELL...
» Romania ranks above EU average in gend...
» Bucharest, in the top of cities in Eur...
» Berg Software Romania: Reasons to outs...
» KPMG launches an application enabling ...
» Bogdan Pelinescu, president of ABSL: A...
» Meet the experts who will decide the w...
» ABSL GALA AWARDS celebrated its winner...
» Oracle reaches 4,200 employees and pla...

Colin C. Lovering: Meet the speakers at Romanian Business Services Forum & Awards 2019, on May 7

Colin C. Lovering has been living and working in Romania since 2009 when he arrived to offer consultancy and advice to organisations looking for growth and profitability and founded Achieve International.
Read Full article »
Antoniu Panait: Meet the speakers at Romanian Business Services Forum & Awards 2019, on May 7

Managing Director for VASTINT Romania since 2009, Antoniu Panait has an executive experience of more than 10 years, mainly in real estate.
Read Full article »
Andrei Voica: Meet the speakers at Romanian Business Services Forum & Awards 2019, on May 7

Andrei Voica, Director Project Management and Workplace Consultancy, Colliers International. Truly passionate about his work and always eager to add value to each project.
Read Full article »
Romulus Caralicea: Meet the speakers at Romanian Business Services Forum & Awards 2019, on May 7

Romulus is Wipro's Information Security, Risk & Compliance Lead for Europe. In his role he is managing internal audits and compliance activities for all clients and internal functions based on the corporate ISO
Read Full article »
George Didoiu: Meet the moderator of Romanian Business Services Forum 2019 CEO LEADERS DEBATE, on May 7

In his 15 years of real estate, George Didoiu advised on the relocation of top IT&C, finance-banking and consultancy companies, which total over 10,000 employees.
Read Full article »