Romania ranks second in Deloitte's CE Technology Fast 50 top

Romania ranks 2nd in Deloitte's CE Technology Fast 50 2015 top, after Poland, with ten businesses present in the competition of the most dynamic companies in the field of technology, in terms of revenue growth over a period of four years. Romania registered a significant increase for the third consecutive year, with 29 companies registered (compared to 18 in 2014), of which ten in Fast 50 (compared to six in 2014) and the leader of

In the context of Romania's economy recording the highest growth in CEE in the first three quarters of the year, eight of the local companies included in Deloitte's Fast 50 ranking are new entries. At the same time, out of two Romanian companies, one is the leader of the Big 5 category, which includes dynamic companies with incomes too high to compete side by side with smaller businesses from the Fast 50 top. Compared to last year, Romania registered an increase in the number of companies from the software sector. Five of the companies included in the top are headquartered in Bucharest, two in Cluj-Napoca, one in Iasi, one in Sibiu, one in Timisoara and one in Baia Mare.

"We are very proud of all the Romanian companies included in the Fast 50 2015 ranking and that Romania registers significant increases from year to year. This confirms the local business environment's competitiveness, and especially the fact that Romanian entrepreneurs' talent has made the difference in the region in recent years," said Alina Mirea, Deloitte Romania Partner and local project manager for Fast 50. "Moreover, we can say that we are already witnessing the emergence of a genuine community of Romanian entrepreneurs, which Deloitte Romania will continue to bring into the spotlight and to support via regular meetings and know-how transfer."

In turn, Ahmed Hassan, Country Managing Partner Deloitte Romania, underlined that the majority of Romanian companies included in Deloitte's CE Technology Fast 50 ranking were set up before the financial crisis and managed to overcome this difficult period. In contrast, most companies in the region included in the ranking were established in 2009.


"The fact that they have grown over these years, having successfully overcome the crisis period, proves that the entrepreneurs have long term vision, and that they came up with innovative, high-impact solutions in difficult times. Vision and innovation represent values which Deloitte shares, therefore we will continue to support companies in their beginnings, in order to help Romania's entrepreneurial environment confirm its remarkable potential," said Ahmed Hassan, Country Managing Partner Deloitte Romania.

With an increase of 998%, Bucharest's ZebraPay ranks 6th in the regional top, the best position occupied by a Romanian company in the ranking. Present for the second consecutive year in the top, ITNT from Sibiu, the local Fast 50 leader in 2014, continued its growth, with a 933% increase (compared to 1,433% registered last year). Insoft Development & Consulting is also among the stars of this year's edition, as it is present in two categories: 1st place in the Big 5 ranking, and 15th place in the Fast 50 category. A new entry in the top, the company registered a 577% increase.

Teamnet International SA maintains a spot among the Big 5 companies, moving down a position compared to last year (4th place compared to 3rd place in 2014), with a growth rate of 127%.

ASTINVEST ranks 13th (with a growth rate of 705%), followed by Insoft Development & Consulting, on the 15th place (577% growth). Piconet ranks 21st (486% growth), while Geskimo ranks 42nd (419% growth).

The average development rate for the Fast 50 companies in the technology field decreased to 560% from 698% in 2014. Despite the increase in average development rates reported in 2014, there is a continuous decrease from the peak value achieved in 2012, of 1,026%. This year's ranking includes companies from nine countries: Poland (12 companies), Romania (10 companies), Croatia (8 companies), the Czech Republic and Slovakia (5 companies each), Hungary (4 companies), Bulgaria, Lithuania and Serbia (2 companies each). Of the 50 companies, 38 are included for the first time, 3 went up in the ranking, while 8 went down. The top is once again dominated by software companies (29), followed by media companies (14), hardware companies (4) and telecommunications companies (3).


---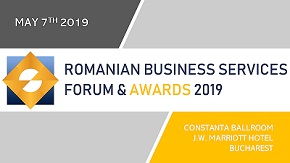 » Nomination are now open for Romanian B...
» PwC: The competitive advantages of Rom...
» Genpact, Luxoft and Oracle, top lessee...
» Philippe Beucher takes a new opportuni...
» CBRE: Romanian outsourcing industry ha...
» Romanian Outsourcing Summit 2016: Walk...
» Molson Coors started to grow its busin...
» Romanian Outsourcing Awards for Excell...
» The Outsourcing industry announces its...
» CrowdStrike opens a new center of inno...

Nomination are now open for Romanian Business Services Forum and Awards

Nominations have opened for the prestigious Romanian Business Services Forum & Awards. The 2019 awards will continue to recognize and reinforce the important contribution made by business services professionals
Read Full article »
Study: 89 per cent of finance teams yet to embrace Artificial Intelligence

Report by Association of International Certified Professional Accountants and Oracle shows that almost 90 per cent of finance teams do not have the skills to support digital transformation.
Read Full article »
Bucharest, in the top of cities in Europe with the largest number of experts in high-tech industry

Bucharest is among the top cities boasting the most experts in the high-tech innovative industry, with over 70,000 current employees, next to London, Dublin, Madrid or Budapest, reads a study conducted by CBRE
Read Full article »
CBRE study: Post-millennials, the happiest about their offices

During 2018, real estate consultancy company CBRE conducted the first study dedicated to work environment in office buildings in Bucharest. The respondents have been structured in four age segments, such as Z g
Read Full article »
Deloitte's Tech Trends 2019 report: Beyond the digital frontier

The recently released Deloitte's Tech Trends 2019: Beyond the digital frontier, as each Tech Trends report in the series conducted by the consultancy company, lobbies for embracing the increasing, often mind-b
Read Full article »