Teamnet, among top 5 standings in Deloitte Technology Fast 50 CE 2015 top

Teamnet, an IT system integrator with regional presence, was ranked fourth in the Big 5 2015 edition of the Deloitte Technology Fast 50 Central Europe.

The report includes the fastest growing technology companies in region, and the hierarchy is achieved by the evolution in income earned by these entities during the period 2011-2014.

Teamnet came into light due to an accelerated growth and sustained business in recent years and is one of the largest companies in the Deloitte 2015, with revenue growth of 127% between 2011 and 2014, according to the analysis conducted for this ranking.

The group's strategy was based on launching products and solutions that contribute to technological development at regional level.

Also, Teamnet constantly invested in developing its key compeneces - Cloud, Robotics, GIS and SCADA - thus supporting public and private organizations to increase their competitiveness in Central and Eastern Europe, Middle East and North Africa.

"The presence for the eighth consecutive year in the renowned Deloitte top honors us, confirming both efforts and results achieved by our team. We took significant steps towards transforming nto a regional group, continuing at the same pace with ambitious goals and plans for the next period. In 2016 we will focus particularly on the development of the group internationally, with the objective of strengthening the position in existing locations and the opening of new offices," says Bogdan Padiu, CEO, Teamnet Group.

More than 40% of Teamnet projects will be regional by 2018, Padiu told The Duiplomat-Bucharest.
"Innovation, ambitious plans and Romanian intelligence have fuelled Teamnet Group's development over the past 14 years into one of the most important IT&C integrators in the region, with annual revenues close to 90 million Euro. The group plans to further capitalize on its vast expertise and capabilities in delivering complex products and projects, aiming to enhance its strategic development at international level," he says.


---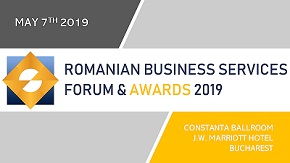 » Nomination are now open for Romanian B...
» PwC: The competitive advantages of Rom...
» Genpact, Luxoft and Oracle, top lessee...
» Philippe Beucher takes a new opportuni...
» CBRE: Romanian outsourcing industry ha...
» Romanian Outsourcing Summit 2016: Walk...
» Romanian Outsourcing Awards for Excell...
» The Outsourcing industry announces its...
» CrowdStrike opens a new center of inno...
» Gartner: Romania moved into the first ...

Nomination are now open for Romanian Business Services Forum and Awards

Nominations have opened for the prestigious Romanian Business Services Forum & Awards. The 2019 awards will continue to recognize and reinforce the important contribution made by business services professionals
Read Full article »
Study: 89 per cent of finance teams yet to embrace Artificial Intelligence

Report by Association of International Certified Professional Accountants and Oracle shows that almost 90 per cent of finance teams do not have the skills to support digital transformation.
Read Full article »
Bucharest, in the top of cities in Europe with the largest number of experts in high-tech industry

Bucharest is among the top cities boasting the most experts in the high-tech innovative industry, with over 70,000 current employees, next to London, Dublin, Madrid or Budapest, reads a study conducted by CBRE
Read Full article »
CBRE study: Post-millennials, the happiest about their offices

During 2018, real estate consultancy company CBRE conducted the first study dedicated to work environment in office buildings in Bucharest. The respondents have been structured in four age segments, such as Z g
Read Full article »
Deloitte's Tech Trends 2019 report: Beyond the digital frontier

The recently released Deloitte's Tech Trends 2019: Beyond the digital frontier, as each Tech Trends report in the series conducted by the consultancy company, lobbies for embracing the increasing, often mind-b
Read Full article »