Ymens launches new ERP for Romanian mid-caps

Ymens, the first cloud broker in Romania, launches Ymens ERP, an Enterprise Resource Planning cloud application powered by one of the ERP and cloud service providers, SoftOne.

Based on the strategic partnership recently announced by the two companies, Ymens aims to generate more than 15% of its turnover next year through the new ERP solution tailored for medium and large Romanian companies.

The Romanian ERP market is estimated to continue its growth in the following year, reaching 106 million euro in 2015 according to market experts (from Pierre Audoin). Customers are experiencing a more and more visible shift from developing their own internal systems towards choosing modern ERP tools, cloud-based and validated by successful projects in their industries, nationally or internationally.

"The efficient planning of enterprise resources has become one of the most important priorities for companies in Romania in the past years. Three from five customers we talk to are interested in using an ERP solution that can really speed up their operations and bring them new means to attain an increased efficiency.

Nowadays, the trend we see in the market favors those systems that already proved to be reliable, affordable and sustained by value-added services that can greatly impact the success of any ERP project. We are committed in offering our customers an ERP solution that can be tailored for their particular needs, comes with enhanced web and mobile functionalities and already proved its capability to sustain a growth of over 30% within business productivity for its users," said Alina Georgescu, Sales Director at Ymens.

Ymens ERP provides companies with a complete visibility over their business and supports a faster decision making process based on accurate real time information. Moreover, it simplifies processes and operations while ensuring high levels of security and availability. This way, companies optimize operational and administrative costs, become more efficient in their operations and save time by standardizing information throughout the company.

"We have great trust in this partnership with Ymens because it brings our innovative cloud ERP solution closer to the customers. Through this collaboration, we extend our network of partners with a strategic local cloud player and we enlarge our number of Romanian companies that will benefit in terms of growth, efficiency and competitiveness. SoftOne, in line with its strategy of bringing the best business solutions on the market, is proud to power the Ymens ERP solution," stated Haris Zachariades, CEO SoftOne Romania.

As a cloud solution, Ymens ERP Powered by SoftOne becomes a unique control point for all the company's processes, providing business users the agility and flexibility they need in order to become more competitive within their markets. The launch of the new ERP solution within Ymens cloud portfolio takes place in the context of a dynamic regional ERP market, with high potential for growth over the following years. Approximately one third of companies in the European Union use an ERP solution, according to Eurostat data for 2014, up by 10 percentage points compared to 2010. Romania is aligning with these trends, various studies showing a 20% increase in investments for ERP solutions last year.


---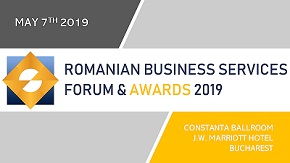 » Huawei opens a centre on cyber securit...
» ROMANIAN OUTSOURCING AWARDS FOR EXCELL...
» Romania ranks above EU average in gend...
» Bucharest, in the top of cities in Eur...
» Berg Software Romania: Reasons to outs...
» KPMG launches an application enabling ...
» Bogdan Pelinescu, president of ABSL: A...
» Meet the experts who will decide the w...
» ABSL GALA AWARDS celebrated its winner...
» Oracle reaches 4,200 employees and pla...

Colin C. Lovering: Meet the speakers at Romanian Business Services Forum & Awards 2019, on May 7

Colin C. Lovering has been living and working in Romania since 2009 when he arrived to offer consultancy and advice to organisations looking for growth and profitability and founded Achieve International.
Read Full article »
Antoniu Panait: Meet the speakers at Romanian Business Services Forum & Awards 2019, on May 7

Managing Director for VASTINT Romania since 2009, Antoniu Panait has an executive experience of more than 10 years, mainly in real estate.
Read Full article »
Andrei Voica: Meet the speakers at Romanian Business Services Forum & Awards 2019, on May 7

Andrei Voica, Director Project Management and Workplace Consultancy, Colliers International. Truly passionate about his work and always eager to add value to each project.
Read Full article »
Romulus Caralicea: Meet the speakers at Romanian Business Services Forum & Awards 2019, on May 7

Romulus is Wipro's Information Security, Risk & Compliance Lead for Europe. In his role he is managing internal audits and compliance activities for all clients and internal functions based on the corporate ISO
Read Full article »
George Didoiu: Meet the moderator of Romanian Business Services Forum 2019 CEO LEADERS DEBATE, on May 7

In his 15 years of real estate, George Didoiu advised on the relocation of top IT&C, finance-banking and consultancy companies, which total over 10,000 employees.
Read Full article »