The Polish lesson: 470 Global BPO and Shared Service Centers

The fact that businesses require increasingly globalized outsourcing solutions is beyond question. These days, some companies are "born global", others achieve globalism or have globalism thrust upon them.

The speed of information transfer, efficiency of control and economy of scale are all reasons why businesses regard the incorporation of global solutions as part of their competitive strategy.

One of the most remarkable changes in Poland over the last five years has been the tremendous investment in Poland as a center for global BPO and shared service centers (SSCs), writes David James for Warsaw Business Journal.

Poland has been able to develop this industry in a spectacular way as a result of its education system, communication infrastructure, and even the hands-on experience of Poles returning from working in the UK.

All these factors accumulate to make this country a fertile ground for this new industry. There are 470 centers and over 150,000 employees working in the sector, serving thousands of businesses from all over the world.

We can say that India has truly had to move over to make room for the Polish outsourcing tiger. There do, however, remain certain problems and issues in the sector which is why some audit firms have developed a raft of solutions especially for the industry and its clients.

The first is the problem of localizing services. After all, it is all very well having your accounts ready to trial in a foreign country but how will people sitting in Poland know about the specific requirements in the company's country of residence?

We have the issue of language but this is usually solved by the fact that Polish centers are home to nationals from dozens of countries from around the world. A more challenging issue is how to deal with indirect and direct taxation and how to make the accounts seem like they were produced across the street when Mr Kuiypers in the local tax office in the Netherlands looks at them?

The remaining issue is auditing – it is not easy for most international audit companies to service SSCs as the systems in most firms require teams of auditors to be flown in from all the respective countries – after all most audit firms are networks run out of the UK or US and are mostly concerned about liability therefore, each country undergoes its own processes.

This adds significantly to the cost and brings in unexpected complexity.
Businesses who would like to begin a global BPO or SSC project and who are considering a choice of providers to help them, can and should obtain independent advice in order to weigh up the pros and cons of different solutions.

David J. James is director of international desks at Mazars in Poland


---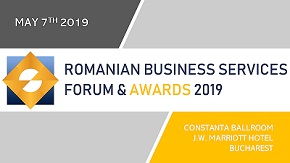 » Meet the winners of ROMANIAN BUSINESS ...
» Evolving from consumers of resources t...
» ROMANIAN OUTSOURCING AWARDS FOR EXCELL...
» Pepper Escu, the first humanoid robot ...
» Rebranding Creativity 2019, the first ...
» Volvo Cars and Uber present production...
» Preparing for the new future
» Berg Software Romania: Reasons to outs...
» George Rotariu, CEO Bitcoin Romania: B...
» George Didoiu: Meet the moderator of R...

Digital Transformation Conference to take place on June 19 at Bucharest

The Diplomat – Bucharest organizes Digital Transformation Conference to be held on 14 of June in Bucharest, at Hilton Hotel - Regina Maria Hall, starting 8:30 AM.
Read Full article »
L&D Conference by The Diplomat Bucharest took place on June 4th at Bucharest

The Diplomat-Bucharest organizes the Third Edition of its Learning & Development CONFERENCE on 4 June, 2019 at InterContinental Hotel Bucharest starting 09:00 am.
Read Full article »
Meet the winners of ROMANIAN BUSINESS SERVICES AWARDS, 2019 edition

ROMANIAN BUSINESS SERVICES FORUM & AWARDS 2019, in its fifth year, brrought on May 7, in Bucharest, a new concept event with engaging keynote sessions by industry leaders, interactive panel discussions, network
Read Full article »
Few hours away from to the long awaited CEO Leaders Debate, a premiere of Romanian Business Services Forum and Awards

We are a few hours away to the long awaited CEO Leaders Debate, a premiere of Romanian Business Services Forum and Awards on May 7.
Read Full article »
Colin C. Lovering: Meet the speakers at Romanian Business Services Forum & Awards 2019, on May 7

Colin C. Lovering has been living and working in Romania since 2009 when he arrived to offer consultancy and advice to organisations looking for growth and profitability and founded Achieve International.
Read Full article »