EXCLUSIVE: ABSL Timisoara - BPO and SSC segment growing fast, far from saturation

Timisoara is very close to Western Europe and has an important, unsaturated talent pool, say leaders of the Association of Business Services Leaders (ABSL).

About 100 business leaders attended today (November 17) the Timisoara ABSL business mixer, which focused on developing new services within the Bega river- based city.

There are lots of foreign investors lured in towards Timisoara, and none of them left, according to City Hall mayor Nicolae Robu.

"No major investment has ever failed so far in Timisoara, they have all succeeded", says Robu.
"We intend supporting all investors, especially green ones. The unemployment rate is of under 1% in Timisoara. There are a lot of private initiatives,…and the local tax discounts of up to 100% depending on the number of workplaces created," Robu added.

A GROWING MARKET

At the same time, the overall sector is growing fast.

"Today, the sector employs over 60,000 people in Romania, and over the next five years we will reach about 150,000. But the potential is of 300,000," says Vivek Bakshi, vice president, Human Resources & Labor Law, ABSL and CEO of Wipro in Romania (Wipro's chief of European International Operations).

The business services industry contributed to the state budget by up to about 500 million euros annually, says Bakshi, and more money are going to come during next years.

"Business services is not about call centers, which represent just a small segment of the BPO industry."

And if the first thing when you looked in the past at the BPO/ SSC segment was the low cost of destination, now we are talking about the value for the business, also says Ciprian Dan, Timisoara head, Wipro.

Business Process as a Service (BPaaS) market is estimated to grow 23% from 2015 to 2020 – according to an estimate by Marketsandmarkets.com, says Dan. BPaaS is any type of horizontal or vertical business process that's delivered based on the cloud services model.

"These days is harder and harder to get highly educated people and retain them, but the talent is there. Advantages: The cultural similarities - they have collaborative approach for projects. Also, as a time zone, is easy to meet any European counterpart. Plus, in Timisoara there's a low rate of attrition. And Romania as an EU member is complying with EU directives regarding data security. So, Romania did not reach its saturation point, we still see a lot of potential," says Ciprian Dan.

FAR FROM SATURATION

Offering the Krakow development example, Ilona Manea, Team manager of Romanian operations, Hays, also says Timisoara market did not saturate.

"I think Timisoara can reach 10-15,000 employees without the market to saturate," says Manea.
Hays, an organization which has a data base of 560,000 potential employees and its own SSC in Krakow, is ready to survey the Timisoara BPS market free of charge, if the businesses want to.
"The growth forecast of the Romanian is very challenging, to reach from 60,000 today to 150,000 in the next five years and 300,000 in the future. Bucharest is among top 50 outsourcing cities in the world, placing itself on position 39 (just climbed one position), ahead of Bratislava and Sophia.

Krakow reach the 9th position, and is the only city in Europe having international recognition," she adds.
"Poland (BPO and SSC industry) reached 170,000 employees, and the industry did not reach the market saturation, it is still growing. In Krakow there are 35,000 employees in Business services alone. In 2005, there were only 5,000 employees in Krakow. The discussion about market saturation was on even then. They grew 20% each year in Krakow, and the estimation for this year is of 38,000," Manea says.

However, as Bakshi adds, "the business climate in Poland is better. There is no reason to think Timisoara cannot reach that growth – all we have to do is to improve the business climate."

MAINLY IT, BEST SUITED FOR R&D

At the same time, Richard Perrin, Partner, KPMG, says that according to an industry survey on 29 firms with 18,000 employees (five of companies are actually located in Timisoara) there is a search for females with superior studies and mainly working into IT.

As such, 64% of the industry employees are female and 80% all employees are 25-35 year old. About 66% have a bachelor degree, only 13% have just high-school degree. Bucharest has 80% of the employees in the surveyed companies, and IT services dominate, with 66% of total employment.
"Timisoara is dominated by IT and finance and accounting," says Perrin.

"The forecast for 2016-17 is of an annual growth of more than 15%," he adds.

Andreea Paun, Associate director at Colliers, says Timisoara has a very good occupancy rate: more than 70% of the people have a job, according to national statistics (INS). "It has a large number of students, similarly to Iasi and Cluj. A graduate pool of more than 2,000 young people a year… Timisoara will be a very competitive source for R&D centers," she says.

According to a Brainspotting study, Timisoara is different from other cities as it has the largest engineers pool, says Paun.

Apart from that, the real figure of the employees in the BPO/SSC sector in Timisoara remains so far unknown. And industry leaders await for government recognition and support.

---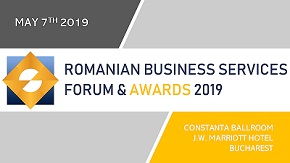 » Nomination are now open for Romanian B...
» PwC: The competitive advantages of Rom...
» Genpact, Luxoft and Oracle, top lessee...
» Philippe Beucher takes a new opportuni...
» CBRE: Romanian outsourcing industry ha...
» Romanian Outsourcing Summit 2016: Walk...
» Romanian Outsourcing Awards for Excell...
» The Outsourcing industry announces its...
» CrowdStrike opens a new center of inno...
» Gartner: Romania moved into the first ...

Nomination are now open for Romanian Business Services Forum and Awards

Nominations have opened for the prestigious Romanian Business Services Forum & Awards. The 2019 awards will continue to recognize and reinforce the important contribution made by business services professionals
Read Full article »
Study: 89 per cent of finance teams yet to embrace Artificial Intelligence

Report by Association of International Certified Professional Accountants and Oracle shows that almost 90 per cent of finance teams do not have the skills to support digital transformation.
Read Full article »
Bucharest, in the top of cities in Europe with the largest number of experts in high-tech industry

Bucharest is among the top cities boasting the most experts in the high-tech innovative industry, with over 70,000 current employees, next to London, Dublin, Madrid or Budapest, reads a study conducted by CBRE
Read Full article »
CBRE study: Post-millennials, the happiest about their offices

During 2018, real estate consultancy company CBRE conducted the first study dedicated to work environment in office buildings in Bucharest. The respondents have been structured in four age segments, such as Z g
Read Full article »
Deloitte's Tech Trends 2019 report: Beyond the digital frontier

The recently released Deloitte's Tech Trends 2019: Beyond the digital frontier, as each Tech Trends report in the series conducted by the consultancy company, lobbies for embracing the increasing, often mind-b
Read Full article »