BP expands Wipro contract, possibly by USD 100 mln. more

BP has revamped its outsourcing strategy and expanded the multi-million dollar contract with Wipro, sources close to the industry told The Economic Times India.

BP, which spends close to USD 1 billion on technology annually and is a large customer of India's USD 146-billion information technology industry, has decided to reduce the number of outsourcing companies that it hands out business to, said the sources.

Wipro, which currently gets well over USD 100 million of annual business from BP, will potentially get at least USD 100 million more business over the next 2-3 years under the terms of the expanded deal, sources said.

"BP has decided to consolidate the number of vendors it does business with - for them at this point it makes sense to go with 2-3 vendors, rather than 5-6 different vendors, given the current pressures on technology spending," a source explained. "As a result, some vendors such as Wipro, IBM and Infosys have gained, while others have lost out," the source said.
Wipro declined to comment "We don't comment on specific customer names or their operations," a company spokesperson said.

BP spokesperson said: "BP continuously reviews how we source our IT services. Currently, there is a focus on 5 strategic suppliers: Infosys, Wipro, IBM, HP, and T-Systems."

The British firm's decision to work with fewer vendors comes at a time when gloTechnology researcher Gartner has forecast that global technology spending in 2015 will drop by 5.5 per cent.
The BP deal boost for Wipro also comes at a time when technology spending from the oil and gas sector is at an all-time low, hurt mainly by a prolonged slump in global oil prices due to concerns over the global surplus of crude.
Over the past year or two, world's largest oil and gas companies' collective market capitalisation eroded about USD 400 billion.


---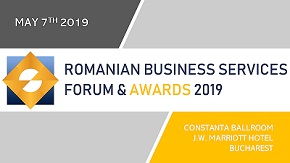 » Nomination are now open for Romanian B...
» PwC: The competitive advantages of Rom...
» Genpact, Luxoft and Oracle, top lessee...
» Philippe Beucher takes a new opportuni...
» CBRE: Romanian outsourcing industry ha...
» Romanian Outsourcing Summit 2016: Walk...
» Romanian Outsourcing Awards for Excell...
» The Outsourcing industry announces its...
» CrowdStrike opens a new center of inno...
» Tremend joins Mellanox in powering the...

Nomination are now open for Romanian Business Services Forum and Awards

Nominations have opened for the prestigious Romanian Business Services Forum & Awards. The 2019 awards will continue to recognize and reinforce the important contribution made by business services professionals
Read Full article »
Study: 89 per cent of finance teams yet to embrace Artificial Intelligence

Report by Association of International Certified Professional Accountants and Oracle shows that almost 90 per cent of finance teams do not have the skills to support digital transformation.
Read Full article »
Bucharest, in the top of cities in Europe with the largest number of experts in high-tech industry

Bucharest is among the top cities boasting the most experts in the high-tech innovative industry, with over 70,000 current employees, next to London, Dublin, Madrid or Budapest, reads a study conducted by CBRE
Read Full article »
CBRE study: Post-millennials, the happiest about their offices

During 2018, real estate consultancy company CBRE conducted the first study dedicated to work environment in office buildings in Bucharest. The respondents have been structured in four age segments, such as Z g
Read Full article »
Deloitte's Tech Trends 2019 report: Beyond the digital frontier

The recently released Deloitte's Tech Trends 2019: Beyond the digital frontier, as each Tech Trends report in the series conducted by the consultancy company, lobbies for embracing the increasing, often mind-b
Read Full article »