AFI Europe Pre-Leases 16,000 sqm, with Cameron, SII and Ortec among tenants

Office buildings AFI Park 4 and 5 in Bucharest have reached 50% (16,000 sqm) pre-leasing rate at the beginning of 2016.

The 4th and 5th phase of the office project AFI Park developed near the mall in Cotroceni will be delivered in two weeks - time, when the first tenants will take over their spaces and start operations.

Cameron, one of the tenants in AFI Park 1, will expand and relocate its offices into AFI Park 4&5. The other three companies which have signed agreements for spaces in the two buildings come from the IT&C industry. SII Romania, a company specialized in providing technology services and solutions for medium and large enterprises, has leased 3,000 sqm on the 10th floor of the office buildings, while another 3,000 sqm will be occupied by a new important entry to the IT&C Romanian market.

Additional several thousands of sqm are taken over by ORTEC Central & Eastern Europe, a major player in the advanced planning software and operations research field.

The ground floor will be occupied by the Italian restaurant "Trattoria Uno", next to "Tucano Café" and a show room location leased by "Pinum Doors & Windows".

The spaces in AFI Park 4&5 are delivered according to tenants' planning and design. Specific requests from the companies in the IT&C industry is to have a floor plate of about 3,000 sqm, to enable maximum natural light with a clear height of 2.8 m floor to ceiling and to be provided with an approved fire system scenario according to EU standards, including sprinklers and smoke detectors.

As all AFI Park office buildings, AFI Park 4&5 benefit of an estimated 40% reduction of energy consumption and water use compared to a regular office. The project incorporates certain unique abilities as electricity and HVAC design are developed according to a floor layout of one work station to 7 sqm and an option for LED lighting in the office space.

An additional unique element that sets the office buildings apart from the other projects on the market are several advanced back-up solutions including electricity high voltage supply from 2 different sources that assure AFI Park 4&5 tenants a 24/7/365 days' continuous activity.

AFI Park consists of 5 Class A office buildings totaling 70,000 sqm of GLA, which are linked to the AFI Palace Cotroceni Shopping Mall (82,000 sqm GLA). The complex (152,000 sqm of leasable areas, GLA) enables the most convenient and perfect combination between business and personal lifestyle, a work environment which meets the modern lifestyle sought after by the IT generations - Generations X, Y and Z.

AFI Park is easily accessible through the public transport system, with a nearby Metro station (Politehnica), located only 250 meters from the project, in addition to 12 different bus and tram lines that are serving the mall and the business park. AFI Park has been established as the new IT&C Hub for prestigious multinational companies, such as: Electronic Arts, Conglomerate TELUS International, UK held Endava Romania, Microchip Technology, Sparkware Technologies and Cameron Romania, part of Cameron Group.


---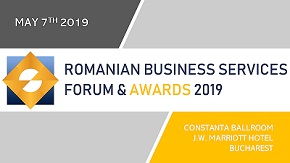 » ASE's HR Master – helping students i...
» Digital Transformation Conference to t...
» Romulus Caralicea: Meet the speakers a...
» Meet the winners of ROMANIAN BUSINESS ...
» Zitec launches its 1 million Euro Mirr...
» Deloitte Romania opens application for...
» Genpact's COO: Staying ahead of the cu...
» Marian V. Popa: Meet the speakers at R...
» Randstad Employer Branding 2019: Salar...
» Antoniu Panait: Meet the speakers at R...

Digital Transformation Conference to take place on June 19 at Bucharest

The Diplomat – Bucharest organizes Digital Transformation Conference to be held on 14 of June in Bucharest, at Hilton Hotel - Regina Maria Hall, starting 8:30 AM.
Read Full article »
L&D Conference by The Diplomat Bucharest to take place on June 4th at Bucharest

The Diplomat-Bucharest organizes the Third Edition of its Learning & Development CONFERENCE on 4 June, 2019 at InterContinental Hotel Bucharest starting 09:00 am.
Read Full article »
Meet the winners of ROMANIAN BUSINESS SERVICES AWARDS, 2019 edition

ROMANIAN BUSINESS SERVICES FORUM & AWARDS 2019, in its fifth year, brrought on May 7, in Bucharest, a new concept event with engaging keynote sessions by industry leaders, interactive panel discussions, network
Read Full article »
Few hours away from to the long awaited CEO Leaders Debate, a premiere of Romanian Business Services Forum and Awards

We are a few hours away to the long awaited CEO Leaders Debate, a premiere of Romanian Business Services Forum and Awards on May 7.
Read Full article »
Colin C. Lovering: Meet the speakers at Romanian Business Services Forum & Awards 2019, on May 7

Colin C. Lovering has been living and working in Romania since 2009 when he arrived to offer consultancy and advice to organisations looking for growth and profitability and founded Achieve International.
Read Full article »