Romania, Europe's third and world's 13th best outsourcing destination- A.T. Kearney

Romania ranks as third most attractive country to outsource to, according to A.T. Kearney's Service Location Index quoted by Telus.

Romania has risen with five positions up to number 13 globally in the survey. Even though with regards to business environment the country is still trying to catch up when it comes to ITO Romania is a flourishing technology hub, Telus officials say.

Romania is 1st in Europe and 6th in the world, in terms of number of certified IT specialists with a pool of about 100,000 people in various IT-oriented profiles.

As per data from the Association of the Software and Services Industry in Romania, the country currently has around 50 offshore centers owned by large international IT vendors. More than half of these are BPO centers, 30% are IT services-related centers, and less than 20% are R&D facilities.

As per data from the Romanian Ministry of IT and Communications over 60,000 people currently work in the outsourcing sector in Romania. Also, according to the Index the labor costs in Romania are lower than in Poland, which ranks number one in Europe in the 2016 Index.

With an annual growth rate of the outsourcing sector between 15 and 20% for Bulgaria and Romania being the fastest growing market in the European Union in terms of IT outsourcing services it is expected that in the years to come the two countries will be holding leading positions in Europe and climb up in the global rankings.

In January the leading global management consulting firm A.T. Kearney issued the seventh edition of the Service Location Index. The Index draws a global outsourcing landscape based on metrics in three major criteria: financial attractiveness, people skills and availability, and business environment, measured for each of the 55 countries included in the research.

Who are the top performers?

In the 2016 edition of the Index not much change has taken place in the top 10. First, second and third places continue to be occupied by the 2014 top performers: India, China and Malaysia and fifth, sixth and seventh places remain occupied by Indonesia, Thailand and the Philippines. According to the Index the Asia Pacific region shows strong performance on the financial attractiveness and the people's skills and abilities factors resulting in its leading positions. Latin America and Eastern Europe regions have only five countries in the top 20. The reason behind according to A.T. Kearney being a decrease in the score for people's skills and ability for Latin America and decrease in the score with regards to business environment for Eastern Europe.

Bulgaria is 2nd in Europe and 12th globally

Still 2nd in Europe, Bulgaria dropped three place down globally: from being the only European country in the top ten and number nine globally in 2014 to 12th position globally in 2016. But, let's not be fast with the judgment. Bulgaria has already proven itself to be a strong and attractive outsourcing destination.

In 2015 Bulgaria won "Offshoring Destination of the Year" at both the European Outsourcing Association Awards (EOA) and the UK's National Outsourcing Association Awards (NOA). In the competition for the EOA award Bulgaria won against the shortlisted Latvia and South Africa, while for the NOA it outcompeted Slovakia, South Africa, and Sri Lanka. So, regardless of the drop from the top 10 Bulgaria holds strong positions as a preferred top outsourcing destination thanks to its highly skilled and multilingual talent pool and global outsourcing standards.

The country will also be hosting the 2016 European Outsourcing Association Awards in the capital city of Sofia this October and celebrate the successes of organizations that have demonstrated the very best practice in pan-European outsourcing.


---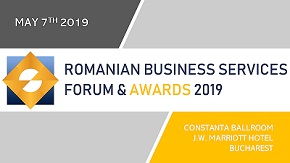 » ASE's HR Master – helping students i...
» Digital Transformation Conference to t...
» Romulus Caralicea: Meet the speakers a...
» Meet the winners of ROMANIAN BUSINESS ...
» Zitec launches its 1 million Euro Mirr...
» Deloitte Romania opens application for...
» Genpact's COO: Staying ahead of the cu...
» Marian V. Popa: Meet the speakers at R...
» Randstad Employer Branding 2019: Salar...
» Antoniu Panait: Meet the speakers at R...

Digital Transformation Conference to take place on June 19 at Bucharest

The Diplomat – Bucharest organizes Digital Transformation Conference to be held on 14 of June in Bucharest, at Hilton Hotel - Regina Maria Hall, starting 8:30 AM.
Read Full article »
L&D Conference by The Diplomat Bucharest to take place on June 4th at Bucharest

The Diplomat-Bucharest organizes the Third Edition of its Learning & Development CONFERENCE on 4 June, 2019 at InterContinental Hotel Bucharest starting 09:00 am.
Read Full article »
Meet the winners of ROMANIAN BUSINESS SERVICES AWARDS, 2019 edition

ROMANIAN BUSINESS SERVICES FORUM & AWARDS 2019, in its fifth year, brrought on May 7, in Bucharest, a new concept event with engaging keynote sessions by industry leaders, interactive panel discussions, network
Read Full article »
Few hours away from to the long awaited CEO Leaders Debate, a premiere of Romanian Business Services Forum and Awards

We are a few hours away to the long awaited CEO Leaders Debate, a premiere of Romanian Business Services Forum and Awards on May 7.
Read Full article »
Colin C. Lovering: Meet the speakers at Romanian Business Services Forum & Awards 2019, on May 7

Colin C. Lovering has been living and working in Romania since 2009 when he arrived to offer consultancy and advice to organisations looking for growth and profitability and founded Achieve International.
Read Full article »