Skanska opens Green Court offices in Bucharest, plans more investments

Skanska Romania has officially opened offices in Bucharest Green Court, after an investment of 250,000 euros.

The budget covers the cost of design, planning and high-end finishes, furniture, furnishings and IT equipment. Skanska offices have 25 employees from both departments of development and construction. Needed be, employees can opt to work in the office or outside it.

"The space has a strong character represented by the multitude of textures, shapes and design elements, is a mix of modern components, in contrast to primary materials. Thus, in planning, were used as design elements more common materials, such as wood, wool, wire mesh and even copex or elastomeric insulation. They are so placed and integrated into the design elements that are transformed into decorative impact, summarizing the basic idea of the concept: unity in diversity," said Prographic company representatives.

Activity Based Workplace concept was implemented into the Skanska offices, fostering cooperation and interaction between people, through a mix of open spaces and informal areas. "The concept of Activity Based Workplace open space has a liberal character, everyone has the freedom to work in a different place every day. This encourages teamwork and communication between us, working side by side, regardless of the position we hold in the company," said Richard Burleigh, president, Skanska Construction Romania.

Green Court Bucharest, Skanska Group's first local project in Romania, is an investment of Euro 98.7 million for all three buildings: Building A needed Euro 35 million, Euro 34.7 million were spent on Building B and Euro 29 million for Building C. Building A is fully leased, with tenants including companies such as Schneider Electric Romania, Orange Romania, LS Travel Romania (1 Minute concept) and Corporate Events Management (Best Chef). Building B has an occupancy rate of 97%, provided by the tenants Sanofi Romania, RINF Outsourcing Solutions and Adecco Romania. Building C will be completed in June 2016.

"Skanska's Business Plan Profit with Purpose for the period 2016-2020 aims to create value for our shareholders … Two new fields have already been purchased and this year will mark the beginning of new projects on the local market," said Aurelia Luca, country director of Skanska Property Romania.

Skanska Group entered 2016 with an international portfolio of 44 office projects under development.


---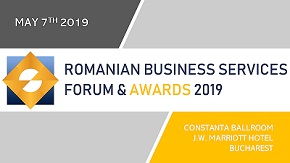 » Nomination are now open for Romanian B...
» PwC: The competitive advantages of Rom...
» Genpact, Luxoft and Oracle, top lessee...
» Philippe Beucher takes a new opportuni...
» CBRE: Romanian outsourcing industry ha...
» Romanian Outsourcing Summit 2016: Walk...
» Molson Coors started to grow its busin...
» Romanian Outsourcing Awards for Excell...
» The Outsourcing industry announces its...
» CrowdStrike opens a new center of inno...

Nomination are now open for Romanian Business Services Forum and Awards

Nominations have opened for the prestigious Romanian Business Services Forum & Awards. The 2019 awards will continue to recognize and reinforce the important contribution made by business services professionals
Read Full article »
Study: 89 per cent of finance teams yet to embrace Artificial Intelligence

Report by Association of International Certified Professional Accountants and Oracle shows that almost 90 per cent of finance teams do not have the skills to support digital transformation.
Read Full article »
Bucharest, in the top of cities in Europe with the largest number of experts in high-tech industry

Bucharest is among the top cities boasting the most experts in the high-tech innovative industry, with over 70,000 current employees, next to London, Dublin, Madrid or Budapest, reads a study conducted by CBRE
Read Full article »
CBRE study: Post-millennials, the happiest about their offices

During 2018, real estate consultancy company CBRE conducted the first study dedicated to work environment in office buildings in Bucharest. The respondents have been structured in four age segments, such as Z g
Read Full article »
Deloitte's Tech Trends 2019 report: Beyond the digital frontier

The recently released Deloitte's Tech Trends 2019: Beyond the digital frontier, as each Tech Trends report in the series conducted by the consultancy company, lobbies for embracing the increasing, often mind-b
Read Full article »