Retail sales up almost 15%, IT&C among top rates with 20% and steadying

Romanian retail sales keep strong momentum, accelerating to a whopping 14.9% rate year on year (YoY) in January 2016, after a 1.9% monthly expansion, coming from 14.2% YoY in December 2015 (upwardly revised from 13.0%), as fuel sales surged, says an ING report.

"There have been some significant backward data revisions, with 2015 retail sales now looking better for the whole year, particularly in the second semester. Meanwhile, 2016's start was solid for retail after fuel sales jumped by a whopping 7% monthly in January 2016, as prices went down both due to the cheaper crude and the 4 points headline VAT cut. This helped take the headline rate to its best level since September 2008," says ING.

Meanwhile, sales of food items are up 26.1% YoY, with probably around half of this expansion reflecting a lower tax evasion after the VAT for these goods was cut in Jun-15.

"The retail activity for non-food goods is, in our opinion, a better gauge for the overall consumer morale. In January 2016, although flat on the month, retail sales for non-food items were up by 10.6% YoY from a year ago, more than four times larger than the average expansion in 2015 (of +2.5%)," say ING experts.

This print seems largely driven by sales of clothing, footwear and IT&C, which expanded well in excess of 20% YoY, while sales of household appliances are not doing as well, but are still growing nicely.
The appetence for spending seems high also if you look at tourism services (up by 16% YoY in Jan-16), auto sales (+13.8% YoY) and RON consumer loans (+10.9% YoY), ING analysts conclude.


---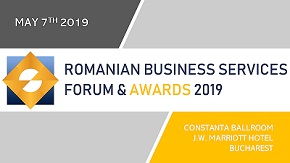 » Nomination are now open for Romanian B...
» PwC: The competitive advantages of Rom...
» Genpact, Luxoft and Oracle, top lessee...
» Philippe Beucher takes a new opportuni...
» CBRE: Romanian outsourcing industry ha...
» Romanian Outsourcing Summit 2016: Walk...
» Romanian Outsourcing Awards for Excell...
» The Outsourcing industry announces its...
» CrowdStrike opens a new center of inno...
» Tremend joins Mellanox in powering the...

Nomination are now open for Romanian Business Services Forum and Awards

Nominations have opened for the prestigious Romanian Business Services Forum & Awards. The 2019 awards will continue to recognize and reinforce the important contribution made by business services professionals
Read Full article »
Study: 89 per cent of finance teams yet to embrace Artificial Intelligence

Report by Association of International Certified Professional Accountants and Oracle shows that almost 90 per cent of finance teams do not have the skills to support digital transformation.
Read Full article »
Bucharest, in the top of cities in Europe with the largest number of experts in high-tech industry

Bucharest is among the top cities boasting the most experts in the high-tech innovative industry, with over 70,000 current employees, next to London, Dublin, Madrid or Budapest, reads a study conducted by CBRE
Read Full article »
CBRE study: Post-millennials, the happiest about their offices

During 2018, real estate consultancy company CBRE conducted the first study dedicated to work environment in office buildings in Bucharest. The respondents have been structured in four age segments, such as Z g
Read Full article »
Deloitte's Tech Trends 2019 report: Beyond the digital frontier

The recently released Deloitte's Tech Trends 2019: Beyond the digital frontier, as each Tech Trends report in the series conducted by the consultancy company, lobbies for embracing the increasing, often mind-b
Read Full article »