Romanians buy 10 times more with contactless cards – Vladimirescu, MasterCard

In 2015, the contactless expenditure through MasterCard and Maestro cards in Romania has grown tenfold, year-on-year, says Cosmin Vladimirescu, general manager, MasterCard, Romania.

The number of MasterCard and Maestro contactless transactions in Romania were on the rise by a spectacular 636%, year-on-year, while the total contactless expenditure in Romania through MasterCard processed transactions have increased tenfold in 2015 compared to 2014.

"In 2015, Romanians have increased tenfold their contactless expenditure through MasterCard and Maestro cards, by comparison to 2014, thereby showing that this payment method is rapidly becoming a part of the consumer's shopping routine. Furthermore, the drive toward contactless is evident given that the number of contactless transactions has grown by more than 600% year-on-year."

The average ticket of a contactless transaction in Romania stood at some 60 RON last year. By comparison, the average value of a card transaction in Romania stands at about 145 RON, according to the Central Bank's data. This underlines the fact that contactless payments are slowly becoming the consumers' preferred for their daily purchases. The shift to contactless is even more evident when taking into consideration the number of MasterCard or Maestro contactless active cards, which has grown sixfold when compared to 2014.

"The contactless payments' rise in popularity shows an increasing number of consumers tend to opt for the speed, security and convenience deriving from utilizing this technology on a daily basis. Romania has one of the largest growth rates in Central and Eastern Europe in terms of contactless transactions does not only point to the potential for developing this segment, it also shows an acceleration in reducing the gap between ourselves and more developed markets, where the contactless payment method is, indeed, a normal gesture" says Vladimirescu.

Europeans continue to opt for contactless technology when making payments, with the total number of MasterCard and Maestro processed transactions passing the 1 billion mark in 2015 – an increase of 150% from 2014. Already in Europe, on average, 13% of in-store transactions processed by MasterCard in Q4 2015 were contactless.

New data reveal the number of cards, mobile phones or other devices tapping soared by 121%, and the total MasterCard and Maestro spend on contactless transactions was up by 183% year on year. Data also shows the number of contactless cards and devices issued to consumers increased by 50% in 2015.

"Europeans are really embracing this, tapping for more of their MasterCard purchases than ever before, which in turn helps drive revenue for merchants and issuers. Across Central Eastern Europe, there is clear evidence of this. In Czech Republic, 77% (almost 4 in 5) of in-store transactions processed by MasterCard were contactless in 2015. In Poland, the figure was 55% (over half), 40% in Hungary (4 in 10), 38% in Slovakia (more than 1 in 3)," also says George Simon, Division President Central Eastern Europe at MasterCard Europe.

But these aren't the only factors driving this trend. Contactless payments offer a safer alternative to cash, providing consumers with the added benefit of state-of-the-art multi-layered security protection. With increased usage, comes familiarity and reassurance; more than two thirds of consumers now believe contactless technology is just as safe or more secure than traditional forms of payment.

In Europe alone, there are already over 10 countries with over 5 million contactless cards or devices in circulation for each of them. These are accepted in 74 countries around the world, including Estonia and Iceland, which have recently been added to Europe's contactless map.

Merchants have also followed suit, with 2015 showing an impressive 72% increase in the number of contactless merchant locations compared to 2014. In fact, MasterCard estimates that MasterCard or Maestro contactless cards or devices can now be used at over 4 million merchant locations worldwide.





---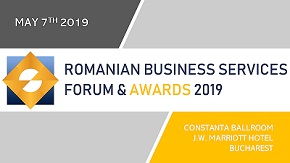 » Huawei opens a centre on cyber securit...
» ROMANIAN OUTSOURCING AWARDS FOR EXCELL...
» Romania ranks above EU average in gend...
» Bucharest, in the top of cities in Eur...
» Berg Software Romania: Reasons to outs...
» KPMG launches an application enabling ...
» Bogdan Pelinescu, president of ABSL: A...
» Meet the experts who will decide the w...
» ABSL GALA AWARDS celebrated its winner...
» Oracle reaches 4,200 employees and pla...

Colin C. Lovering: Meet the speakers at Romanian Business Services Forum & Awards 2019, on May 7

Colin C. Lovering has been living and working in Romania since 2009 when he arrived to offer consultancy and advice to organisations looking for growth and profitability and founded Achieve International.
Read Full article »
Antoniu Panait: Meet the speakers at Romanian Business Services Forum & Awards 2019, on May 7

Managing Director for VASTINT Romania since 2009, Antoniu Panait has an executive experience of more than 10 years, mainly in real estate.
Read Full article »
Andrei Voica: Meet the speakers at Romanian Business Services Forum & Awards 2019, on May 7

Andrei Voica, Director Project Management and Workplace Consultancy, Colliers International. Truly passionate about his work and always eager to add value to each project.
Read Full article »
Romulus Caralicea: Meet the speakers at Romanian Business Services Forum & Awards 2019, on May 7

Romulus is Wipro's Information Security, Risk & Compliance Lead for Europe. In his role he is managing internal audits and compliance activities for all clients and internal functions based on the corporate ISO
Read Full article »
George Didoiu: Meet the moderator of Romanian Business Services Forum 2019 CEO LEADERS DEBATE, on May 7

In his 15 years of real estate, George Didoiu advised on the relocation of top IT&C, finance-banking and consultancy companies, which total over 10,000 employees.
Read Full article »