More than 25% of Romanian employers report hiring intentions in Q2/2016

More than one of every four Romanian employers forecast payroll gains during the second quarter of 2016, says the Manpower Employment Outlook Survey.

With 26% of employers indicating intentions to increase their payroll, 7% anticipating a decrease and 66% envisioning no change, the seasonally adjusted Net Employment Outlook stands at +10%, relatively stable when compared to the current quarter, as well as year-over-year.

"Even after eliminating the seasonal variations that since 2013 have boosted employer optimism in the second quarter of the year, we are left with the clear picture of 23 consecutive quarters of positive hiring intentions, of which the past 5 have had relatively stable, double digit seasonally adjusted Net Employment Outlooks. The trend toward continuing job growth is by no means irreversible, but the current effects of employer optimism are making themselves felt, both in terms of number of opportunities for job seekers, as in terms of increased competition for talent," says Manpower Group Romania's Country Manager, Valentin Petrof.

Outlooks are positive across the country, with employers in the Bucharest & Ilfov, Center and South-West regions being the country's most optimistic, as evidenced by a Net Employment Outlook of +16%. In the Bucharest & Ilfov region, employers report the strongest forecast in almost 5 years, since Q3/2011, and the Net Employment Outlook strengthens by 7 percentage point both quarter-on-quarter and year-on-year. Similarly robust year-over-year improvements are reported by employees in the South-West region, where the Net Employment Outlook has strengthen to pre-recession levels for the first time in 7 years (since Q2/2008).

Only 2% of employers in the South-West report intentions to decrease their staff levels, the lowest percentage in the country. Employers in the North-West region continue to forecast an upbeat hiring pace, as shown by +14% Net Employment Outlook reported in the region, while employers in the North-East region are, for the second consecutive quarter, the least optimistic. The +4% Net Employment Outlook is 3 percentage points stronger than in Q1/2016, but decreases by a steep 27 percentage points over Q2/2015.

Payrolls are forecast to grow in nine of the 10 industry sectors during the April – June 2016 interval. 41% of Manufacturing employers have reported intentions to increase their payrolls during Q2, second only to Construction employers, and the seasonally adjusted Net Employment Outlook reported in the sector stands at +26%, strengthening both quarter-over-quarter and year-over-year by 5, respectively 4 percentage points and reaching its strongest level since Q4/2012. Employers in the Wholesale and Retail Trade sector continue to be optimistic, reporting a Net Employment Outlook of +18% that is, however, weaker both year-over-year and quarter-over-quarter by 5, respectively 3 percentage points. The only sector in which employers are forecasting decreases in staffing levels is Electricity, Water & Gas, where the Net Employment Outlook (now at -6%) has only been positive once in the past three years.

Hiring perspectives continue to be positive in organizations of all size, with employers in large organizations one again reporting the most favorable hiring climate, with an Outlook of +22%, and employers in micro-organizations and medium-sized organizations being the most cautious, with an Outlook of +4%.

"An increased sense of optimism, especially in regions like the South-West, where some of the weakest Outlooks have been reported in the past, but also in Bucharest and Ilfov, where a large percentage of the country's companies are headquartered, is a positive development that gives job seekers reason to hope for more opportunities to find the job that fits them," adds Valentin Petrof.
Photo credit: ZF live.


---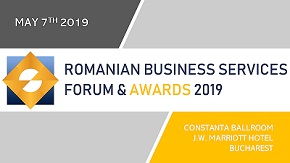 » Huawei opens a centre on cyber securit...
» ROMANIAN OUTSOURCING AWARDS FOR EXCELL...
» Romania ranks above EU average in gend...
» Bucharest, in the top of cities in Eur...
» Berg Software Romania: Reasons to outs...
» KPMG launches an application enabling ...
» Bogdan Pelinescu, president of ABSL: A...
» Meet the experts who will decide the w...
» ABSL GALA AWARDS celebrated its winner...
» Oracle reaches 4,200 employees and pla...

Colin C. Lovering: Meet the speakers at Romanian Business Services Forum & Awards 2019, on May 7

Colin C. Lovering has been living and working in Romania since 2009 when he arrived to offer consultancy and advice to organisations looking for growth and profitability and founded Achieve International.
Read Full article »
Antoniu Panait: Meet the speakers at Romanian Business Services Forum & Awards 2019, on May 7

Managing Director for VASTINT Romania since 2009, Antoniu Panait has an executive experience of more than 10 years, mainly in real estate.
Read Full article »
Andrei Voica: Meet the speakers at Romanian Business Services Forum & Awards 2019, on May 7

Andrei Voica, Director Project Management and Workplace Consultancy, Colliers International. Truly passionate about his work and always eager to add value to each project.
Read Full article »
Romulus Caralicea: Meet the speakers at Romanian Business Services Forum & Awards 2019, on May 7

Romulus is Wipro's Information Security, Risk & Compliance Lead for Europe. In his role he is managing internal audits and compliance activities for all clients and internal functions based on the corporate ISO
Read Full article »
George Didoiu: Meet the moderator of Romanian Business Services Forum 2019 CEO LEADERS DEBATE, on May 7

In his 15 years of real estate, George Didoiu advised on the relocation of top IT&C, finance-banking and consultancy companies, which total over 10,000 employees.
Read Full article »