Exclusive OT print issue: Genpact may expand 40% in the next two years

"The business process outsourcing and shared services industry benefits from the fastest growing trend that Romania ever witnessed", says Shibu Nambiar, COO Europe, Latin America and Africa.

Genpact started its local operations in 2005 with 80 employees and 2 customers and in 2016, more than ten years later, has expanded to more than 3,300 employees and over 50 customers across Europe.

"It is a phenomenal achievement. We expect to grow to 5,000 employees in the next couple of years. This industry is the fastest growing of what we have witnessed in the past ten years and probably from that we'll see over the next five to ten years as well," mentions Nambiar.

"In 2016 we are counting over 3,300 employees across our centres in Bucharest and Cluj-Napoca. Our plans for this year are to add more colleagues to our teams – we are currently expanding our business and we have over 300 openings available. Our global turnover in 2015 was of 2.46 billion USD and we expect to grow globally at a steady pace of 16-17 per cent compound annual growth rate (CAGR)," says Nambiar.

Genpact will expand the Bucharest team and will move into a new office building. "We will also initiate a new internal platform dedicated to our employees and their specific needs. We are extremely excited about these projects, but we have to keep the details to ourselves at this point."

The Genpact COO says that, although there are many aspects that can be improved in a developing country like Romania, the company is enjoying its success locally due to "the availability of a work force which is so talented, diverse and eager to strive."

"We all tend to compare Poland and Romania when it comes to the BPO industry. But we need to keep in mind that Poland is probably ten years ahead in terms of BPO and SSC set-up."

Though Romania has had its own share of over a decade in the industry, there is still a lot of untapped potential both in bigger cities and Tier 2 locations.

"We are extremely excited to continue in Romania and have recently signed up a large lease for next ten years! Interestingly, although we started our Poland operations later than the ones in Romania, we currently have four Polish delivery centres there and a total of 1,000 employees."

Nambiar believes that Bucharest, Cluj, Timisoara, Constanta, Brasov and Iasi will continue to see growth in this sector and as large enterprises will continue to operate from larger cities, they will also look out for options to expand into Tier 2 cities like Brasov and Iasi.

Read more in the Outsourcing Today's first print issue, available starting April, 21


---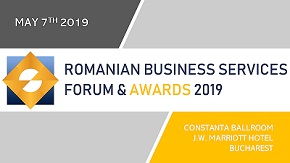 » Huawei opens a centre on cyber securit...
» ROMANIAN OUTSOURCING AWARDS FOR EXCELL...
» Romania ranks above EU average in gend...
» Bucharest, in the top of cities in Eur...
» Berg Software Romania: Reasons to outs...
» KPMG launches an application enabling ...
» Bogdan Pelinescu, president of ABSL: A...
» Meet the experts who will decide the w...
» ABSL GALA AWARDS celebrated its winner...
» Oracle reaches 4,200 employees and pla...

Colin C. Lovering: Meet the speakers at Romanian Business Services Forum & Awards 2019, on May 7

Colin C. Lovering has been living and working in Romania since 2009 when he arrived to offer consultancy and advice to organisations looking for growth and profitability and founded Achieve International.
Read Full article »
Antoniu Panait: Meet the speakers at Romanian Business Services Forum & Awards 2019, on May 7

Managing Director for VASTINT Romania since 2009, Antoniu Panait has an executive experience of more than 10 years, mainly in real estate.
Read Full article »
Andrei Voica: Meet the speakers at Romanian Business Services Forum & Awards 2019, on May 7

Andrei Voica, Director Project Management and Workplace Consultancy, Colliers International. Truly passionate about his work and always eager to add value to each project.
Read Full article »
Romulus Caralicea: Meet the speakers at Romanian Business Services Forum & Awards 2019, on May 7

Romulus is Wipro's Information Security, Risk & Compliance Lead for Europe. In his role he is managing internal audits and compliance activities for all clients and internal functions based on the corporate ISO
Read Full article »
George Didoiu: Meet the moderator of Romanian Business Services Forum 2019 CEO LEADERS DEBATE, on May 7

In his 15 years of real estate, George Didoiu advised on the relocation of top IT&C, finance-banking and consultancy companies, which total over 10,000 employees.
Read Full article »