Veeam opens Bucharest office at 120 employees, to grow 60% by year-end

When Ratmir Timashev graduated from the "Moscow MIT" at the beginning of the 1990s, he would have never imagined he will found and lead a half a billion USD-revenue company that will expand globally in under 10 years.

"I staretd my first company in the US, in the dorm of Ohio State, together with my colleague. You can only start an IT company in a college dorm, or in a garage," Timashev tells Outsourcing Today.
Veeam officially opened today the Bucharest office and hired since November 120 employees, that would offer not just customer call services, but also complex, highly sophisticated sales, marketing and financial jobs.

After graduating the Moscow Physics Institute of Technology, Timashev went to Ohio State for his master's degree, founded a first company - a hardware reseller to Russia. Later on he sold the 115 million USD company to Quest, which, in turn, was bought eight years later (in 2012) for 2.4 billion USD, by Dell, he explains.

Now the company's global productivity reaches about 230,000 USD in annual revenue per employee, and Romania will soon reach a similar level (of course, in general lines, as the competences differ from a country to another). It takes three to six months to trains a new employee, and six to 12 months to get the employee to a complete productivity level.

"We invested locally more than 1 million USD into the local office. We plan to reach about 250 employees inside a three-year period. WE are looking for talented, ambitious young personnel. We believe in limiting the brain drain and keeping Romanians here, and we had people giving up working abroad and decided to come back to Romania," says Andrei Romanescu, managing director of Bucharest Operations.

Veeam is a provider of solutions and delivers Availability for the Always-On Enterprise, a software that provides back-up and data restore services, now called data "availability" services in some corners of the industry. The company has registered over 500 million USD in revenues in 2015 and currently employs more than 2,200 people worldwide.


---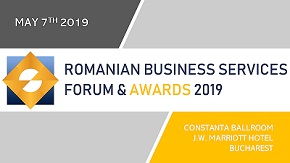 » Huawei opens a centre on cyber securit...
» ROMANIAN OUTSOURCING AWARDS FOR EXCELL...
» Romania ranks above EU average in gend...
» Bucharest, in the top of cities in Eur...
» Berg Software Romania: Reasons to outs...
» KPMG launches an application enabling ...
» Bogdan Pelinescu, president of ABSL: A...
» Meet the experts who will decide the w...
» ABSL GALA AWARDS celebrated its winner...
» Oracle reaches 4,200 employees and pla...

Colin C. Lovering: Meet the speakers at Romanian Business Services Forum & Awards 2019, on May 7

Colin C. Lovering has been living and working in Romania since 2009 when he arrived to offer consultancy and advice to organisations looking for growth and profitability and founded Achieve International.
Read Full article »
Antoniu Panait: Meet the speakers at Romanian Business Services Forum & Awards 2019, on May 7

Managing Director for VASTINT Romania since 2009, Antoniu Panait has an executive experience of more than 10 years, mainly in real estate.
Read Full article »
Andrei Voica: Meet the speakers at Romanian Business Services Forum & Awards 2019, on May 7

Andrei Voica, Director Project Management and Workplace Consultancy, Colliers International. Truly passionate about his work and always eager to add value to each project.
Read Full article »
Romulus Caralicea: Meet the speakers at Romanian Business Services Forum & Awards 2019, on May 7

Romulus is Wipro's Information Security, Risk & Compliance Lead for Europe. In his role he is managing internal audits and compliance activities for all clients and internal functions based on the corporate ISO
Read Full article »
George Didoiu: Meet the moderator of Romanian Business Services Forum 2019 CEO LEADERS DEBATE, on May 7

In his 15 years of real estate, George Didoiu advised on the relocation of top IT&C, finance-banking and consultancy companies, which total over 10,000 employees.
Read Full article »