CBRE and Skanska launch a new contest for Romanian offices


CBRE's office division launches the first contest held in Romania, says Razvan Iorgu, managing director of the company. The CBRE's initiative, implemented in partnership with Skanska, one of the leading builders and developers in the world, aims to discover, promote and reward the most beautiful office in Bucharest.

Competition will be called "The Most Office", will run for a period of several months and will include enrollment office applications participating in the competition, in the form of photo and video material that will be published online platform dedicated to the contest.

Entries will be judged and scored by a jury made both from professionals in fields related to the industry of real estate, and from students and young graduates participating in CBRE Junior Academy, the training program's organizer, in their capacity as future users and beneficiaries of spaces office.

"Through this project initiated in partnership with Skanska we aim to develop the real estate industry and to highlight the importance that the offices have for companies and for their employees. CBRE promotes globally the concept of new ways of working; after some measurements, evaluations and analyzes of the use of premises and occupancy offices, and taking into account the specific users activity space and profile employees who use it, identify how to redevelop the office, to value human potential, creativity, teamwork, brainstorming. They all translate into increased efficiency of employees in companies, better results, but also in a more relaxing and enjoyable work environment for employees," says Razvan Iorgu.

Aurelia Luca, country director, Skanska Romania, said that the initiative involvement in The Most Office with CBRE came as a natural result of the fact that Skanska projects are characterized by quality and innovation.

"As developers of office buildings, when starting a new project, we put the spotlight on people who will work in them, and we strive to offer a work environment that's more attractive through innovative design and technology, green solutions and other facilities," she says.

"We believe that the workspace is one of the tools of HR as a means of attracting and retention of employees. We are therefore interested to see the vision of the youngest, about how it should look like an office so as to be functional, to keep a healthy work environment, relaxing and yet versatile. In addition, being a competition for companies, we are interested in architecture and design depending on the business profile and personality of the employer, to take the pulse on new ways of working in different industries such as telecommunication, banking, pharma and many others," says Aurelia Luca.


---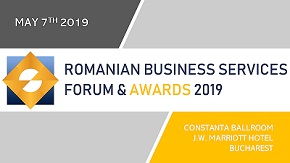 » Huawei opens a centre on cyber securit...
» ROMANIAN OUTSOURCING AWARDS FOR EXCELL...
» Romania ranks above EU average in gend...
» Bucharest, in the top of cities in Eur...
» Berg Software Romania: Reasons to outs...
» KPMG launches an application enabling ...
» Bogdan Pelinescu, president of ABSL: A...
» Meet the experts who will decide the w...
» ABSL GALA AWARDS celebrated its winner...
» Oracle reaches 4,200 employees and pla...

Colin C. Lovering: Meet the speakers at Romanian Business Services Forum & Awards 2019, on May 7

Colin C. Lovering has been living and working in Romania since 2009 when he arrived to offer consultancy and advice to organisations looking for growth and profitability and founded Achieve International.
Read Full article »
Antoniu Panait: Meet the speakers at Romanian Business Services Forum & Awards 2019, on May 7

Managing Director for VASTINT Romania since 2009, Antoniu Panait has an executive experience of more than 10 years, mainly in real estate.
Read Full article »
Andrei Voica: Meet the speakers at Romanian Business Services Forum & Awards 2019, on May 7

Andrei Voica, Director Project Management and Workplace Consultancy, Colliers International. Truly passionate about his work and always eager to add value to each project.
Read Full article »
Romulus Caralicea: Meet the speakers at Romanian Business Services Forum & Awards 2019, on May 7

Romulus is Wipro's Information Security, Risk & Compliance Lead for Europe. In his role he is managing internal audits and compliance activities for all clients and internal functions based on the corporate ISO
Read Full article »
George Didoiu: Meet the moderator of Romanian Business Services Forum 2019 CEO LEADERS DEBATE, on May 7

In his 15 years of real estate, George Didoiu advised on the relocation of top IT&C, finance-banking and consultancy companies, which total over 10,000 employees.
Read Full article »