Office Depot: An ambitious growth


Office Depot opened its first worldwide shared service centre (SSC) in Cluj-Napoca in August 2007 with the purpose of supporting Office Depot's financial operations at a Pan-European level, says Giulio Medda, SSC managing director of Office Depot.

"The Cluj SSC is the first of this kind Office Depot has opened in the world and it is the only office the company has in Romania," he says.

The SSC has a social shared capital about 4.2 million Euro and an annual turnover of 7.6 million Euro. "Revenues in the last eight years grew more or less by 1 million Euro a year," he says.
"Presently we have 550 employees and I am hoping to fill the remaining 50 seats that have available in the office during 2016-2017 in order to optimize the overhead."

While every country in this business needs to develop independently and it is actually the unique offer of the country that makes it attractive to new investments, Poland as much as Czech Republic, Slovakia, Hungary where pioneers and initially very similar in their offer, says he.
Today all of them are addressing a separate segment of the market.

"So yes, Romania should be looking at the other countries but follow their example blinding will not work in the long term," Medda explains.

Even if automation is an important part of every business, human intervention will always be needed. "I don't see the risk of losing jobs due to automation... I see jobs shifting to more complex and highly skilled levels," he says.

One of the biggest local issues is the foreign languages skills talent scarcity.
"The foreign language speakers' availability will always be an issue and saturation is around the corner, particularly for German speakers...but still a few years ahead," he says.

Office Depot's local SSC has currently a 22 per cent attrition rate. "We feel it is a healthy level and we would be happy to keep it like this in the future." He explains that companies are investing a lot in retaining their talents but new comers often recruit aggressively in order to start achieving their goals in the shortest period of time.

Even if some survey still say that Romanians are looking at salaries first when getting hired, learning and development are among the most appreciated benefits, Medda believes. "They like companies to offer a medium/long term development plan in order to see a career progression. It is about knowing what will happen next and be happy with it," he adds.

Office Depot's average age is of 27, and as finding older employees is tough, companies are ready to accept entry level employees. Also, moving to other cities is hard, as they lack infrastructure.
"Companies are looking at other towns but in my opinion there is still a lot of work to do in order to bring the structures and communications to the minimum level requested by our business needs."
Medda says that the biggest and smallest hurdles in the way of a more profitable growth are related to managing the contracts with suppliers and local partners, but "litigation and fraud attempts are a point of attention."

Also, Romania keeps its corruption image abroad. "The bad, but undeserved reputation Romanians have abroad makes very difficult to sale the country services."


---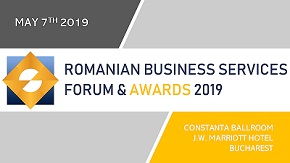 » Huawei opens a centre on cyber securit...
» ROMANIAN OUTSOURCING AWARDS FOR EXCELL...
» Romania ranks above EU average in gend...
» Bucharest, in the top of cities in Eur...
» Berg Software Romania: Reasons to outs...
» KPMG launches an application enabling ...
» Bogdan Pelinescu, president of ABSL: A...
» Meet the experts who will decide the w...
» ABSL GALA AWARDS celebrated its winner...
» Oracle reaches 4,200 employees and pla...

Colin C. Lovering: Meet the speakers at Romanian Business Services Forum & Awards 2019, on May 7

Colin C. Lovering has been living and working in Romania since 2009 when he arrived to offer consultancy and advice to organisations looking for growth and profitability and founded Achieve International.
Read Full article »
Antoniu Panait: Meet the speakers at Romanian Business Services Forum & Awards 2019, on May 7

Managing Director for VASTINT Romania since 2009, Antoniu Panait has an executive experience of more than 10 years, mainly in real estate.
Read Full article »
Andrei Voica: Meet the speakers at Romanian Business Services Forum & Awards 2019, on May 7

Andrei Voica, Director Project Management and Workplace Consultancy, Colliers International. Truly passionate about his work and always eager to add value to each project.
Read Full article »
Romulus Caralicea: Meet the speakers at Romanian Business Services Forum & Awards 2019, on May 7

Romulus is Wipro's Information Security, Risk & Compliance Lead for Europe. In his role he is managing internal audits and compliance activities for all clients and internal functions based on the corporate ISO
Read Full article »
George Didoiu: Meet the moderator of Romanian Business Services Forum 2019 CEO LEADERS DEBATE, on May 7

In his 15 years of real estate, George Didoiu advised on the relocation of top IT&C, finance-banking and consultancy companies, which total over 10,000 employees.
Read Full article »