ASE's HR Master – helping students integrate in companies

An HR student programme that signed 53 partnerships with companies in different practice areas and saw a lot of graduates hired by the real sector of the economy at the end.

A programme that send students into the real world. And gets companies happy, says Ph.D, professor Cristian Marinas, of the Faculty of Management at the Academy of Economic Studies (ASE) in Bucharest.

Marinas is the coordinator Master of Human Resource Management, and launched the Practice in the HR programme (Preus) together with a lot of local firms.

Which are the main characteristics of this Master programme?

The human resources management Master is a complementary programme, organised at the Bucharest Academy of Economic Studies (ASE), which aims to train future professionals in the field of general human resources. Being a post-graduate program specialized in the development of skills in human resources, we considered increasingly important to approach practically the theoretical concepts taught and managed through what we do in this educational program, to approach increasingly more the business environment and the needs of employers and learners.

What are the partnerships that your programme has with companies?

"Practice in human resources for students – Preus," a project co-financed from the European Social Fund, it was one of the successful projects with which we greatly diminished the gap between academia and the business environment.

The overall objective was to facilitate the transition of 275 students to active life by providing an integrated package of guidance and counselling, with internships at potential employers.

Students of the master in human resource management were the main beneficiaries of the advantages of this project. During the project implementation were signed 53 partnerships with organizations in different practice areas. Among the organizations that have been together as partners in practice and that were concluded partnership agreements within the project we can mention: KPMG, Human Synergistics Romania, Ernst & Young, Tehnoplus Medical Ltd., Center for Human Resources Development for Life BRD Groupe Société Générale, Lugera & Makler, Medlife, Athenee Palace Hilton Bucharest, Coca Cola HBC Romania, Romanian Software, Vodafone Romania, UCMS Group, FMCG Marketing & Distribution, Societe Generale European Business Services, Carrefour Romania, Caroli Foods Group, Grawe Romania Insurance, Romanian Commercial Bank, Genpact Romania, Adecco Human resources SRL, Brainspotting, Carpatcement Holding SA, HR Embassy, Career Boutique, Deloitte, Holcim, CRH, Codecs, Talent Center, Smart Jobs Solutions, Ifantis, Leo-HR, HART Consulting. (many more at preus.ase.ro - practice partner section). Mutual benefits of such collaboration have already taken shape, some of the students who performed internships through the project already being employed by the respective companies.

What should be changed in the curricula, to include more practical activities and related careers?

Knowing the needs and desires of development of learners and the requirements of the business environment, I believe that the subjects taught in universities should be adapted to business needs. On the other hand, I believe that in a world in constant change, the role of study and individual work should be essential, fully understood and assumed by the students.

For example, in the master of Human Resource Management, results achieved and partnerships developed within the project Preus were used constructively for students. Thus, during the academic year 2015-2016 were organized 15 workshops attended by 18 themed guest-speakers, human resource professionals. They also organized five thematic visits, students of the Master having the opportunity to see what life is in an organization's culture. Among the organizations whose doors were opened for our master followers and sophomore students (passionate of HR) so that they can learn from practice can be mentioned: Accenture Romania, Ernst & Young, Athenee Palace Hilton, Transilvania Bank, Deutsche Bank Technology Center.

More, CVs of 25 trainees of the training programs in human resources (master and full-time students) were submitted to employers, some students were employed (five people), others benefitted from apprenticeships / internships (five people).

The use of technology in education is another aspect that should be valued positively. For example, in the academic year 2015-2016, students of the master in Human Resource Management, benefited from gamification advantages in the educational process. They were able to "run" in the Equatorial Marathon site- a learning game based on reality. MRU 1st year master's students dubbed it the "Marathon YES" (Your Epic Success). Equatorial Marathon is a game based learning platform, with visible results. Thus, we understand the needs and desires of Generation Y and with the EQuatorial team we made possible the gamification learning. The finisher of the game and those who achieved the best results received prizes in the form of diplomas, books, memory-sticks, jerseys and even a few offers for internships.

Partnerships with media partners were also continued, so our master students had the opportunity to participate free of charge, subject to availability, at some events in human resources.

What should we copy from other state's educational programmes?

Romanian education system is still performing, in some respects, but even in this cases we cannot provide a very good promotion to it. The first step you should do so that Romanian education system to regain what was once, is to cultivate education spirit for learning or for school from a very early age. Often, the social models of our children are not the most relevant, given that the Romanian system of values has undergone many changes in recent years. Secondly, I believe that professionals should be encouraged to be more involved in teaching. Also, in mandatory internships, I believe that establishing long-term partnerships with organizations in different fields could be another success factor. Promoting innovative learning methods and abandoning the classical style, where often what says the teacher seems to be standard, can contribute significantly to increasing the performance of the Romanian education.


What has been achieved so far:

In terms of results and impacts in business, Preus project can be characterized as follows:
- 169 students who attend or have attended / benefited from internships in human resources in organizations in the private and public so far;
- 1,400 Ron / student / internship was the grant awarded to the project for students who has done an internship.
- 166 subsidies paid to students who have had an internship in human resources;
- 275 students have benefited so far, of guidance and counselling;
- 80 learners master MRU - advised;
- 70 learners master MRU – counselled;
- Seven HR tools internationally certified used in the guidance and career counselling;
- 32 students, members of the target group of the project Preus, employees in human resources in companies in various fields;
- 12 media partners attracted and involved in promoting the project;
- 16 thematic workshops organized within the project;
- 724 students participating in thematic workshops;
- 24 guest-speakers present thematic workshops;
- 11 events organized to promote the project with media partners;
- Three thematic visits organized in partnership with organization-based practice;
- A study on the quality of teaching practice;
- 52 students, members of the target group who have attended free courses of human resources;
- A manual of best practices for organizing and conducting internships;
- A study on students' career motivation in economics;
- A nomination to the Awards for Excellence in Human Resources organized by HR Club Romania Edition 2016 and a nomination at the Romanian Outsourcing Awards 2015 Gala Awards.

---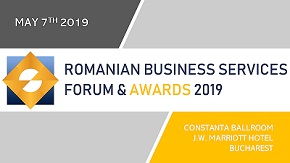 » Cushman & Wakefield Echinox: StreamWID...
» Exclusive OT: Iasi business services e...
» Leoni to open new SSC in Cluj, cut job...
» TELUS International Europe: Discover h...
» CBRE managed transactions of 22,000 sq...
» TELUS International Europe: How Millen...
» PwC: The competitive advantages of Rom...
» UBB and IT Cluster Cluj brought 450 st...
» Hunte, Everest: Romania takes a slice ...
» EXCLUSIVE: ABSL Timisoara - BPO and SS...

Workplace of the Future conference to take place on November 20th at Bucharest

The Diplomat-Bucharest together with Outsourcing Today organize the 3rd Edition of WORKPLACE OF THE FUTURE, on 20th of November 2019, in Bucharest, at Capital Plaza Hotel.
Read Full article »
Strategic Talent Acquisition at People Empowering Business Forum on October 30 in Bucharest

Latest trends like demographic upheaval, globalization, digital technology, and changing social values and worker expectations, are disrupting business models and radically changing the workplace. These are req
Read Full article »
Informal IT School and UiPath launch an educational program for RPA development to start in October

Informal IT School announced a partnership with UiPath to launch an RPA development educational program of five months, 100 hours of courses, five days a week. The program will run in Cluj-Napoca.
Read Full article »
Impact Hub Bucharest joins 3house to manage three coworking spaces in the city

Impact Hub Bucharest, a coworking spaces manager and developer of accelerator programs and events merged with 3house, a new concept of workplace launched in 2018. By this, Impact Hub reaches 3 locations and 6.7
Read Full article »
JLL: Total office space in Bucharest to reach 3 million sqm

The second quarter of 2019 reconfirmed the increased interest for the office market in Romania. Over 115,000 square meters of office space were leased over this period at the national level, a value similar wit
Read Full article »