Class IT becomes Startech Team and expands the IT integrator solutions portfolio

Class IT Outsourcing merges with Class IT Hardware under one brand - Startech Team- at 15 years since establishment. By this, the company targets the market of IT solutions integrators.

"Startech Team represents more than IT support services. It also means analysis of customers' businesses and developing integrated solutions for more efficient business. This year we celebrate 15 years of activity and we decided to add to our portfolio innovative IT solutions, enhancing the performance of companies. We will continue investing in IT management through Optimum Desk solutions and business security through Optimum Center. Our investments will also target the division of business analysis and innovation, "said Bogdan Tudor, CEO of Startech Team.

By the newly established company, Startech Team opens over 50 new jobs in IT, with different levels of competencies. Currently, the company has 150 employees.

According to Tudor, "about 60 per cent of companies in Romania have strong need for implementation of innovative IT solutions, in order to remain competitive. Currently, we operate on emerging market, where less than 20 per cent of companies endow the IT management departments to to specialists. In comparison, in the United States, the percentage of companies who turn to specialized suppliers of IT solutions and support services is over 60 per cent, while in Western Europe, the average exceeds 45-50 per cent."

---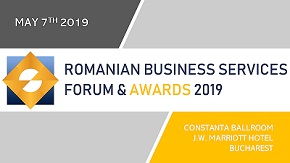 » Huawei opens a centre on cyber securit...
» ROMANIAN OUTSOURCING AWARDS FOR EXCELL...
» Romania ranks above EU average in gend...
» Bucharest, in the top of cities in Eur...
» Berg Software Romania: Reasons to outs...
» KPMG launches an application enabling ...
» Bogdan Pelinescu, president of ABSL: A...
» Meet the experts who will decide the w...
» ABSL GALA AWARDS celebrated its winner...
» Oracle reaches 4,200 employees and pla...

Colin C. Lovering: Meet the speakers at Romanian Business Services Forum & Awards 2019, on May 7

Colin C. Lovering has been living and working in Romania since 2009 when he arrived to offer consultancy and advice to organisations looking for growth and profitability and founded Achieve International.
Read Full article »
Antoniu Panait: Meet the speakers at Romanian Business Services Forum & Awards 2019, on May 7

Managing Director for VASTINT Romania since 2009, Antoniu Panait has an executive experience of more than 10 years, mainly in real estate.
Read Full article »
Andrei Voica: Meet the speakers at Romanian Business Services Forum & Awards 2019, on May 7

Andrei Voica, Director Project Management and Workplace Consultancy, Colliers International. Truly passionate about his work and always eager to add value to each project.
Read Full article »
Romulus Caralicea: Meet the speakers at Romanian Business Services Forum & Awards 2019, on May 7

Romulus is Wipro's Information Security, Risk & Compliance Lead for Europe. In his role he is managing internal audits and compliance activities for all clients and internal functions based on the corporate ISO
Read Full article »
George Didoiu: Meet the moderator of Romanian Business Services Forum 2019 CEO LEADERS DEBATE, on May 7

In his 15 years of real estate, George Didoiu advised on the relocation of top IT&C, finance-banking and consultancy companies, which total over 10,000 employees.
Read Full article »