Class IT becomes Startech Team and expands the IT integrator solutions portfolio

Class IT Outsourcing merges with Class IT Hardware under one brand - Startech Team- at 15 years since establishment. By this, the company targets the market of IT solutions integrators.

"Startech Team represents more than IT support services. It also means analysis of customers' businesses and developing integrated solutions for more efficient business. This year we celebrate 15 years of activity and we decided to add to our portfolio innovative IT solutions, enhancing the performance of companies. We will continue investing in IT management through Optimum Desk solutions and business security through Optimum Center. Our investments will also target the division of business analysis and innovation, "said Bogdan Tudor, CEO of Startech Team.

By the newly established company, Startech Team opens over 50 new jobs in IT, with different levels of competencies. Currently, the company has 150 employees.

According to Tudor, "about 60 per cent of companies in Romania have strong need for implementation of innovative IT solutions, in order to remain competitive. Currently, we operate on emerging market, where less than 20 per cent of companies endow the IT management departments to to specialists. In comparison, in the United States, the percentage of companies who turn to specialized suppliers of IT solutions and support services is over 60 per cent, while in Western Europe, the average exceeds 45-50 per cent."

---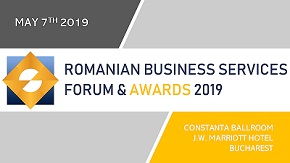 » Nomination are now open for Romanian B...
» PwC: The competitive advantages of Rom...
» Genpact, Luxoft and Oracle, top lessee...
» Philippe Beucher takes a new opportuni...
» CBRE: Romanian outsourcing industry ha...
» Romanian Outsourcing Summit 2016: Walk...
» Romanian Outsourcing Awards for Excell...
» The Outsourcing industry announces its...
» CrowdStrike opens a new center of inno...
» Tremend joins Mellanox in powering the...

Nomination are now open for Romanian Business Services Forum and Awards

Nominations have opened for the prestigious Romanian Business Services Forum & Awards. The 2019 awards will continue to recognize and reinforce the important contribution made by business services professionals
Read Full article »
Study: 89 per cent of finance teams yet to embrace Artificial Intelligence

Report by Association of International Certified Professional Accountants and Oracle shows that almost 90 per cent of finance teams do not have the skills to support digital transformation.
Read Full article »
Bucharest, in the top of cities in Europe with the largest number of experts in high-tech industry

Bucharest is among the top cities boasting the most experts in the high-tech innovative industry, with over 70,000 current employees, next to London, Dublin, Madrid or Budapest, reads a study conducted by CBRE
Read Full article »
CBRE study: Post-millennials, the happiest about their offices

During 2018, real estate consultancy company CBRE conducted the first study dedicated to work environment in office buildings in Bucharest. The respondents have been structured in four age segments, such as Z g
Read Full article »
Deloitte's Tech Trends 2019 report: Beyond the digital frontier

The recently released Deloitte's Tech Trends 2019: Beyond the digital frontier, as each Tech Trends report in the series conducted by the consultancy company, lobbies for embracing the increasing, often mind-b
Read Full article »