Class IT becomes Startech Team and expands the IT integrator solutions portfolio

Class IT Outsourcing merges with Class IT Hardware under one brand - Startech Team- at 15 years since establishment. By this, the company targets the market of IT solutions integrators.

"Startech Team represents more than IT support services. It also means analysis of customers' businesses and developing integrated solutions for more efficient business. This year we celebrate 15 years of activity and we decided to add to our portfolio innovative IT solutions, enhancing the performance of companies. We will continue investing in IT management through Optimum Desk solutions and business security through Optimum Center. Our investments will also target the division of business analysis and innovation, "said Bogdan Tudor, CEO of Startech Team.

By the newly established company, Startech Team opens over 50 new jobs in IT, with different levels of competencies. Currently, the company has 150 employees.

According to Tudor, "about 60 per cent of companies in Romania have strong need for implementation of innovative IT solutions, in order to remain competitive. Currently, we operate on emerging market, where less than 20 per cent of companies endow the IT management departments to to specialists. In comparison, in the United States, the percentage of companies who turn to specialized suppliers of IT solutions and support services is over 60 per cent, while in Western Europe, the average exceeds 45-50 per cent."

---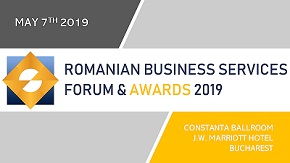 » Meet the winners of ROMANIAN BUSINESS ...
» Evolving from consumers of resources t...
» ROMANIAN OUTSOURCING AWARDS FOR EXCELL...
» Pepper Escu, the first humanoid robot ...
» Rebranding Creativity 2019, the first ...
» Volvo Cars and Uber present production...
» Preparing for the new future
» Berg Software Romania: Reasons to outs...
» George Rotariu, CEO Bitcoin Romania: B...
» George Didoiu: Meet the moderator of R...

Digital Transformation Conference to take place on June 19 at Bucharest

The Diplomat – Bucharest organizes Digital Transformation Conference to be held on 14 of June in Bucharest, at Hilton Hotel - Regina Maria Hall, starting 8:30 AM.
Read Full article »
L&D Conference by The Diplomat Bucharest took place on June 4th at Bucharest

The Diplomat-Bucharest organizes the Third Edition of its Learning & Development CONFERENCE on 4 June, 2019 at InterContinental Hotel Bucharest starting 09:00 am.
Read Full article »
Meet the winners of ROMANIAN BUSINESS SERVICES AWARDS, 2019 edition

ROMANIAN BUSINESS SERVICES FORUM & AWARDS 2019, in its fifth year, brrought on May 7, in Bucharest, a new concept event with engaging keynote sessions by industry leaders, interactive panel discussions, network
Read Full article »
Few hours away from to the long awaited CEO Leaders Debate, a premiere of Romanian Business Services Forum and Awards

We are a few hours away to the long awaited CEO Leaders Debate, a premiere of Romanian Business Services Forum and Awards on May 7.
Read Full article »
Colin C. Lovering: Meet the speakers at Romanian Business Services Forum & Awards 2019, on May 7

Colin C. Lovering has been living and working in Romania since 2009 when he arrived to offer consultancy and advice to organisations looking for growth and profitability and founded Achieve International.
Read Full article »