French energy operator Total opened support services center at Bucharest

Total, one of the largest major integrated oil and gas companies in the world, with activities in more than 130 countries and 98.000 employees opened a corporate support services center at Bucharest in March this year.

According to local newspaper Ziarul Financiar, citing data published by the Romanian Trade Registry, the French group secured 2.5 million Euro worth share capital for opening the center at Bucharest.

Total Romania was founded in 2005 as a joint venture between TOTAL (France) and LUSTIC (Romania), the initial name of the company being TOTAL Lubrifin.

Today, the company with the headquarters in Brasov, holds a blending plant in Cristian, Brasov and a bitumen storehouse in Ozun, Covasna, and covers a complex areas of customized services and advanced product solutions and high value products dedicated to a wide range of fields: automotive and moto, agriculture, transport, public works, industry, maritime and aeronautics.


---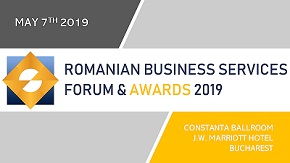 » TELUS International Europe: Three ways...
» Deloitte's Tech Trends 2019 report: B...
» Molson Coors started to grow its busin...
» Capgemini: Investing in people is the ...
» ROMANIAN OUTSOURCING AWARDS FOR EXCELL...
» The Outsourcing industry announces its...
» Romania ranks above EU average in gend...
» Hays: Timisoara outsourcing industry f...
» Bucharest, in the top of cities in Eur...
» DTZ: Office demand outside Bucharest t...

The voting procedure for the BRAND OF THE YEAR 2019 IN ROMANIAN BUSINESS SERVICES is open!

This is the fifth edition of the event and the second year to select the public's favorite brand in the business services BPO, ITO and SSC in Romania.
Read Full article »
Romania ranks above EU average in gender employment gap

In Romania, the employment rate measures the number of people who have a job as a percentage of the working age population. This page provides - Romania Employment Rate- actual values, historical data, forecast
Read Full article »
Steven Hunt, SAP SuccessFactors: Tectonic movements in the world of work

The world of work will be shaped by five tectonic movements – or global megatrends – over the next few years. As you may guess from the geological analogy, the effects could be dramatic.
Read Full article »
EY: European companies are divesting to future-proof growth

According to the EY Global Corporate Divestment Study, 84 per cent of European companies surveyed intending to divest within the next two years (the majority planning to do so in the coming 12 months), executiv
Read Full article »
Knowledge-sharing presentation on latest trends the industry deals, in the program of Romanian Business Services Forum and Awards

Part of the upcoming joint half-day event, Romanian Business Services Forum and Awards to be held at JW Marriott Hotel on May 7th, the discussion agenda comprises a complex Knowledge-sharing presentation on lat
Read Full article »