Molson Coors started to grow its business shared services center in Bucharest

Canadians from Molson Coors started to grow their business services center in Bucharest which supplies accounting, financial and HR services for the group at global level.

Molson Coors Europe which acquired StarBev company in 2012, is represented in Romania by Bergenbier S.A., one of the biggest brewing companies of the world and brews and sells beer on the Romanian beer market since 1994. Today, according to company data, Bergenbier S.A., headquartered in Bucharest – Global City Business Park, has about 700 employees, a national distribution network and the most modern brewing plant in the Molson Coors Europe Group at Ploiesti, with an advanced quality management, health & safety and a friendly environment management. The company's portfolio includes brands in all market segments. Besides Bergenbier, Noroc, Staropramen, Stella Artois, Beck's and Löwenbräu that are brewed in Romania, the company imports some specialties like Leffe, Corona, Hoegaarden, Blue Moon, Franciscan Well or Doom Bar.

Currently, the Bucharest-based business services center arm of the group announced they have a range of finance opening positions focused on management accounting, financial analytics, reporting & transactional activities , with different levels of seniority. The company is looking for professionals with SAP knowledge and financial experience.

Headquartered in Prague, Czech Republic, Molson Coors Europe was formed in January 2013 through the combination of the company's Molson Coors UK & Ireland business unit with Molson Coors Central Europe, which was created following the StarBev acquisition in June 2012. The company's business in Europe has a long history in beer dating back to 1774.


---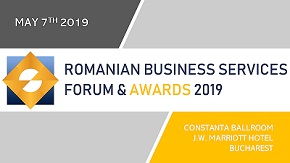 » Nomination are now open for Romanian B...
» PwC: The competitive advantages of Rom...
» Genpact, Luxoft and Oracle, top lessee...
» Philippe Beucher takes a new opportuni...
» CBRE: Romanian outsourcing industry ha...
» Romanian Outsourcing Summit 2016: Walk...
» Molson Coors started to grow its busin...
» Romanian Outsourcing Awards for Excell...
» The Outsourcing industry announces its...
» CrowdStrike opens a new center of inno...

Nomination are now open for Romanian Business Services Forum and Awards

Nominations have opened for the prestigious Romanian Business Services Forum & Awards. The 2019 awards will continue to recognize and reinforce the important contribution made by business services professionals
Read Full article »
Study: 89 per cent of finance teams yet to embrace Artificial Intelligence

Report by Association of International Certified Professional Accountants and Oracle shows that almost 90 per cent of finance teams do not have the skills to support digital transformation.
Read Full article »
Bucharest, in the top of cities in Europe with the largest number of experts in high-tech industry

Bucharest is among the top cities boasting the most experts in the high-tech innovative industry, with over 70,000 current employees, next to London, Dublin, Madrid or Budapest, reads a study conducted by CBRE
Read Full article »
CBRE study: Post-millennials, the happiest about their offices

During 2018, real estate consultancy company CBRE conducted the first study dedicated to work environment in office buildings in Bucharest. The respondents have been structured in four age segments, such as Z g
Read Full article »
Deloitte's Tech Trends 2019 report: Beyond the digital frontier

The recently released Deloitte's Tech Trends 2019: Beyond the digital frontier, as each Tech Trends report in the series conducted by the consultancy company, lobbies for embracing the increasing, often mind-b
Read Full article »