Molson Coors started to grow its business shared services center in Bucharest

Canadians from Molson Coors started to grow their business services center in Bucharest which supplies accounting, financial and HR services for the group at global level.

Molson Coors Europe which acquired StarBev company in 2012, is represented in Romania by Bergenbier S.A., one of the biggest brewing companies of the world and brews and sells beer on the Romanian beer market since 1994. Today, according to company data, Bergenbier S.A., headquartered in Bucharest – Global City Business Park, has about 700 employees, a national distribution network and the most modern brewing plant in the Molson Coors Europe Group at Ploiesti, with an advanced quality management, health & safety and a friendly environment management. The company's portfolio includes brands in all market segments. Besides Bergenbier, Noroc, Staropramen, Stella Artois, Beck's and Löwenbräu that are brewed in Romania, the company imports some specialties like Leffe, Corona, Hoegaarden, Blue Moon, Franciscan Well or Doom Bar.

Currently, the Bucharest-based business services center arm of the group announced they have a range of finance opening positions focused on management accounting, financial analytics, reporting & transactional activities , with different levels of seniority. The company is looking for professionals with SAP knowledge and financial experience.

Headquartered in Prague, Czech Republic, Molson Coors Europe was formed in January 2013 through the combination of the company's Molson Coors UK & Ireland business unit with Molson Coors Central Europe, which was created following the StarBev acquisition in June 2012. The company's business in Europe has a long history in beer dating back to 1774.


---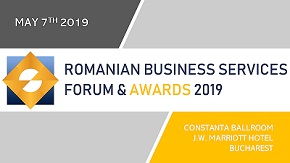 » Huawei opens a centre on cyber securit...
» ROMANIAN OUTSOURCING AWARDS FOR EXCELL...
» Romania ranks above EU average in gend...
» Bucharest, in the top of cities in Eur...
» Berg Software Romania: Reasons to outs...
» KPMG launches an application enabling ...
» Bogdan Pelinescu, president of ABSL: A...
» Meet the experts who will decide the w...
» ABSL GALA AWARDS celebrated its winner...
» Oracle reaches 4,200 employees and pla...

Colin C. Lovering: Meet the speakers at Romanian Business Services Forum & Awards 2019, on May 7

Colin C. Lovering has been living and working in Romania since 2009 when he arrived to offer consultancy and advice to organisations looking for growth and profitability and founded Achieve International.
Read Full article »
Antoniu Panait: Meet the speakers at Romanian Business Services Forum & Awards 2019, on May 7

Managing Director for VASTINT Romania since 2009, Antoniu Panait has an executive experience of more than 10 years, mainly in real estate.
Read Full article »
Andrei Voica: Meet the speakers at Romanian Business Services Forum & Awards 2019, on May 7

Andrei Voica, Director Project Management and Workplace Consultancy, Colliers International. Truly passionate about his work and always eager to add value to each project.
Read Full article »
Romulus Caralicea: Meet the speakers at Romanian Business Services Forum & Awards 2019, on May 7

Romulus is Wipro's Information Security, Risk & Compliance Lead for Europe. In his role he is managing internal audits and compliance activities for all clients and internal functions based on the corporate ISO
Read Full article »
George Didoiu: Meet the moderator of Romanian Business Services Forum 2019 CEO LEADERS DEBATE, on May 7

In his 15 years of real estate, George Didoiu advised on the relocation of top IT&C, finance-banking and consultancy companies, which total over 10,000 employees.
Read Full article »