How does leadership look today?

This summer, Outsourcing Today organized LEARNING & DEVELOPMENT Roundtable at InterContinental Hotel in Bucharest. The event brought together the business services professionals to discuss and discover new tools and programs designed to assist businesses in growing the talent pipeline and developing current employees.

The event's focus also underlined the exchange of relevant trends and research results as well as the presentation of practical experiences gained while developing, designing and testing elements of advanced corporate learning.

We wish to thank all our partners engaged in the organization of this event: Gold partners CIMA, FineLaw, Wipro, partner Vastint, with the support of ThinkAhead ACCA and media partner Portal HR.

The roundtable aimed at highlighting the nowadays topics of the industry such as scanning the organizational actual needs in terms of talent management and succession planning by drawing a coherent strategy for the future, compliance with legal requirements, best practices of HR professionals in delivering the most cost-effective methods and solutions for more successful learning results, besides corporate structured learning programs with impact on corporate culture in terms of personal and professional development (e.g. coaching, mentoring etc.) and measurement tools to ensure effectiveness of training programs.

How does leadership look today?

Crina Ilie, President of Human Resources, Genpact Europe
Operating in this industry, we find ourselves in a privileged position. Crisis of talent didn't hit us yet. The privilege mainly means that we can prepare for the future and assume a leadership position for what is yet to come. The load of knowledge, speed of change, ambiguity of external environment is putting leadership on high stress. We need to reflect and ask ourselves what we have to do and to change in our ways of functioning, regarding the meta cognitive and meta knowledge load that will surely cause and impact us. Maybe the challenge is coming from data, and not people. Imagine a world where knowledge is encrypted in systems. How will we adapt within such environment? These are many yet unanswered questions. But my message would be to remain human, to really go back to basic values, while learning new values.

Transforming the conversation

Marie Francine Rosca, Global Learning Program Manager, HP

Best practices for digital transformation
In my opinion, in the future, leadership will become even more human. Digital transformation and AI may seem a scary reality but in fact, it may increase our ability as humans to achieve even more. In a new environment where digital and AI is part of the environment, jobs will become more humans, the AI will not be able to fill in those requirements that need a human touch or empathy. In this regard, it is even more imperious for companies to try to help their employees to develop themselves – is not about delivering knowledge and access to information, it's about how companies allow their employees to easier reach to the information that is really relevant to them.

HP established a social learning platform functioning as HPE Software University – a both formal and informal eLearning platform. Besides all the corporate trainings we had in the past, we also put together all the knowledge shared by employees with colleagues in this platform All this knowledge is critical and important. So we changed the way we apply the learning and development for our employees. We wanted to change the conversation. HPE Software University is about feeding the mind of employees, getting to next level and this doesn't have to come from a corporate structure alone, but from each employee's view and insights.


The legal point of view

Iulian Patrascanu, Managing Director, Fine Law Patrascanu & Associates

I cannot see any HR actions of a company without legal implications. In digital environment, we should identify what are the legal requirements and constrains to stay in compliance. When I hear a HR practitioner talking about learning and development, I go into the law and I find there references to professional training. There are all these concepts that find their regulations and requirements in the law and the companies should establish a legal frame for HR to access the knowledge regarding these laws.

Preparing for the future

Crina Ilie, President of Human Resources, Genpact Europe

I have a dream, and this is, that, along my career, to get to witness the switch from ownership to stewardship. Globally, as we see it beyond facts and data, the discrepancies in wealth are really driven by education. Through our BPO industry, we support the redistribution of the goodness and wealth of the world, moving things from west to east. In India, they have industrial bodies which are constantly engaged into the industry, looking at the next big competencies of the future, or finding ways to address on how the companies can contribute to the overall society, by providing tools and vision. Here, with ABSL, we also started to build on such vision but at a smaller scale. We need to build on the voices coming together and to address a very important question: What is the real benefit the industry is really offering to people? There is space for much more conversation here and we started a dialogue, it's true. I believe in sharing. The more we share, the more power we gain. This is an area where Genpact wants to play, to build global programs for free along with industry bodies. There are many initiatives happening in all parts of the world. The question remains: How can we all contribute to a larger good? Pick an idea and will make it bigger.

Olga Botusan, HR Manager, Stefanini
Regarding sharing knowledge, I think we should address it to a more informal level. Within Stefanini, we developed a closer relationship frame with employees and sites, we run blunt conversations and sharing info contexts. Step by step, we are getting closer and remain in contact with our operations and employees in a more effective way.


Teodora Todoran, Head Training Function - Europe, Wipro Limited
We talk about leadership often enough. There are questions that need be addressed more often in my opinion, such as "What do we do actually in terms of growing leaders through training programs." We need to create certain mindsets, to shake old perspectives and build new visions. The new mindset should address the taking-risks attitude, allowing to fail, learning from failure. This is creating and building a leader. What to expect a leader to do? If you are to ask the employees about their training needs, you will find out with no surprise that they want time management training, customer care training. We are thinking about big words and concepts, strategies but employees want human interaction, one to one conversation. They need the standard, the regular, the human touch. Digital is useful, but we need to go back a little bit, two-three steps behind the current perspective and get closer to people.

The training provider's perspective

Monica Grigoriu, Executive and Team Coach, PCC in ICF

This is a very challenging program for me, as the first time to build this structure. One of the challenges is to show people that they are good and have this structure in them. Also, a challenge and a goal would be to take the structure out and to multiplicate it. My challenge is to enable the trainees with fair basic fundamentals in listening, in how to address questions, to answer questions, how you approach the resistance in the teams. They were better than expected.

Roxana Tesiu, Europe HR Head at Wipro Technologies

A major question would be "Do you believe in human relations?" and the next one would how to maximize the human potential, how you capitalize on it. We must bring back the entire framework, because coaching is one option. It is not about fitting all measures, it is not putting people in frames and structure. We should build more on the ways of creating options for human interactions, building a coaching self-learning program, an automated solution for, eLearning to fuel the human touch points.


Documenting every step and action

Iulian Patrascanu, Managing Director, Fine Law Patrascanu & Associates
In outsourcing industry, it seems that HR gets a faster speed than legal. Therefore, we must catch up with HR. All the talks about coaching, one to one meetings, everything is great but at some point, we must comply with legal requirements. It may seem right, but if do not catch up and coordinate, some bad things might happen. Training programs should be enrolled in the strategy of the company. In a certain case, from a HR perspective, they might say that we have done a lot of training with this person yet, we don't want to continue with his employee, from a certain cause, non-performance or other thing. All trainings must be put in some documentation, as well the one to one talking sessions. We can use models and ways of communication, but we have must have a prove that we have delivered these tools for an employee. In other departments, a company should also address compliance in audit, or other function of a company. There is a compliance in label, also. In HR, you must keep an evidence of that is happening, you make sure you comply with the law. For instance, there is an obligation imposed by law to perform training to employees every two tears.

The invisible learning concept

Crina Ilie, President of Human Resources, Genpact Europe

The story goes back at the beginning of the 19th century when effectiveness was the industrial revolution target. Learning was separated from work.

Invisible learning is about how work and learning can go together. It depicts the process of learning by working. The real transformation and enhancement comes from everyone's belief, we go to knowledge, practice, sharing and repeat the cycle. Are we aware the invisible learning created into a company? Learning culture and work are not really correlated. The culture is a collection of beliefs. Out beliefs are our biggest opportunists and enemies. In leadership, for centuries, is the same. Creating leaders involves teaching managers and employees to accept themselves, educate themselves, learning by working and after then, inspiring the others. It is about self-awareness programs. It is hard to measure the results of such programs on short term and it is very hard quantifiable.


New ways, Innovation

Marie Francine Rosca, Global Learning Program Manager, HP

The cultural innovation is linked to cultural learning and growing . You cannot innovate if you remain in the same mindset. Change to continuously growth, try new things and fail and learn from failures, assume the fails. Learning from attempts. It does thrive from that growth of and change of mindset. In HP, in the past years, we started the process of transforming the company culture and link it to learning. Transformation of company culture has been created as a concept around leadership and aims at how leaders create insights ad facilitate insights for employees and how these insights come from conversations, one to one relationship. For us, innovation and transformation, comes through learning. The culture of learning has 3 aspects: leadership-creating environment that allow employee to learn, experiment, fail and succeed. The second is transforming the mindset that creates the understanding framework for letting employees know that they are able to grow and evolve. The third relates to gaining and developing skills.

Teodora Todoran, Head Training Function - Europe, Wipro Limited

Approaching freshers should raise the question about what a newly hired employee needs to get ready for delivery. Investing in their training, offering a road map for development inside the company creates the bases of future leaders. It is a constant in our company that we are investing in training for developing leaders. Investing in them, is equally relevant. Best practices: Through training for employees we make sure that we will have the power to also improve the processes, to engage and invite for commitment. Also, the employees need to embrace the change. The world is changing at a fast pace so we need to provide them with the tools for putting in place the right mindset.

Alexandra Buricea, Legal Advisor, Stefanini
A major aspect in each company refers to the security and confidentiality trainings that we must make available. Very important, we must find a way to ensure that message gets to them and it is understood by employees at every level. Our employees will respect security, and this is a very important asset for our clients. We deliver these trainings in easy and friendly way to be acknowledged.

Training and career path


Olga Botusan, HR Manager, Stefanini

Freshers: What should we ask when enrolling them into the company: Before asking them to engage in pursuing the business objective, what do we give back to the society or students? We as company, we want to attract students but we don't share to much knowledge about what our company is doing and we do not really reach the students. In order to create the awareness for our company towards students that we might want to hire in few years from now, we need to address them in early stages. That is why we started some partnerships with NGOs helping students in their career counseling. We are using our time, people, money and this is step 0 for career path for a student. If we go earlier in conversations with the youngsters about their career path we can create a healthy environment for a business because sometimes, they have very unrealistic expectations and visions about their career.


Preparing for the real work and organizations


Raluca Popa, Associate Professor, The Bucharest Academy of Economic Studies

In my role, I get to work with lots of students, as about 3000 students and I am aware that, being a student and a young person nowadays, it is a real struggle. I try to bring to their knowledge facts of reality but I also have the feeling that they show some lack of curiosity if I compare it to my life experience.. I think it is very good that companies want to get more involved in their university lives, courses, trainings internships, to share their companies experience. But, mainly, companies they come when they need and they leave us there. We should collaborate more, do more to involve the students. We are very open to collaborate. We are planning with Wipro and other companies also, to develop some partnerships. A good idea would be to organize roundtables in our universities. We have to speak about self-awareness, u should think about CSR activities to involve universities and high schools. Also, teachers need to update their ways of teaching. We need to find ways to collaborate.

Darren Brindley Associate Director, Global Corporate Relations AICPA|CIMA

Before addressing the young generation, we should think also about educating their parents. In terms of employment market here, the battle for talent is a strong. We need to address cities outside the core areas – getting in junior schools, high schools – giving parents an idea about career path of their kids. Children who are born today, 65 per cent will work on something they do not know today, parents should be aware of this. Should be aware of future trends and future competencies.

How to learn- is a major topic. The schools are not preparing young children how to learn effectively. If u don't have a certain openness to understanding how learning works, it will be difficult to build their mindset and future skills. Continuous learning is closely related to this topic. It's a matter of mindset, education. You have to teach people the values and the outcome they get from trainings and how they cascade the knowledge and benefits from trainings. Sometimes they say: I am at this training because the boss sent me. It is not a necessary bad idea, because they can go back and feedback about the training and cascading at all levels.


Olga Botusan, HR Manager, Stefanini

Training is part of internal culture. We grow with hundreds of positions per year, training is part of daily activity, linked with culture service culture, internal culture. The HP model addresses the leadership not only at technical level but it relates to mentoring. Let take the best leaders to share their knowledge and way of practice and cascade it to all levels.

Crina Ilie, President of Human Resources, Genpact Europe

At Genpact, we exist because of people. I remember this saying "if you take care of your people, your people with take care of your customers and your customers will take care of your financial". In outsourcing, it will not be a game of numbers. It will be about the quality of processes. We should learn from the young. Understand the learning need s and develop products for specific needs of the market. We should think in marketing terms, learn from the young ability to track specific needs of customers.


Iulian Patrascanu, Managing Director, Fine Law Patrascanu & Associates
You cannot simply train your employees on soft skills, you will have leaders to teach them this. But in the company processes and operations, you have to test employees on their jobs descriptions. You have to start from their tasks. Soft skills are not enough. We have to differentiate the misconduct and nonperformance. You can avoid this dilemma by testing the employee on his job description and document it.

Teodora Todoran, Head Training Function - Europe, Wipro Limited

When it comes to soft kills and leadership, it is hard to draw a direct correlation to the output. We have to go back to the company culture. The investment in training is not working like a magic pill, you cannot measure on daily basis or correlated to a certain period. Increasing span, managing people, customer portfolio draws a correlation. You can link it to customer experience. We also need to address some questions to reflect on it. Are individual KPIs important or do we really need only big processes' KPis? Measuring training is major. We should develop KPIs for trainings. Just sending people on the training classes will not solve the problem. The correlation is at the road level.

ROUNDTABLE Takeaways

• Think from your clients' perspective
• Give back to the people you are expecting things from and want to keep inside the organization
• Be human-centered and really understand customers
• Allow building partnerships with all stakeholders impacting the overall experience
• Legal requirements matter
• Trainers also need training. Don't forget yourself
• Before giving trainees "the pill", understand what is their real need



---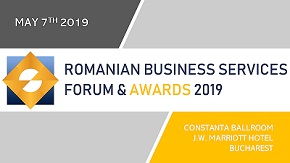 » ASE's HR Master – helping students i...
» Digital Transformation Conference to t...
» Romulus Caralicea: Meet the speakers a...
» Meet the winners of ROMANIAN BUSINESS ...
» Zitec launches its 1 million Euro Mirr...
» Deloitte Romania opens application for...
» Genpact's COO: Staying ahead of the cu...
» Marian V. Popa: Meet the speakers at R...
» Randstad Employer Branding 2019: Salar...
» Antoniu Panait: Meet the speakers at R...

Digital Transformation Conference to take place on June 19 at Bucharest

The Diplomat – Bucharest organizes Digital Transformation Conference to be held on 14 of June in Bucharest, at Hilton Hotel - Regina Maria Hall, starting 8:30 AM.
Read Full article »
L&D Conference by The Diplomat Bucharest to take place on June 4th at Bucharest

The Diplomat-Bucharest organizes the Third Edition of its Learning & Development CONFERENCE on 4 June, 2019 at InterContinental Hotel Bucharest starting 09:00 am.
Read Full article »
Meet the winners of ROMANIAN BUSINESS SERVICES AWARDS, 2019 edition

ROMANIAN BUSINESS SERVICES FORUM & AWARDS 2019, in its fifth year, brrought on May 7, in Bucharest, a new concept event with engaging keynote sessions by industry leaders, interactive panel discussions, network
Read Full article »
Few hours away from to the long awaited CEO Leaders Debate, a premiere of Romanian Business Services Forum and Awards

We are a few hours away to the long awaited CEO Leaders Debate, a premiere of Romanian Business Services Forum and Awards on May 7.
Read Full article »
Colin C. Lovering: Meet the speakers at Romanian Business Services Forum & Awards 2019, on May 7

Colin C. Lovering has been living and working in Romania since 2009 when he arrived to offer consultancy and advice to organisations looking for growth and profitability and founded Achieve International.
Read Full article »