Three major trends to shape the outsourcing business in 2018

The outsourcing industry in Romania is expected to grow at fast pace in 2018. Experts forecast that the Romanian Outsourcing workforce will double by 2025, according to Outsourcing Advisors.

According to their findings, "this is not difficult to imagine as we see outsourcing being embraced not only by big multinational organisations, but also by medium and start-up companies. For companies of all sizes and domains, Outsourcing continues to be an enabler to gain competitive advantage, reduce cost, and have an international reach. As businesses become more digital and move over to different platforms (cloud, social, mobile), Outsourcing has proven to be extremely versatile and able to conveniently adapt to this rapidly changing environment. Here are the top three trends that we expect to see more of in Romania, but also globally."

The first trend states that, in 2018, outsourcing will focus more on core business activities
What started as a rather transactional industry, became more complex in the past years and this trend will continue in 2018. We will see more businesses that will consider fully outsourcing their IT department, not only for cost saving purposes, but especially to gain access to highly experienced and skilled specialists. Romania has seen a growth of specialist roles in the recent years and this is mostly due to its pool of talent and expertise.

Second, outsourcing of smaller projects will see a growth in the next years. According to study, a lot of multinational companies to outsource huge projects to major service providers and this is expected to continue in the next years. Nevertheless, in 2018 and in the next years we might also witness an increase in the outsourcing of smaller projects. Smaller companies will be looking for flexible and specialised support in order to realise their business concepts.

The third trend expects that outsourcing and cloud sourcing will unify and grow. This trend anticipates that there will be a merge between IT outsourcing and cloud sourcing in order to provide better opportunities for the entire outsourcing industry. With businesses pushing towards cloud solutions to gain more business flexibility, scalability and cost savings, outsourced IT services will be required for migration of existing infrastructure and services to make them cloud enabled.
Nobody knows exactly what 2018 will bring, but one thing is certain – we are witnessing a shift of approach in business in general and this is true for the Outsourcing industry as well.

Specifically for Romania, we can't neglect one aspect that might impact companies' decisions to choose our country as a preferred destination for Outsourcing in 2018. To this point, the lack of fiscal and legislative predictability that we are seeing right now represent a major concern.
What to expect from outsourcing in 2018

Growing competitiveness from new outsourcing destinations coupled with the pressure on businesses to run cost efficiently will be the driving forces behind the accelerated growth in the BPO industry, according to Greg Digneo, Content Manager at timedoctor.com, a crossed-knowledge integrator.

Read the study here: Business Process Outsourcing: 7 Trends to Expect in 2018

Their findings cites a report from global property firm Cushman & Wakefield and stating that while the industry will witness cost-cutting by businesses, it will continue to grow by 6 percent annually for the next six years. As major trends, Digneo states that automation will continue to be a major threat to low skilled jobs in the BPO sector. Many of the major outsourcing companies intend to make a 43% investment in robotic automation in the coming two years.
Also, Governments of leading BPO nations will focus on improving education to position itself for rising demands in 2018. To meet such demands, existing BPO employees will be expected to broaden their skill sets.

In the same time, startups will also play a key role in the outsourcing sector starting from this year and this tread will continue in 2018. Moreover, the sector will benefit from increased transparency in global outsourcing policies.

Overall, the global outsourcing industry is predicted to reach 262 billion US dollars by 2020.

In this context, their findings show that innovation, new technologies and global competition are the constant driving forces behind growth and expansion in the global business process outsourcing industry.

Among the quoted trends, one of the most significant is that new technologies are emerging, with emphasis on RPA, focus on social media management tools and cloud computing,

Also, another trend refers to multitasking, prevailing on skill shortage: "25 years ago BPO was synonymous with call centers. This outdated notion has been replaced with accounting, human resources, web design, coding and other tasks."

Another quoted trend refers to startups as becoming BPO Customers. "The past few years have seen a huge surge in startup growth. Startups are under a lot of pressure to succeed under time constraints with limited resources.With a small budget to hire talent, these small businesses often look overseas for cost effective labour. Companies such as Slack, AppSumo and Klout have used the talent outsourcing model to build their successful business ideas. Startups and BPOs have become more mutually dependent and this trend will become more pronounced in 2018.Startups rely on BPO for providing talent at lower costs, completing tedious tasks such as recruitment and trading. This in turn helps outsourced businesses improve their quality of work, utilize most recent technologies and produce greater revenue. In 2014, around 462 million US dollars has been invested in BPO by startups."

Romania is quoted as one of the new outsourcing destinations to emerge in 2018, along with countries such as Bulgaria, Egypt, Mexico, Colombia. "Oversaturation and reduction in business growth in the top 3 outsourcing countries has led businesses to search for alternative cost-effective locations. Romania is currently the fastest growing economy in the EU with 5.7% growth rate. As a result, BPO companies have Romania in their sights for their future expansion. Romania is currently the 13th most desirable outsourcing location in the world.
Romania's growth as a BPO nation is owed to:
• Fastest internet connection amongst EU countries.
• 54 per cent of graduates have a background in science and technology.
• It has the second lowest salary of around 321.17 Euros per month

---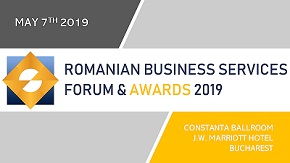 » ASE's HR Master – helping students i...
» Digital Transformation Conference to t...
» Romulus Caralicea: Meet the speakers a...
» Meet the winners of ROMANIAN BUSINESS ...
» Zitec launches its 1 million Euro Mirr...
» Deloitte Romania opens application for...
» Genpact's COO: Staying ahead of the cu...
» Marian V. Popa: Meet the speakers at R...
» Randstad Employer Branding 2019: Salar...
» Antoniu Panait: Meet the speakers at R...

Digital Transformation Conference to take place on June 19 at Bucharest

The Diplomat – Bucharest organizes Digital Transformation Conference to be held on 14 of June in Bucharest, at Hilton Hotel - Regina Maria Hall, starting 8:30 AM.
Read Full article »
L&D Conference by The Diplomat Bucharest to take place on June 4th at Bucharest

The Diplomat-Bucharest organizes the Third Edition of its Learning & Development CONFERENCE on 4 June, 2019 at InterContinental Hotel Bucharest starting 09:00 am.
Read Full article »
Meet the winners of ROMANIAN BUSINESS SERVICES AWARDS, 2019 edition

ROMANIAN BUSINESS SERVICES FORUM & AWARDS 2019, in its fifth year, brrought on May 7, in Bucharest, a new concept event with engaging keynote sessions by industry leaders, interactive panel discussions, network
Read Full article »
Few hours away from to the long awaited CEO Leaders Debate, a premiere of Romanian Business Services Forum and Awards

We are a few hours away to the long awaited CEO Leaders Debate, a premiere of Romanian Business Services Forum and Awards on May 7.
Read Full article »
Colin C. Lovering: Meet the speakers at Romanian Business Services Forum & Awards 2019, on May 7

Colin C. Lovering has been living and working in Romania since 2009 when he arrived to offer consultancy and advice to organisations looking for growth and profitability and founded Achieve International.
Read Full article »