ANIS awarded the best-tech projects within the fourth edition of its annual Gala event
Employers' Association of the Software and Services Industry ANIS awarded within its annual Gala event the best high-tech projects in Romania.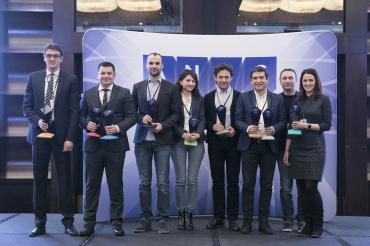 The 4th edition of ANIS Gala event joined guests such as Victor Negrescu, Deputy Minister for European Affairs, Joshua Burke, Commercial Attaché at the United States Embassy in Bucharest and other high-ranking guests, along with important names in the Romanian technology industry, media representatives, ANIS, etc.

Following the judging process, the winners of the 2018 ANIS Awards were designated:
• Endava Romania for Company of the Year
• eMAG Foundation with the project "Aiming for the Olimpyad!" For the Educational Program of the Year
• CargoPlanning for the Startup of the Year
• Cornerstone Technologies with Advancement for the Outsourcing Project of the Year
• Adobe Systems Romania with XD product for the Software of the Year
• Cornerstone Technologies with the QuickBoard Project for the R & D Project of the Year
• Zitec with Campaign # 1024 for the CSR Program of the Year
• Pricing for You, with Zitec's e-commerce application for Client of the Year
• DB Global Technology for ANIS Member of the Year, awarded by the ANIS team

The applications and nominees have been evaluated by a representative jury that included IT industry community members, partners and supporters of the association and projects we are running as follows:
• Teodor Blidarus - President of ANIS,
• Ana-Maria Andronic - Head of Intellectual Property and Technology at DLA Piper,
• Joshua Burke, Commercial Atasate of the United States Embassy in Bucharest,
• Caesar Caluschi - People and Companies,
• Cristian Dascalu - Entrepreneur,
• Daniel Dragomir - founder of TechHub Bucharest,
• Valerica Dragomir - ANIS Executive Director,
• Bogdan Iordache - Partner Gecad Ventures & Founder How To Web,
• Andrei Kelemen - Executive Director of IT Cluster,
• Bianca Muntean - Executive Director ARIES Transilvania,
• Varujan Pambuccian - Member of the Romanian Parliament,
• Dan Radu - Editor of PIN Magazine,
• Matan Safran - Commercial Attaché of the State of Israel in Romania,
• Silviu Sandache - Senior Tax Manager, Deloitte Romania,
• Adrian Seceleanu - Ziarul Financiar Editor,
• Roxana Vitan - Executive Director Romanian American Foundation and
• Dan Zaharia - Senior Consultant, Extind Management.

Teodor Blidarus, President of ANIS, said in the opening of the event: "Our industry has grown in the 20 years since the establishment of ANIS, from 200 million dollars to over 4 billion euros. In order for our industry to continue to grow at least at the same pace as before, ANIS has strategic priorities in the medium term education, with the specific goal of doubling the number of IT graduates and innovation, the direction for which we aim to increase the number of startups active and successful in our industry."