ABSL: Innovation and transformation in Cluj Napoca's business services' Conference

The Association of Business Service Leaders in Romania (ABSL), the most important organization representing the business services industry, organizes on February 27, 2018, at the Opera Plaza Hotel in Cluj-Napoca, the conference "Innovation, transformation and continuous improvement in BPO space."

The event, now at its third edition, is dedicated to Business Process Outsourcing, Shared Services Centers and IT Outsourcing professionals, member and non-member companies, local authorities and business representatives from Cluj-Napoca.

The purpose of the event is to make known the trends in the field, to anticipate this year's challenges and opportunities, and to prepare participants to adapt to future changes, as well as to facilitate the exchange of good practices among companies in the sector.

"In the context of accelerated expansion and changes that occur due to the transformation and innovation in business services, this event comes to confirm the commitment of ABSL to contribute to the development of the sector in Cluj-Napoca. Thus, at the conference, we aim to facilitate the exchange of experience and good practices and to find solutions together to the challenges that await us in the next period", said Cosmin Pătlăgeanu, President of ABSL Romania.

At the conference, successful companies like ACCA, JLL, KPMG, HAYS, SKANSKA and COS will share their expertise and provide insights into how the 2018 trends will affect the outsourcing industry in Romania. Also, ABSL member companies will present case studies, and debating sessions will engage participants in meaningful discussions on topics such as the development of the shared services industry in Cluj-Napoca in the next period, and the challenges of innovation and transformation processes.

The event is addressed to the local business community in Cluj and the western region of Romania and will be moderated by Ciprian Dan, ABSL Vice-President, Colin Lovering, Senior Vice-President Avison Young and Liliana Bizău, Senior Account Manager ABSL.

Entrance to the event is based on an invitation, and participation is free of charge. For bookings, entries are made on www.absl.ro/event/cluj-napoca-business-mixer-2018/



About ABSL

The Association of Business Service Leaders in Romania (ABSL) is the most important organization that represents the business services sector, bringing together the most important companies in the market that operate in areas such as Shared Services Center (SSC), Business Process Outsourcing (BPO), Information Technology Outsourcing (ITO), Research and Development (R & D).

The role of ABSL Romania is to support the expansion of the Business Service sector and its transformation into an important vector of Romania's economic growth. The association achieves its goals by facilitating the collaboration of the main players, as well as engaging authorities and interest groups in developing the key operational aspects of the industry.

The ABSL Romania includes both local and multinational companies, regional and global leaders such as: Accenture Services, Allianz Worldwide Partners, APT Resources & Services, Arvato Services Romania, Be Think Solve Execute, Capgemini, Central Europe Technologies, Connections Consult, CRH Ciment Romania, DB Schenker, Deloitte Audit, DXC Technology, Ernst & Young, Eucom Business Language, Genpact Romania, Global Remote Services, Goodyear Dunlop Tires Operations Romania, H Group IT Expert, HP Enterprise, HP Inc Romania, Luxoft Professional Romania, Mazars Consulting, Microfocus, Microsoft Romania, Mood Media, Office Depot Service Center, OMV Petrom Global Solutions, Optima Solutions Services, PwC Romania, Process Solutions, Procter & Gamble Marketing Romania, Renault Business Services, Samsung SSCE, SCC Services Romania, SELIR, Societe Generale European Business Services, Stefanini Romania, TELUS International, TMF/UCMS Group Romania, UniCredit Business Integrated Solutions, Valoris Center, Vauban IT, Veeam Software, Vodafone Shared Services Romania, Webhelp, Wipro Technologies and WNS Global Services Romania.

ACCA, COS, Fine Law, Hays, I Future, JLL, KPMG and Skanska also support ABSL as strategic partners of the association.



---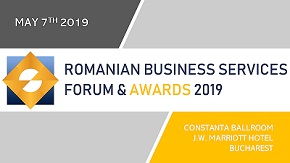 » Nomination are now open for Romanian B...
» PwC: The competitive advantages of Rom...
» Genpact, Luxoft and Oracle, top lessee...
» Philippe Beucher takes a new opportuni...
» CBRE: Romanian outsourcing industry ha...
» Romanian Outsourcing Summit 2016: Walk...
» Romanian Outsourcing Awards for Excell...
» The Outsourcing industry announces its...
» CrowdStrike opens a new center of inno...
» Tremend joins Mellanox in powering the...

Nomination are now open for Romanian Business Services Forum and Awards

Nominations have opened for the prestigious Romanian Business Services Forum & Awards. The 2019 awards will continue to recognize and reinforce the important contribution made by business services professionals
Read Full article »
Study: 89 per cent of finance teams yet to embrace Artificial Intelligence

Report by Association of International Certified Professional Accountants and Oracle shows that almost 90 per cent of finance teams do not have the skills to support digital transformation.
Read Full article »
Bucharest, in the top of cities in Europe with the largest number of experts in high-tech industry

Bucharest is among the top cities boasting the most experts in the high-tech innovative industry, with over 70,000 current employees, next to London, Dublin, Madrid or Budapest, reads a study conducted by CBRE
Read Full article »
CBRE study: Post-millennials, the happiest about their offices

During 2018, real estate consultancy company CBRE conducted the first study dedicated to work environment in office buildings in Bucharest. The respondents have been structured in four age segments, such as Z g
Read Full article »
Deloitte's Tech Trends 2019 report: Beyond the digital frontier

The recently released Deloitte's Tech Trends 2019: Beyond the digital frontier, as each Tech Trends report in the series conducted by the consultancy company, lobbies for embracing the increasing, often mind-b
Read Full article »