NTT Data Romania leases 2.800 sqm in the third building of Openville Timisoara

The Iulius Company and NTT Data Romania, one of the top providers of software solutions and in Romania, signed a lease agreement for premises in the third class A office building currently pending development in the Openville Timişoara mixed-use project.

NTT Data Romania leased 2,800 sqm in United Business Center 3 (UBC 3), the building being due for delivery on the market in the fourth quarter of this year. The new company premises will accommodate approximately 150 IT specialists.

"NTT DATA Romania is synonymous with professionalism and innovation. We wish for these values to translate both into the projects we are involved in and in the workplaces where we conduct our activity. This is precisely why we chose the Openville project: because we believe it represents and observes our organizational values and it provides multiple opportunities for development. For NTT DATA Romania, creating a modern space that encourages performance and also provides efficient relaxation solutions for the team is an essential factor that is deeply rooted into the organizational. The UBC 3 building caters to our business and manpower expansion needs, which is reflected into our future plans for the branch based in Timișoara. The team currently comprises more than 150 specialists in Timișoara, a number that will certainly grow owing to the current context of growing opportunities, our strategic position on the domestic and foreign market, as well as the talent pool available on the labor market in this progressive city", said Diana Stănese, COO, Executive VP, NTT DATA Romania.

UBC 3 will comprise approximately 19,000 sqm and 14 floors, with the semi-basement and ground floor levels being dedicated for retail uses. The companies that leased premises here also include Visma Software, the Norwegian provider of business management software solutions (4,200 sqm).
The UBC 3 building will be LEED certified and its features will include generous, column-free spaces adding up to 2,000 sqm on each floor and full glass façades that ensure enhanced levels of natural lighting.

UBC 3 stands out owing to its location in the immediate vicinity of the park spanning on 55,000 sqm, which is scheduled to be fitted-out this year in the Openville mixed use project. The building is designed to include two main entrances, namely from the pedestrian and park levels, respectively. Therefore, the people working in UBC 3 will be able to enjoy a spectacular panoramic view of the green spaces and to benefit from immediate access to the cafés and restaurants fitted outdoors, as well as to the stores in Iulius Mall Timişoara, an integral part of the Openville project.

Openville Timişoara, the largest mixed-use project in the west of Romania, will open in the fourth quarter of this year, upon completion of the first phase of development. This will include: 100,000 sqm of class A office spaces, 47,000 sqm of additional retail premises, a park spanning on 55,000 sqm, a traffic underpass and more than 1,500 parking spaces.

Openville will be the business hub in the west of Romania. To this date, the project includes 31,000 sqm of completed office premises (in the UBC 1 and UBC 2 buildings), another 19,000 sqm of office premises pending construction (in the UBC 3 building), as well as 47,000 sqm of new retail premises. The construction works are scheduled to begin over the upcoming period for the fourth office building (50,000 sqm, in UBC 0), as well as for the underground parking lot and the traffic underpass.

The Openville project is developed by the IULIUS and Atterbury Europe companies, adding up to an estimated investment of more than 220 million Euro.

NTT DATA Romania, the former EBS Romania S.A, is a company of NTT DATA, part of the "Nippon Telegraph and Telephone Corporation" (NTT). Established in 1988, NTT DATA is headquartered in Tokyo and operates in more than 40 countries. The company provides top notch services, ranging from consulting and systems development all the way to outsourcing IT services.

Being a top global IT provider, NTT DATA is an innovative partner that benefits from both global coverage and local competences. With more than 17 years of experience, NTT DATA Romania established itself on the local market as a successful partner in the field of ERP solutions, concurrently being a SAP Certified Value Added Reseller Gold Partner and supplier of its own ERP products, namely Clarvision.

The NTT DATA Romania team comprises 1,600 people, i.e. approximately 50% more compared to early 2017. In Timișoara, NTT DATA has been present for approximately 6 years, with a team of more than 150 specialists with a focus on JAVA, AMS and SAP projects.


---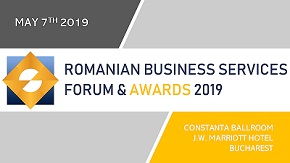 » Nomination are now open for Romanian B...
» PwC: The competitive advantages of Rom...
» Genpact, Luxoft and Oracle, top lessee...
» Philippe Beucher takes a new opportuni...
» CBRE: Romanian outsourcing industry ha...
» Romanian Outsourcing Summit 2016: Walk...
» Romanian Outsourcing Awards for Excell...
» The Outsourcing industry announces its...
» CrowdStrike opens a new center of inno...
» Gartner: Romania moved into the first ...

Nomination are now open for Romanian Business Services Forum and Awards

Nominations have opened for the prestigious Romanian Business Services Forum & Awards. The 2019 awards will continue to recognize and reinforce the important contribution made by business services professionals
Read Full article »
Study: 89 per cent of finance teams yet to embrace Artificial Intelligence

Report by Association of International Certified Professional Accountants and Oracle shows that almost 90 per cent of finance teams do not have the skills to support digital transformation.
Read Full article »
Bucharest, in the top of cities in Europe with the largest number of experts in high-tech industry

Bucharest is among the top cities boasting the most experts in the high-tech innovative industry, with over 70,000 current employees, next to London, Dublin, Madrid or Budapest, reads a study conducted by CBRE
Read Full article »
CBRE study: Post-millennials, the happiest about their offices

During 2018, real estate consultancy company CBRE conducted the first study dedicated to work environment in office buildings in Bucharest. The respondents have been structured in four age segments, such as Z g
Read Full article »
Deloitte's Tech Trends 2019 report: Beyond the digital frontier

The recently released Deloitte's Tech Trends 2019: Beyond the digital frontier, as each Tech Trends report in the series conducted by the consultancy company, lobbies for embracing the increasing, often mind-b
Read Full article »