Luxoft appoints Bogdan Pelinescu as Managing Director for Central Europe

Luxoft Holding, global IT service provider, today announced that starting from March 1, 2018 Bogdan Pelinescu will become its Managing Director for Central Europe.

Bogdan Pelinescu has been Managing Director for Luxoft Romania since 2011. He has more than 20 years of software engineering experience including eleven in management. Prior to joining Luxoft, Pelinescu worked in ITC Networks team from 2000 – 2008. He holds a Bachelor of Science degree in Computer Science from the Polytechnic University in Bucharest and a Ph.D. in Economics from INCE, Romanian Academy.

"We are happy to see Bogdan promoted to Managing Director. Under his leadership, our center in Romania has grown substantially. The business has also expanded with a range of new clients joining. As a result, it has become one of our most mature delivery centres supporting multiple industries," said Dmitry Kushnir, Luxoft's Vice President for Global Delivery. "Bogdan's extensive experience will support each one of our Central European locations, helping them continue to provide an industry leading services to our clients."

Luxoft is a global IT service provider of innovative technology solutions that delivers measurable business outcomes to multinational companies. Its offerings encompass strategic consulting, custom software development services, and digital solution engineering. Luxoft enables companies to compete by leveraging its multi-industry expertise in the financial services, automotive, communications, and healthcare & life sciences sectors. Its managed delivery model is underpinned by a highly-educated workforce, allowing the Company to continuously innovate upwards on the technology stack to meet evolving digital challenges.

Luxoft has more than 13,100 employees across 41 offices in 20 countries within five continents, with its operating headquarters office in Zug, Switzerland.

---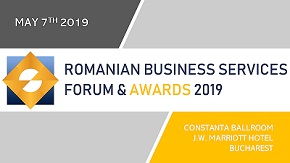 » Nomination are now open for Romanian B...
» PwC: The competitive advantages of Rom...
» Genpact, Luxoft and Oracle, top lessee...
» Philippe Beucher takes a new opportuni...
» CBRE: Romanian outsourcing industry ha...
» Romanian Outsourcing Summit 2016: Walk...
» Romanian Outsourcing Awards for Excell...
» The Outsourcing industry announces its...
» CrowdStrike opens a new center of inno...
» Tremend joins Mellanox in powering the...

Nomination are now open for Romanian Business Services Forum and Awards

Nominations have opened for the prestigious Romanian Business Services Forum & Awards. The 2019 awards will continue to recognize and reinforce the important contribution made by business services professionals
Read Full article »
Study: 89 per cent of finance teams yet to embrace Artificial Intelligence

Report by Association of International Certified Professional Accountants and Oracle shows that almost 90 per cent of finance teams do not have the skills to support digital transformation.
Read Full article »
Bucharest, in the top of cities in Europe with the largest number of experts in high-tech industry

Bucharest is among the top cities boasting the most experts in the high-tech innovative industry, with over 70,000 current employees, next to London, Dublin, Madrid or Budapest, reads a study conducted by CBRE
Read Full article »
CBRE study: Post-millennials, the happiest about their offices

During 2018, real estate consultancy company CBRE conducted the first study dedicated to work environment in office buildings in Bucharest. The respondents have been structured in four age segments, such as Z g
Read Full article »
Deloitte's Tech Trends 2019 report: Beyond the digital frontier

The recently released Deloitte's Tech Trends 2019: Beyond the digital frontier, as each Tech Trends report in the series conducted by the consultancy company, lobbies for embracing the increasing, often mind-b
Read Full article »