DB Global Technology kicks off the third edition of DB Tech School

DB Global Technology, the technology center of Deutsche Bank in Bucharest, is preparing for the third edition of DB Tech School, a training program for Java specialists, the company announced.

Also, following the courses, the company plans to hire 100 students enrolled in the program. Following the success of the 2016 and 2017 editions, DB Global Technology returns to DB Tech's 2018 Internship Program in 2018, where knowledge of the latest and most popular technologies such as Java 8, React, Angular JS, Spring, SQL, no-SQL, Cloud Technologies, REST, and more.

"We are excited about the results of DB Tech School in previous years, but especially to see that the program is appreciated among software specialists which are at the beginning of their career. That's why in 2018 we decided to expand the program and organize three internship sessions a year instead of one as we did in previous years. Our goal is to offer the young generation the opportunity of a long-term IT career within an internationally recognized team, "said Marian V. Popa, DB Global Technology CEO.

The interest in DB Global Technology's internship program has grown steadily: 100 applications were recorded in the first edition of 2016, while over 201 CVs were received for the 2017 edition. Following these two editions, 32 young people joined DB Global Technology.

Ovidiu Măruş, a third year-student at the Faculty of Automation and Computers, Polytechnic University of Bucharest, is one of them: "DB Tech School was the best experience in my life so far. From the first day since I received the curriculum I knew it would be a unique experience. I have learned many new things and have strengthened my knowledge. "

---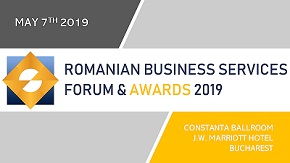 » Nomination are now open for Romanian B...
» PwC: The competitive advantages of Rom...
» Genpact, Luxoft and Oracle, top lessee...
» Philippe Beucher takes a new opportuni...
» CBRE: Romanian outsourcing industry ha...
» Romanian Outsourcing Summit 2016: Walk...
» Molson Coors started to grow its busin...
» Romanian Outsourcing Awards for Excell...
» The Outsourcing industry announces its...
» CrowdStrike opens a new center of inno...

Nomination are now open for Romanian Business Services Forum and Awards

Nominations have opened for the prestigious Romanian Business Services Forum & Awards. The 2019 awards will continue to recognize and reinforce the important contribution made by business services professionals
Read Full article »
Study: 89 per cent of finance teams yet to embrace Artificial Intelligence

Report by Association of International Certified Professional Accountants and Oracle shows that almost 90 per cent of finance teams do not have the skills to support digital transformation.
Read Full article »
Bucharest, in the top of cities in Europe with the largest number of experts in high-tech industry

Bucharest is among the top cities boasting the most experts in the high-tech innovative industry, with over 70,000 current employees, next to London, Dublin, Madrid or Budapest, reads a study conducted by CBRE
Read Full article »
CBRE study: Post-millennials, the happiest about their offices

During 2018, real estate consultancy company CBRE conducted the first study dedicated to work environment in office buildings in Bucharest. The respondents have been structured in four age segments, such as Z g
Read Full article »
Deloitte's Tech Trends 2019 report: Beyond the digital frontier

The recently released Deloitte's Tech Trends 2019: Beyond the digital frontier, as each Tech Trends report in the series conducted by the consultancy company, lobbies for embracing the increasing, often mind-b
Read Full article »