ABSL Romania: The Business Services sector has thousands of jobs available for young professionals
The Association of Business Service Leaders in Romania (ABSL) announces thousands of positions available for young professionals with little to entry-level experience in the business services sector. Accounting, IT, Acquisitions, Marketing and Sales are just a few of the fields where the jobs are available.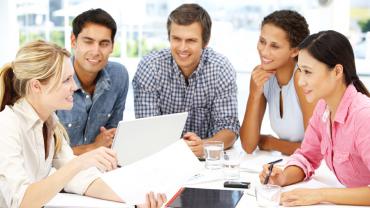 At the moment, the sector has 120.000 positions available, with the industry having a potential of 300.000 long-term employees. Therefore, on a monthly basis, there are between 3.500 – 5.000 open positions in the outsourcing industry, depending on the period and market movement.

Member companies of ABSL offer this year a few thousand positions to young professionals looking for their first job. The main skill required of them is knowledge of a language with international circulation, as well as the potential identified by the employers, curiosity and their desire to learn.

"ABSL thus continues the approach of facilitating the access of young people who are at the beginning of their professional journey to the labour market from the business services sector and a career in the field, in the context that according to the National Statistics Institute, the unemployment rate among young professionals in Romania has reached 15.4% in the second quarter of 2017, representing the highest level up to date. Investment in young students is essential for the durable and healthy development of the industry and society", according to Cosmin Pătlăgeanu, President of ABSL Romania.
The most desired skills by the employers are linguistics, especially strong knowledge of English and German (as well as Nordic languages, French, Italian, Polish and Hungarian), MS Office skills, adaptability and attention to detail. Regarding entry-level positions, depending on the field, employers sometimes request a minimum of 6 months prior experience, as well as IT knowledge or skills in financial and business analysis, engineering, sales, payroll, fiscal legislation and project management skills.

Companies in this industry frequently offer long-term development programs which include trainings, certifications, international mobility, online training platforms, career counselling and interpersonal skills courses (communication, relationship, leadership).


The Association of Business Service Leaders in Romania (ABSL) is the most important organization which represents the business services sector, bringing together the most important companies in the market that operate in fields like Shared Service Center (SSC), Business Process Outsourcing (BPO), Information Technology Outsourcing (ITO), Research and Development (R&D).

The role of ABSL Romania is to support the expansion of the Business Services sector and its transformation into an important vector regarding Romania's economic growth. The Association achieves its objectives by facilitating the collaboration between main players and engaging with public authorities and interest groups towards the development of key operational aspects within the industry.
The Members of ABSL Romania include domestic companies, as well as multinationals, regional and global leaders such as: Accenture Services, Allianz Worldwide Partners, APT Resources & Services, Arvato Services Romania, Be Think Solve Execute, Bosch Service Solutions, Capgemini, Central Europe Technologies, Connections Consult, CRH Ciment Romania, DB Schenker, Deloitte Audit, DXC Technology, Ernst & Young, Eucom Business Language, Euromaster Tyre & Services, RomaniaGenpact Romania, Global Remote Services, Goodyear Dunlop Tires Operations Romania, H Group IT Expert, HP Enterprise, HP Inc Romania, Luxoft Professional Romania, Mazars Consulting, Microfocus, Microsoft Romania, Mood Media, Office Depot Service Center, OMV Petrom Global Solutions, Optima Solutions Services, P4Cards, PwC Romania, Process Solutions, Procter & Gamble Marketing Romania, Renault Business Services, Samsung SSCE, SCC Services Romania, SELIR, Societe Generale European Business Services, Stefanini Romania, TELUS International, TMF Group, UniCredit Business Integrated Solutions, Valoris Center, Vauban IT, Veeam Software, Vodafone Shared Services Romania, Webhelp, Wipro Technologies și WNS Global Services Romania.