Romanian Outsourcing & Shared Services Summit: In the search of the best strategy to stay relevant

Currently, according to companies operating in outsourcing and business shared services in Romania, there is an intense discussion regarding the availability of prepared workforce in the industry. Even if the companies in outsourcing are the most dynamic in terms of distribution and growth for the number of employees in the past years, the demand for professionals is high and the current offer of graduates doesn't seem to meet it.

In this context, CRISTIAN CILIBIU, Vice-president Knowledge Sharing, ABSL highlighted that it is not enough to increase the curricula of universities and stated: "The gap is major when we are talking about attracting and grow the needed workforce. We need to sit together and talk with the state representatives, with the Ministry of Education, in order to develop a multilayer approach of educational programs. If on the short term, the educational system can rely on increasing the foreign languages approach and technology, on the medium and long term, the attention must go deeper, in early education, at high schools, to introduce the foreign languages and more advanced IT programs to create the needed professionals. We launched a program master program through which we train a number of students in the specific needed of the industry."

The Association of Business Services Leaders in in Romania (ABSL) in partnership with the Academy of Economic Studies (ASE), launched the master's program "Business Services", in partnership with the Academy of Economic Studies (ASE), which aims to support development of service industries Business and contribute to training the next generation of specialists in the industry.

The academic program is part of ABSL's strategy to develop specialized work force in the industry and to support changes in the education system in Romania in order to prepare professionals with practical experience adapted to specific business requirements and needs, yet he was a student. For the past academic year, the program are available 50 seats. During the two years, students will attend specialized and operational management, sales and marketing, risk management in business, ERP, financial analysis and process improvement service industry business, supported by academics from the ESA and representatives ABSL member companies. In the fourth quarter, the knowledge gained will be put into practice by participating in an internship of six months in companies from among the members of ABSL, students having the opportunity to deepen the theoretical knowledge acquired and to prepare for the dissertation.

The ABSL representative concluded that such programs must be replicated at the larger scale, with other universities in the country. "Joined forces to boost this program, to marketing it more so we can target the areas of medium and long term strategy, to expand it at country level. To support the training of the young people and benefit from support from the government and state institutions," Cristian Cilibiu concluded.

Cristian Cilibiu has been working for more than 13 years in the Shared Services industry and has been a Senior Project Manager of complex Group-level projects, with wide expertise in Organization, Process Management, Employee engagement, Cost and Operations Management. Cristian is extremely self-motivated, comfortable with challenging and working in multicultural environments, with skills such as good negotiation, conflict management and communication. In the last 4 years, he is an active member in Association of Business Service Leaders (ABSL) and, from 2017, is acting as Board Member and Vice President for the Knowledge Sharing Stream with the focus on supporting the networking, innovation and industry dialogue among ABSL members and partners.

On March 22nd, at Athénée Palace Hilton in Bucharest, the Fourth Edition of Romanian Outsourcing & Shared Services Summit hosted the annual get-together of professionals in outsourcing and business shared services industry s, ready to share knowledge and build new alliances and dialogue, in order to transform and evolve the businesses, organizations and the whole industry's designs.

The summit has been organized by Outsourcing Today, the integrated communication platform of the business services sector, together with its partners: Diamond partner Wipro, Gold partners CIMA, Colliers, Genpact, PwC, Societe General European Business Services, Vastint, Strategic partners ABSL, ANIS Noerr and Selir as Partners.



---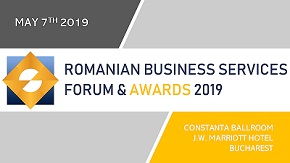 » Huawei opens a centre on cyber securit...
» ROMANIAN OUTSOURCING AWARDS FOR EXCELL...
» Romania ranks above EU average in gend...
» Bucharest, in the top of cities in Eur...
» Berg Software Romania: Reasons to outs...
» KPMG launches an application enabling ...
» Bogdan Pelinescu, president of ABSL: A...
» Meet the experts who will decide the w...
» ABSL GALA AWARDS celebrated its winner...
» Oracle reaches 4,200 employees and pla...

Colin C. Lovering: Meet the speakers at Romanian Business Services Forum & Awards 2019, on May 7

Colin C. Lovering has been living and working in Romania since 2009 when he arrived to offer consultancy and advice to organisations looking for growth and profitability and founded Achieve International.
Read Full article »
Antoniu Panait: Meet the speakers at Romanian Business Services Forum & Awards 2019, on May 7

Managing Director for VASTINT Romania since 2009, Antoniu Panait has an executive experience of more than 10 years, mainly in real estate.
Read Full article »
Andrei Voica: Meet the speakers at Romanian Business Services Forum & Awards 2019, on May 7

Andrei Voica, Director Project Management and Workplace Consultancy, Colliers International. Truly passionate about his work and always eager to add value to each project.
Read Full article »
Romulus Caralicea: Meet the speakers at Romanian Business Services Forum & Awards 2019, on May 7

Romulus is Wipro's Information Security, Risk & Compliance Lead for Europe. In his role he is managing internal audits and compliance activities for all clients and internal functions based on the corporate ISO
Read Full article »
George Didoiu: Meet the moderator of Romanian Business Services Forum 2019 CEO LEADERS DEBATE, on May 7

In his 15 years of real estate, George Didoiu advised on the relocation of top IT&C, finance-banking and consultancy companies, which total over 10,000 employees.
Read Full article »