Ciprian Dan, Wipro BPS: The industry needs to take a more sophisticated turn

According to Ciprian Dan, Location Head at Wipro BPS, the language skills have not ceased to remain one of the competitive advantages for our market but to relate to this advantage as the sole plus is risky on the long term.

Currently, according to companies operating in outsourcing and business shared services in Romania, there is an intense discussion regarding the availability of prepared workforce in the industry. Even if the companies in outsourcing are the most dynamic in terms of distribution and growth for the number of employees in the past years, the demand for professionals is high and the current offer of graduates doesn't seem to meet it.

In this context, the approach of the industry needs to take a more sophisticated turn. However, the learning of foreign languages is still an aspect that should stay high on the educational agenda even from the very early ages of education.

"The global trends and the advanced of technology is showing us that the foreign languages skills will be soon outdated and therefore, they cannot be any more used as an asset, but rather a tool. We also need to evolve in the industry, to switch the interest from general skills to particular and specific skills needed by companies. All these should also happen within the larger landscape of selling value. And this objective cannot be achieved in the lack of a certain sophistication of the market, as the next step in order to stay relevant. Also, all these should be put in the larger constant of a predictable and stable economic landscape," Ciprian Dan stated.

---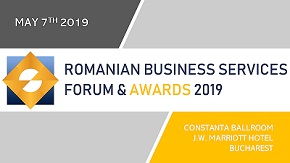 » Nomination are now open for Romanian B...
» PwC: The competitive advantages of Rom...
» Genpact, Luxoft and Oracle, top lessee...
» Philippe Beucher takes a new opportuni...
» CBRE: Romanian outsourcing industry ha...
» Romanian Outsourcing Summit 2016: Walk...
» Romanian Outsourcing Awards for Excell...
» The Outsourcing industry announces its...
» CrowdStrike opens a new center of inno...
» Gartner: Romania moved into the first ...

Nomination are now open for Romanian Business Services Forum and Awards

Nominations have opened for the prestigious Romanian Business Services Forum & Awards. The 2019 awards will continue to recognize and reinforce the important contribution made by business services professionals
Read Full article »
Study: 89 per cent of finance teams yet to embrace Artificial Intelligence

Report by Association of International Certified Professional Accountants and Oracle shows that almost 90 per cent of finance teams do not have the skills to support digital transformation.
Read Full article »
Bucharest, in the top of cities in Europe with the largest number of experts in high-tech industry

Bucharest is among the top cities boasting the most experts in the high-tech innovative industry, with over 70,000 current employees, next to London, Dublin, Madrid or Budapest, reads a study conducted by CBRE
Read Full article »
CBRE study: Post-millennials, the happiest about their offices

During 2018, real estate consultancy company CBRE conducted the first study dedicated to work environment in office buildings in Bucharest. The respondents have been structured in four age segments, such as Z g
Read Full article »
Deloitte's Tech Trends 2019 report: Beyond the digital frontier

The recently released Deloitte's Tech Trends 2019: Beyond the digital frontier, as each Tech Trends report in the series conducted by the consultancy company, lobbies for embracing the increasing, often mind-b
Read Full article »