The need of the industry to stay effective and relevant

In the current context of machinery and AI helping on operational processes of a company, with extended applicability in terms of capabilities, the digital context in which professionals, organizations and business infrastructure should operate become more sophisticated.

According to RAZVAN PIRVU, Head of Region Engagement, Operate Flow, Global Services Operations, Ericsson, digitalization should be embraced at the early stages of profession development: "We are looking at machinery helping to smarter processes and to become more effective and proactive. The way that we cope with this is through creating the right human resources, by changing our focus from offering the graduates and undergraduates jobs within front office and back office, in first and second lines, operational jobs propositions. We need to think of a system that can offer them more advanced positions. To move people from work-intensive jobs to more intelligence-intensive roles, to empower them with more sophisticated positions. To use their creativity resources in the better benefits of the company."

According to the representative of Ericsson company, Romania also has now a great advantage, one that other developed countries don't hold it, that is the opportunity to build on the entrepreneurship. The young people in Romania are entrepreneurship-oriented and this should be capitalized on. "We should not stay behind and let the language skills to dominate the offer of competitive advantages for the Romanian market. This will be soon overcome by AI. We need to emphasize on real advantages, such as creativity, innovation, everything that is human intelligence connected and can bring added value," Razvan Pirvu said.

The statement has been uttered within the first session of Romanian Outsourcing & Shared Services Summit focused on the digital transformation, the artificial intelligence revolution upending every sector of the economy. This promises huge opportunities to businesses that invest early while others could get left behind. The organizations are rapidly transforming to agile enterprises that require rapid development cycles and close coordination between business, engineering and operations.


---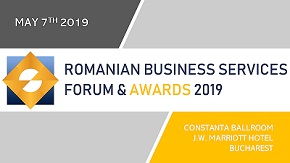 » Nomination are now open for Romanian B...
» PwC: The competitive advantages of Rom...
» Genpact, Luxoft and Oracle, top lessee...
» Philippe Beucher takes a new opportuni...
» CBRE: Romanian outsourcing industry ha...
» Romanian Outsourcing Summit 2016: Walk...
» Romanian Outsourcing Awards for Excell...
» The Outsourcing industry announces its...
» CrowdStrike opens a new center of inno...
» Tremend joins Mellanox in powering the...

Nomination are now open for Romanian Business Services Forum and Awards

Nominations have opened for the prestigious Romanian Business Services Forum & Awards. The 2019 awards will continue to recognize and reinforce the important contribution made by business services professionals
Read Full article »
Study: 89 per cent of finance teams yet to embrace Artificial Intelligence

Report by Association of International Certified Professional Accountants and Oracle shows that almost 90 per cent of finance teams do not have the skills to support digital transformation.
Read Full article »
Bucharest, in the top of cities in Europe with the largest number of experts in high-tech industry

Bucharest is among the top cities boasting the most experts in the high-tech innovative industry, with over 70,000 current employees, next to London, Dublin, Madrid or Budapest, reads a study conducted by CBRE
Read Full article »
CBRE study: Post-millennials, the happiest about their offices

During 2018, real estate consultancy company CBRE conducted the first study dedicated to work environment in office buildings in Bucharest. The respondents have been structured in four age segments, such as Z g
Read Full article »
Deloitte's Tech Trends 2019 report: Beyond the digital frontier

The recently released Deloitte's Tech Trends 2019: Beyond the digital frontier, as each Tech Trends report in the series conducted by the consultancy company, lobbies for embracing the increasing, often mind-b
Read Full article »