OT Learning & Development: About capitalizing on self-willingness to reach performance

How to succeed in reaching the young and the valuable employees and wining their hearts and minds, so they will forever be committed to gain knowledge, evolve in profession and build a strong career inside the companies? How to capitalize on their curiosity, how to nurture and cultivate it so they show a real hunger for reaching new knowledge and skills, so useful for companies' development and business growth?

A consistent dose of valuable insights on these topics has been offered by a strong list of leaders and managers present at Outsourcing Today's dedicated series of events of 2018, completed this summer with the second edition of OT Learning & Development. This special event which exclusively focuses on maybe one of the most important aspects of the working ecosystem – the learning and development - was organized on June 7th at InterContinental Hotel Bucharest.

The event organized as roundtable brought together the business services professionals to discuss and discover new tools and programs designed to assist businesses in supporting employee development and was organized with the support of: Gold Partners Wipro, Portland Trust, Expo Business Park, Colliers, with the support of ABSL, ANIS, ClujIT.

The discussions during this roundtable have been sustained by a strong panel lineup, with the event's moderator Andrei Romanescu, CEO of VEEAM, along with Teodora Todoran, Head, Training Function – Europe, Wipro Limited, Francine Rosca, Global Head of Employee Learning Experience, HP, Marius Istudora, Marketing Manager, Portland Trust, George Didoiu, Associate Director, Colliers, Daniel Adumitrachioaiei, HRD, CapGemini.

The roundtable opened with Andrei Romanescu from VEEAM, who gave consistence to this provocative subject with local examples: "Learning and Development is a really challenging topic. I can set a context in which jobs didn't exist 10 to 15 years ago, such as employer branding, social media, mobile application developer, data scientist. More, 12 or 13 years ago, there was no IPhone, there was no Facebook platform. Studies show that there will be jobs that will disappear, especially in the transactional and services area such as data operator, machine operators, mail operators. We need to calibrate our expectations regarding our skills to this context, to prepare ourselves now for the future. There will be jobs given odd names such as human-technology integration specialist, telesurgeon, garbage designer, trash engineer, chief productivity officer." Romanescu also referred to the need of existing pool of specialists, leaders and juniors to adjust to the fast changes that are already impacting our jobs. Weird concepts such as mental elasticity, critical thinking, or hard-to-digest acronyms such as STEM (Science Technology Engineering and Math), SMAC (Social, Mobile, Analytics & Cloud) will have to be embraced in the new skill portfolio of the future employee. However, the area of L&D will equally need the people skills, increasingly important in the future tech world.

Read the full report on this summer's edition of OT Learning & Development in the upcoming printed and online issue of Outsourcing Today.

---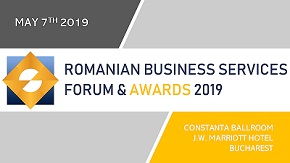 » ASE's HR Master – helping students i...
» Digital Transformation Conference to t...
» Romulus Caralicea: Meet the speakers a...
» Meet the winners of ROMANIAN BUSINESS ...
» Zitec launches its 1 million Euro Mirr...
» Deloitte Romania opens application for...
» Genpact's COO: Staying ahead of the cu...
» Marian V. Popa: Meet the speakers at R...
» Randstad Employer Branding 2019: Salar...
» Antoniu Panait: Meet the speakers at R...

Digital Transformation Conference to take place on June 19 at Bucharest

The Diplomat – Bucharest organizes Digital Transformation Conference to be held on 14 of June in Bucharest, at Hilton Hotel - Regina Maria Hall, starting 8:30 AM.
Read Full article »
L&D Conference by The Diplomat Bucharest to take place on June 4th at Bucharest

The Diplomat-Bucharest organizes the Third Edition of its Learning & Development CONFERENCE on 4 June, 2019 at InterContinental Hotel Bucharest starting 09:00 am.
Read Full article »
Meet the winners of ROMANIAN BUSINESS SERVICES AWARDS, 2019 edition

ROMANIAN BUSINESS SERVICES FORUM & AWARDS 2019, in its fifth year, brrought on May 7, in Bucharest, a new concept event with engaging keynote sessions by industry leaders, interactive panel discussions, network
Read Full article »
Few hours away from to the long awaited CEO Leaders Debate, a premiere of Romanian Business Services Forum and Awards

We are a few hours away to the long awaited CEO Leaders Debate, a premiere of Romanian Business Services Forum and Awards on May 7.
Read Full article »
Colin C. Lovering: Meet the speakers at Romanian Business Services Forum & Awards 2019, on May 7

Colin C. Lovering has been living and working in Romania since 2009 when he arrived to offer consultancy and advice to organisations looking for growth and profitability and founded Achieve International.
Read Full article »