Veeam launches the global CSR program Veeam Cares and donates toys for 50 children of Hercules Association

Veeam launches the global CSR program by introducing the Veeam Cares initiative, encouraging its employees from around the world to engage in voluntary activities for the benefit of selected NGOs.

Veeam Cares supports the following areas: animal protection, education, health and economic development, social and community services. For volunteer activities taking place on business days, Veeam grants each employee Veeam Cares Time: 24 hours a year that they can use to engage in causes that are relevant to them. The Veeam Cares initiative was introduced in May this year, and already many Veeam organizations around the world have been involved in CSR actions such as: raising money, participating in cycling to support people with intellectual disabilities and development, supporting schools in poor areas, engaging underprivileged children and serving dinners to the elderly, cleaning up public spaces inside and outside cities, collecting food for poor families, or volunteering in local animal shelters.

Veeam Romania employees have been involved in CSR activities under the umbrella of Veeam Cares. At the end of May, they made a visit to the Hercules Association in Costesti, Arges County, to donate toys and celebrate on June 1 with the children of the Hercules Center. During May, employees of Veeam Romania donated toys and clothing to the children of the Hercules Association.

On May 26th, the donations were delivered to the association's headquarters in Costesti, Arges County, with the help of 13 Veeam volunteers. They were welcomed by 50 children together with whom they had fun to celebrate the International Children's Day in advance. During the day, Veeam children and volunteers participated in creative recycling workshops, painting, bookbinding, gardening, even organizing a picnic. "We were pleased to meet the children and spend the day together. We played, but I also helped housework, like lawn mowing and garden care. We were impressed by the creativity and inventiveness we had seen at the Hercules Center and we were also impressed to see that the care these children receive has a positive effect on their behavior and future, "said Madalina Nistor, who works in the Renewals department of Veeam.

"We all enjoyed, small and big, the visit that the Veeam team did at the Hercules Day Care Center. We want such meetings between children and employees to repeat themselves as often as small children need such interactions with generous responsible, generous adults professionally. They need attention, conversation, for example people who have chosen the way of education and then of social involvement in life, "said Petruţa Stănescu, Executive Director of the Hercules Association. Veeam is involved in helping the Hercules Association in 2017.

Every month, company employees raise funds and donate to the association. Last Christmas, another meeting took place, where the children visited the Veeam office in Bucharest, presented local traditions and sang carols to Veeam employees, who formed a diverse community of over 17 nationalities. The little carolites were invited to play in the company's four recreational areas and had the opportunity to learn what it means to work in an environment where they are often not exposed.

At Veeam Cares, the company also establishes a global partnership with the Red Cross - the largest humanitarian organization in the world that provides assistance to prevent and alleviate human suffering, thus contributing to maintaining and promoting human dignity and peace. Veeam has chosen the Red Cross as a global partner because the Red Cross is an organization that allows most Veeam employees to get involved. There are many ways to participate in supporting the Red Cross: through volunteering, donations, raising funds, organizing information campaigns. All Veeam employees are encouraged to get involved in these initiatives.


---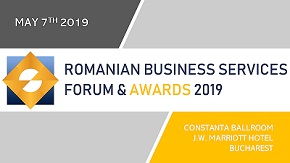 » Nomination are now open for Romanian B...
» PwC: The competitive advantages of Rom...
» Genpact, Luxoft and Oracle, top lessee...
» Philippe Beucher takes a new opportuni...
» CBRE: Romanian outsourcing industry ha...
» Romanian Outsourcing Summit 2016: Walk...
» Romanian Outsourcing Awards for Excell...
» The Outsourcing industry announces its...
» CrowdStrike opens a new center of inno...
» Tremend joins Mellanox in powering the...

Nomination are now open for Romanian Business Services Forum and Awards

Nominations have opened for the prestigious Romanian Business Services Forum & Awards. The 2019 awards will continue to recognize and reinforce the important contribution made by business services professionals
Read Full article »
Study: 89 per cent of finance teams yet to embrace Artificial Intelligence

Report by Association of International Certified Professional Accountants and Oracle shows that almost 90 per cent of finance teams do not have the skills to support digital transformation.
Read Full article »
Bucharest, in the top of cities in Europe with the largest number of experts in high-tech industry

Bucharest is among the top cities boasting the most experts in the high-tech innovative industry, with over 70,000 current employees, next to London, Dublin, Madrid or Budapest, reads a study conducted by CBRE
Read Full article »
CBRE study: Post-millennials, the happiest about their offices

During 2018, real estate consultancy company CBRE conducted the first study dedicated to work environment in office buildings in Bucharest. The respondents have been structured in four age segments, such as Z g
Read Full article »
Deloitte's Tech Trends 2019 report: Beyond the digital frontier

The recently released Deloitte's Tech Trends 2019: Beyond the digital frontier, as each Tech Trends report in the series conducted by the consultancy company, lobbies for embracing the increasing, often mind-b
Read Full article »