Stefanini achieves 2 digit growth for the 5th consecutive year in Romania and EMEA

Stefanini Romania increased its net turnover by 13.5 per cent last year, to 38.8 million Euro. The company has also seen an important 12 per cent growth at EMEA level last year, where it registered revenues of over 101.4 million Euro, a company release states.

"It is the company's 5th consecutive year of 2 digit growth in both Romania and the region, where our country represents the most important service hub", says Andreea Stănescu, Vicepresident EMEA Delivery, Stefanini. "We are becoming a bigger company every year not only in terms of revenues, but also in what our team is concerned. We currently have 3200 people in the EMEA region, more than half of them being in Romania, more precisely 1660, almost 25 per cent more than we had in 2016 on average."

Moreover, the Romanian office also coordinates the company's business in Poland and Republic of Moldova. Last year, Stefanini opened offices in Opole, Poland, and Chisinau, Republic of Moldova, employing more than 100 people for the new markets.

In Romania, Stefanini has 3 offices, in Bucharest, Sibiu and Targu Mures. 1300 of the employees are involved in service desk activities, while more than 300 work in the application development center. Romanian employees serve around 85 clients all over the world, from countries like USA, Australia, Germany, France, Switzerland, Portugal, Spain, Canada, Russia, Greece, Macedonia, Serbia, Croatia and UK.

"For this year, we plan to keep on investing in our team's training and development, as well as in innovation, digital transformation and new technologies", adds Farlei Kothe, Vicepresident for EMEA region, Stefanini. "We are also looking for new office spaces that would reflect our open and collaborative environment in most of our locations in Europe and we are planning for an investment of 5 Mil Euro for the financial year of 2018 at EMEA level".

Stefanini Romania recently received the award for the category Employee Engagement Initiative of the Year at the Romanian Outsourcing & Shared Services Awards. The company focused on redesigning the service culture within the organization, introduced a flexible benefits program and clear career paths for its employees, resulting in a 25% lower turnover of personnel rate and a much more engaged team. The excellent results of these initiatives are to be exported to other countries as well and might even be expanded to EMEA level and even to the USA.


Stefanini is a Brasilian company with over 30 years of experience in providing IT services globally, from IT infrastructure outsourcing to developing software applications. The company is present directly in 40 countries, through its 73 offices around the world, and has a portfolio of over 500 active clients. Clients come from sectors like financial services, manufacturing, telecommunications, the chemical industry, services, technology, the public sector and benefits from a complete set of mature and professional services, which cover the entire life cycle of an application.


---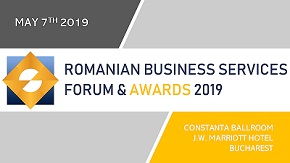 » Nomination are now open for Romanian B...
» PwC: The competitive advantages of Rom...
» Genpact, Luxoft and Oracle, top lessee...
» Philippe Beucher takes a new opportuni...
» CBRE: Romanian outsourcing industry ha...
» Romanian Outsourcing Summit 2016: Walk...
» Romanian Outsourcing Awards for Excell...
» The Outsourcing industry announces its...
» CrowdStrike opens a new center of inno...
» Gartner: Romania moved into the first ...

Nomination are now open for Romanian Business Services Forum and Awards

Nominations have opened for the prestigious Romanian Business Services Forum & Awards. The 2019 awards will continue to recognize and reinforce the important contribution made by business services professionals
Read Full article »
Study: 89 per cent of finance teams yet to embrace Artificial Intelligence

Report by Association of International Certified Professional Accountants and Oracle shows that almost 90 per cent of finance teams do not have the skills to support digital transformation.
Read Full article »
Bucharest, in the top of cities in Europe with the largest number of experts in high-tech industry

Bucharest is among the top cities boasting the most experts in the high-tech innovative industry, with over 70,000 current employees, next to London, Dublin, Madrid or Budapest, reads a study conducted by CBRE
Read Full article »
CBRE study: Post-millennials, the happiest about their offices

During 2018, real estate consultancy company CBRE conducted the first study dedicated to work environment in office buildings in Bucharest. The respondents have been structured in four age segments, such as Z g
Read Full article »
Deloitte's Tech Trends 2019 report: Beyond the digital frontier

The recently released Deloitte's Tech Trends 2019: Beyond the digital frontier, as each Tech Trends report in the series conducted by the consultancy company, lobbies for embracing the increasing, often mind-b
Read Full article »