Endava marks IPO and first day of trading on New York Stock Exchange

Endava opened for trading on the New York Stock Exchange (NYSE) under the ticker symbol "DAVA" following its initial public offering.

Endava is a leading next-generation technology services provider that helps accelerate disruption by delivering rapid evolution to enterprises. Engaging with an approach called Ideation to Production, and delivering using Distributed Enterprise Agile at scale, Endava collaborates with its clients, seamlessly integrating with their teams, catalyzing ideation and delivering robust solutions. Endava helps its clients become digital experience-driven businesses by assisting them in their journey from idea generation to development and deployment of products, platforms and solutions.

Endava Chief Executive Officer John Cotterell, joined by members of the company's senior executive team, rang the NYSE Opening Bell® on Friday morning. This IPO marks a significant milestone in Endava's 18-year journey.

"This IPO is a natural next step in the evolution of our company, and I want to first thank my colleagues, our clients and partners for their contributions to our ongoing story and success," said John Cotterell, CEO, Endava. "Today marks the beginning of a new phase for our company and we will continue to build on our core purpose of creating an environment and culture that breeds success by caring for our customers as individuals and enabling our people to be the best that they can be."

Endava has more than 4,700 employees with nearshore delivery centers located in two EU countries (Romania and Bulgaria), three other Central European countries (Macedonia, Moldova and Serbia) and four countries in Latin America (Argentina, Colombia, Uruguay and Venezuela). We have close-to-client offices in four Western European countries – Denmark, Germany, the Netherlands and the United Kingdom, as well as the United States.


---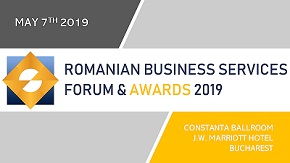 » Huawei opens a centre on cyber securit...
» ROMANIAN OUTSOURCING AWARDS FOR EXCELL...
» Romania ranks above EU average in gend...
» Bucharest, in the top of cities in Eur...
» Berg Software Romania: Reasons to outs...
» KPMG launches an application enabling ...
» Bogdan Pelinescu, president of ABSL: A...
» Meet the experts who will decide the w...
» ABSL GALA AWARDS celebrated its winner...
» Oracle reaches 4,200 employees and pla...

Colin C. Lovering: Meet the speakers at Romanian Business Services Forum & Awards 2019, on May 7

Colin C. Lovering has been living and working in Romania since 2009 when he arrived to offer consultancy and advice to organisations looking for growth and profitability and founded Achieve International.
Read Full article »
Antoniu Panait: Meet the speakers at Romanian Business Services Forum & Awards 2019, on May 7

Managing Director for VASTINT Romania since 2009, Antoniu Panait has an executive experience of more than 10 years, mainly in real estate.
Read Full article »
Andrei Voica: Meet the speakers at Romanian Business Services Forum & Awards 2019, on May 7

Andrei Voica, Director Project Management and Workplace Consultancy, Colliers International. Truly passionate about his work and always eager to add value to each project.
Read Full article »
Romulus Caralicea: Meet the speakers at Romanian Business Services Forum & Awards 2019, on May 7

Romulus is Wipro's Information Security, Risk & Compliance Lead for Europe. In his role he is managing internal audits and compliance activities for all clients and internal functions based on the corporate ISO
Read Full article »
George Didoiu: Meet the moderator of Romanian Business Services Forum 2019 CEO LEADERS DEBATE, on May 7

In his 15 years of real estate, George Didoiu advised on the relocation of top IT&C, finance-banking and consultancy companies, which total over 10,000 employees.
Read Full article »