Opinion: Why Canada, Asia and Australia need to outsource IT in Romania

Connections, the market leader on the digital transformation market in Romania, Bulgaria and Serbia, has conducted an analysis of opportunities which Canada, Australia, New Zealand and South-East Asia have when they externalize their IT operations to Romania.

The reduced costs and cultural similarities (Canada), the opportunity of branching out into new markets and access to international know-how (South-East Asia), enhanced productivity because of the time difference and the English language level of the teams (Australia and New Zealand) represent key advantages to externalize the IT&C services to Romania for these regions.

"Roughly 15 per cent of Connections' clients are from Canada and Asia, as well as a plethora of local Romanian corporations and companies. A significant percentage of requests is for Java software developer and IT Infrastructure Engineer. The projects for which we are needed are diverse, from support to infrastructure", stated Bogdan Florea, Connections founder and CEO.

Outsourcing IT services wholly (managed services) or to complete the internal team (staff augmentation) brings a series of key benefits to the company, such as cost reduction for human resources, logistics and offices and productivity increase by using larger teams with reduced costs.

"For the above-mentioned countries, outsourcing to Romania saves up to 25% from the allotted budget of a local team and, as a personal estimate, attracting more customers on ITO from the 3 areas, may bring tens, even hundreds of millions of euro to the Romanian economy", adds Bogdan Florea.

Equally important benefits are fast access to niche specialists and to a dynamic pool of talents, access to current know-how by exposing the team to complex projects at an industrial and geographical level and doing away with downtime periods because the ITO partner is in a region with another time zone and can work in synch with the internal team.

"If the internal team is based in Montreal and works from 10 AM to 6 PM local time, and the externalised team is in Romania works from 8 AM to 5 PM local time, Romania being 7 hours ahead of Montreal, the combined team will be active daily between 1 AM and 6 PM on the Montreal time zone, which reduces downtime by 50%, from 16 hours to only 7 hours," explains Bogdan Florea.

Depending on the complexity of projects there will be teams of 5 to 10 people who can work on 3 projects at the same time.

Connections is a market leader in digital transformation in Romania, with offices in Bulgaria, Serbia and plans to extend at a global level. The company is specialized in IT Outsourcing, Business Process Outsourcing and Software Development. Connections clients are global companies and Romanian medium companies from industries such as Banking, FMCG, Oil &Gas, Telecom and Retail. Starting with July 2018, Connections signed a partnership with UiPath, the Enterprise Robotic Process Automation (RPA) platform with the fastest purchasing at a world level, together with which it successfully implemented automated robotization in key industries. Connections has 300 employees in Romania and in 2007 had a turnover of 4 million euro.

---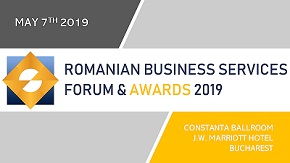 » Nomination are now open for Romanian B...
» PwC: The competitive advantages of Rom...
» Genpact, Luxoft and Oracle, top lessee...
» Philippe Beucher takes a new opportuni...
» CBRE: Romanian outsourcing industry ha...
» Romanian Outsourcing Summit 2016: Walk...
» Romanian Outsourcing Awards for Excell...
» The Outsourcing industry announces its...
» CrowdStrike opens a new center of inno...
» Tremend joins Mellanox in powering the...

Nomination are now open for Romanian Business Services Forum and Awards

Nominations have opened for the prestigious Romanian Business Services Forum & Awards. The 2019 awards will continue to recognize and reinforce the important contribution made by business services professionals
Read Full article »
Study: 89 per cent of finance teams yet to embrace Artificial Intelligence

Report by Association of International Certified Professional Accountants and Oracle shows that almost 90 per cent of finance teams do not have the skills to support digital transformation.
Read Full article »
Bucharest, in the top of cities in Europe with the largest number of experts in high-tech industry

Bucharest is among the top cities boasting the most experts in the high-tech innovative industry, with over 70,000 current employees, next to London, Dublin, Madrid or Budapest, reads a study conducted by CBRE
Read Full article »
CBRE study: Post-millennials, the happiest about their offices

During 2018, real estate consultancy company CBRE conducted the first study dedicated to work environment in office buildings in Bucharest. The respondents have been structured in four age segments, such as Z g
Read Full article »
Deloitte's Tech Trends 2019 report: Beyond the digital frontier

The recently released Deloitte's Tech Trends 2019: Beyond the digital frontier, as each Tech Trends report in the series conducted by the consultancy company, lobbies for embracing the increasing, often mind-b
Read Full article »