Oracle Academy expands offering with personalized learning resources and AI curriculum

Oracle Academy announced new curriculum offerings and learning modules to advance computing education globally.

The latest offerings put Oracle Academy at the forefront of public-private partnerships in education with a variety of enhanced, flexible formats that help educators teach computer science, bring emerging technologies like artificial intelligence (AI) and machine learning (ML) into the classroom, and inspire students with lessons from successful innovators and entrepreneurs.

"As technological innovation increasingly drives our global economy, computer science becomes a critical component of any well-rounded education," said Alison Derbenwick Miller, vice president, Oracle Academy. "Oracle Academy's new computing coursework and learning experiences will augment that education, open more opportunities and further inspire our emerging generation of innovators."

Setting the Standard for the Next Generation in Computing Education

Building a bridge between instructor-centric learning and student-directed discovery, Oracle Academy today introduced Oracle Academy Education Bytes. Designed to support personalized learning, Education Bytes are short-format, flexible learning modules that offer instructional materials on database, programming and data science concepts and skills. Education Bytes can be used alone or to enhance Oracle Academy curriculum and provide self-directed learning experiences in programming, SQL, PL/SQL, big data, R, Hadoop and more. Education Bytes support varying learning modalities with different content in three formats: Hands-On Labs, Projects and Challenges, and Videos and Presentations.

Recognizing the importance of emerging technologies, Oracle Academy also launched new course curriculum in artificial intelligence and machine learning. Designed for advanced undergraduates studying computing, the course asks students to design, implement, and demonstrate a machine learning solution in Java that could help a business or organization tackle a real-world challenge. This project-based course expands upon concepts and skills gained in Oracle Academy Java Foundations and Java Programming classes.

Finally, in collaboration with the Oracle Global Startup Ecosystem, Oracle Academy introduced a video lecture series that includes classroom discussion questions for Oracle Academy institutional members and shares personal, real-world lessons from successful entrepreneurs on following their dreams, living fearlessly, and finding success. Developed for anyone who is or wants to be an entrepreneur, the series features executives participating in the Oracle Global Startup Ecosystem, a program that reimagines enterprise innovation through partnerships with startups that foster co-development and co-innovation.
These new offerings follow a period of unprecedented growth and reach for Oracle Academy. During the past fiscal year, Oracle Academy worked with more than 15,000 institutions across 128 countries to advance computing education and impact 6.3 million students.



---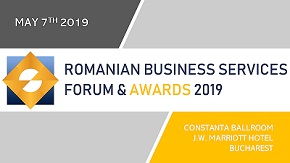 » Huawei opens a centre on cyber securit...
» ROMANIAN OUTSOURCING AWARDS FOR EXCELL...
» Romania ranks above EU average in gend...
» Bucharest, in the top of cities in Eur...
» Berg Software Romania: Reasons to outs...
» KPMG launches an application enabling ...
» Bogdan Pelinescu, president of ABSL: A...
» Meet the experts who will decide the w...
» ABSL GALA AWARDS celebrated its winner...
» Oracle reaches 4,200 employees and pla...

Colin C. Lovering: Meet the speakers at Romanian Business Services Forum & Awards 2019, on May 7

Colin C. Lovering has been living and working in Romania since 2009 when he arrived to offer consultancy and advice to organisations looking for growth and profitability and founded Achieve International.
Read Full article »
Antoniu Panait: Meet the speakers at Romanian Business Services Forum & Awards 2019, on May 7

Managing Director for VASTINT Romania since 2009, Antoniu Panait has an executive experience of more than 10 years, mainly in real estate.
Read Full article »
Andrei Voica: Meet the speakers at Romanian Business Services Forum & Awards 2019, on May 7

Andrei Voica, Director Project Management and Workplace Consultancy, Colliers International. Truly passionate about his work and always eager to add value to each project.
Read Full article »
Romulus Caralicea: Meet the speakers at Romanian Business Services Forum & Awards 2019, on May 7

Romulus is Wipro's Information Security, Risk & Compliance Lead for Europe. In his role he is managing internal audits and compliance activities for all clients and internal functions based on the corporate ISO
Read Full article »
George Didoiu: Meet the moderator of Romanian Business Services Forum 2019 CEO LEADERS DEBATE, on May 7

In his 15 years of real estate, George Didoiu advised on the relocation of top IT&C, finance-banking and consultancy companies, which total over 10,000 employees.
Read Full article »