Bitdefender secured direct presence in Australia by taking over local peer SMS eTech

Romanian security technology company Bitdefender said on September 11 it has acquired Australian peer SMS eTech, as part of its strategy of globally expanding in the consumer and enterprise segments.

Bitdefender is the most successful Romanian IT company and a global IT security leader. With a worldwide network of 500mn users, Bitdefender has the largest security delivery infrastructure in the world.

The acquisition will strengthen the company's position in the Asia-Pacific region and at global level. Bitdefender has also created a wholly-owned subsidiary, Bitdefender Australia, and has opened an office in Melbourne.

"Formed through the acquisition of assets from business partner, SMS eTech, Bitdefender's new official presence in Melbourne will serve as the company's first in the region, an important local go-to-market springboard, and a critical component of its global expansion strategy towards a successful IPO," the Romanian company said in a statement.

Bitdefender has also taken over the employees of SMS eTech in charge with the Bitdefender portfolio, with the aim of consolidating the online sales, partner network and regional expansion.
Bitdefender products have been present on the Australian market for 13 years and in the past four years SMS eTech has been Bitdefender's exclusive partner.

"This strategic decision will contribute to the two-digit sustained growth we are witnessing. Bitdefender Australia will have a key role in the global development of the business and the Bitdefender brand," Bitdefender CEO Florin Talpes said.

In 2017, Bitdefender acquired its French peer Profil Technology as part of its expansion strategy on the corporate segment.



---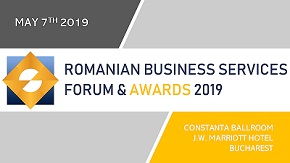 » Huawei opens a centre on cyber securit...
» ROMANIAN OUTSOURCING AWARDS FOR EXCELL...
» Romania ranks above EU average in gend...
» Bucharest, in the top of cities in Eur...
» Berg Software Romania: Reasons to outs...
» KPMG launches an application enabling ...
» Bogdan Pelinescu, president of ABSL: A...
» Meet the experts who will decide the w...
» ABSL GALA AWARDS celebrated its winner...
» Oracle reaches 4,200 employees and pla...

Colin C. Lovering: Meet the speakers at Romanian Business Services Forum & Awards 2019, on May 7

Colin C. Lovering has been living and working in Romania since 2009 when he arrived to offer consultancy and advice to organisations looking for growth and profitability and founded Achieve International.
Read Full article »
Antoniu Panait: Meet the speakers at Romanian Business Services Forum & Awards 2019, on May 7

Managing Director for VASTINT Romania since 2009, Antoniu Panait has an executive experience of more than 10 years, mainly in real estate.
Read Full article »
Andrei Voica: Meet the speakers at Romanian Business Services Forum & Awards 2019, on May 7

Andrei Voica, Director Project Management and Workplace Consultancy, Colliers International. Truly passionate about his work and always eager to add value to each project.
Read Full article »
Romulus Caralicea: Meet the speakers at Romanian Business Services Forum & Awards 2019, on May 7

Romulus is Wipro's Information Security, Risk & Compliance Lead for Europe. In his role he is managing internal audits and compliance activities for all clients and internal functions based on the corporate ISO
Read Full article »
George Didoiu: Meet the moderator of Romanian Business Services Forum 2019 CEO LEADERS DEBATE, on May 7

In his 15 years of real estate, George Didoiu advised on the relocation of top IT&C, finance-banking and consultancy companies, which total over 10,000 employees.
Read Full article »