George Rotariu, CEO Bitcoin Romania: Bitcoin and fiduciary coins are not rivals

Blockchain technology behind bitcoin can bring improvements to current financial systems, according to a statement of George Rotariu, Bitcoin Romania CEO, at a recently held "Romania's Development Strategy" conference.

Rotariu also said that the new technologies behind the cryptocurrency can improve the current traditional financial systems. The manager stated that banks can integrate blockchain technology and in this way, transactions can be safer, faster and need not have a third entity. In turn, Radu Gratian Ghetea, chairman of CEC Bank's Board of Administration, said during the same conference that he can not specify at this moment whether cryptomonas will have an "extraordinary" future and will encompass the whole financial-banking system, due to the fast fluctuations in value for this currency.

According to Rotariu, Bitcoin Romania operates 15 ATMs (Automated Teller Machines) in most of the largest Romania cities and plan to reach 50 such transaction points countrywide.



---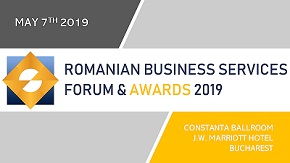 » Nomination are now open for Romanian B...
» PwC: The competitive advantages of Rom...
» Genpact, Luxoft and Oracle, top lessee...
» Philippe Beucher takes a new opportuni...
» CBRE: Romanian outsourcing industry ha...
» Romanian Outsourcing Summit 2016: Walk...
» Romanian Outsourcing Awards for Excell...
» The Outsourcing industry announces its...
» CrowdStrike opens a new center of inno...
» Gartner: Romania moved into the first ...

Nomination are now open for Romanian Business Services Forum and Awards

Nominations have opened for the prestigious Romanian Business Services Forum & Awards. The 2019 awards will continue to recognize and reinforce the important contribution made by business services professionals
Read Full article »
Study: 89 per cent of finance teams yet to embrace Artificial Intelligence

Report by Association of International Certified Professional Accountants and Oracle shows that almost 90 per cent of finance teams do not have the skills to support digital transformation.
Read Full article »
Bucharest, in the top of cities in Europe with the largest number of experts in high-tech industry

Bucharest is among the top cities boasting the most experts in the high-tech innovative industry, with over 70,000 current employees, next to London, Dublin, Madrid or Budapest, reads a study conducted by CBRE
Read Full article »
CBRE study: Post-millennials, the happiest about their offices

During 2018, real estate consultancy company CBRE conducted the first study dedicated to work environment in office buildings in Bucharest. The respondents have been structured in four age segments, such as Z g
Read Full article »
Deloitte's Tech Trends 2019 report: Beyond the digital frontier

The recently released Deloitte's Tech Trends 2019: Beyond the digital frontier, as each Tech Trends report in the series conducted by the consultancy company, lobbies for embracing the increasing, often mind-b
Read Full article »