Cognizant acquires Romanian-rooted digital engineering leader Softvision

Cognizant recently announced it has entered into a definitive agreement to acquire Softvision, LLC, a privately-held digital engineering and consulting company focused on agile development of innovative software solutions and platforms.

The transaction is expected to close in the fourth quarter of 2018 subject to the satisfaction of the closing conditions, including regulatory review. Terms are not being disclosed.

Softvision is a leader in developing custom digital products using unique collaborative engineering methods. The combination of capabilities from Softvision and Cognizant creates one of the top digital engineering companies in the world and a leader in software product development, helping clients innovate at speed and execute at scale.

Founded more than 20 years ago in Silicon Valley, Austin, Texas-based Softvision works with Fortune 500 clients in financial services, retail, consumer products, healthcare and other industries. Softvision's agile delivery teams, called pods, combine a global network of design, technical and engineering experts, working collaboratively in studios, to help clients create digital consumer products and scalable digital platforms. With a significant presence in the digital engineering hub of Romania, Softvision's network includes over 2,850 creative technologists. Cognizant plans to continue use of the Softvision brand following the acquisition.

"By joining forces with Cognizant, we can combine our unique engineering, design and digital product development approach with Cognizant's scale and digital expertise in areas like artificial intelligence, virtual reality, IoT, human science and others to provide even more innovative solutions and impactful experiences," said, Andres Angelani, Softvision's CEO.

"This is an exciting next step in our evolution started 20 years ago in Romania servicing cutting-edge technology companies and scaling to work with the world's top brands," said Softvision Founder and CTO Laurentiu Russo.

"Innovation and speed to market are paramount for our clients," said Gajen Kandiah, President, Cognizant Digital Business. "Softvision's unique culture, talented people, and agile model of small, multi-disciplinary client teams, fits well with Cognizant's collaborative approach of innovating with clients to tackle complex, mission-critical business initiatives."

Kandiah, added, "Extending Softvision's approach to digital engineering, integrated cross-functional teams, agile culture, and talent development across our own teams is a key element of our strategy. This synergy, together with Cognizant's deep technology and industry expertise, will enable us to deliver custom cloud-based software and platforms better and faster, helping more clients transform their businesses to become digital leaders."



---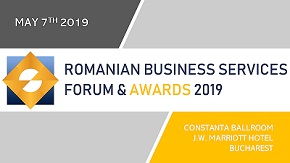 » Meet the winners of ROMANIAN BUSINESS ...
» Evolving from consumers of resources t...
» ROMANIAN OUTSOURCING AWARDS FOR EXCELL...
» Pepper Escu, the first humanoid robot ...
» Rebranding Creativity 2019, the first ...
» Volvo Cars and Uber present production...
» Preparing for the new future
» Berg Software Romania: Reasons to outs...
» George Rotariu, CEO Bitcoin Romania: B...
» George Didoiu: Meet the moderator of R...

Digital Transformation Conference to take place on June 19 at Bucharest

The Diplomat – Bucharest organizes Digital Transformation Conference to be held on 14 of June in Bucharest, at Hilton Hotel - Regina Maria Hall, starting 8:30 AM.
Read Full article »
L&D Conference by The Diplomat Bucharest took place on June 4th at Bucharest

The Diplomat-Bucharest organizes the Third Edition of its Learning & Development CONFERENCE on 4 June, 2019 at InterContinental Hotel Bucharest starting 09:00 am.
Read Full article »
Meet the winners of ROMANIAN BUSINESS SERVICES AWARDS, 2019 edition

ROMANIAN BUSINESS SERVICES FORUM & AWARDS 2019, in its fifth year, brrought on May 7, in Bucharest, a new concept event with engaging keynote sessions by industry leaders, interactive panel discussions, network
Read Full article »
Few hours away from to the long awaited CEO Leaders Debate, a premiere of Romanian Business Services Forum and Awards

We are a few hours away to the long awaited CEO Leaders Debate, a premiere of Romanian Business Services Forum and Awards on May 7.
Read Full article »
Colin C. Lovering: Meet the speakers at Romanian Business Services Forum & Awards 2019, on May 7

Colin C. Lovering has been living and working in Romania since 2009 when he arrived to offer consultancy and advice to organisations looking for growth and profitability and founded Achieve International.
Read Full article »