Cognizant acquires Romanian-rooted digital engineering leader Softvision

Cognizant recently announced it has entered into a definitive agreement to acquire Softvision, LLC, a privately-held digital engineering and consulting company focused on agile development of innovative software solutions and platforms.

The transaction is expected to close in the fourth quarter of 2018 subject to the satisfaction of the closing conditions, including regulatory review. Terms are not being disclosed.

Softvision is a leader in developing custom digital products using unique collaborative engineering methods. The combination of capabilities from Softvision and Cognizant creates one of the top digital engineering companies in the world and a leader in software product development, helping clients innovate at speed and execute at scale.

Founded more than 20 years ago in Silicon Valley, Austin, Texas-based Softvision works with Fortune 500 clients in financial services, retail, consumer products, healthcare and other industries. Softvision's agile delivery teams, called pods, combine a global network of design, technical and engineering experts, working collaboratively in studios, to help clients create digital consumer products and scalable digital platforms. With a significant presence in the digital engineering hub of Romania, Softvision's network includes over 2,850 creative technologists. Cognizant plans to continue use of the Softvision brand following the acquisition.

"By joining forces with Cognizant, we can combine our unique engineering, design and digital product development approach with Cognizant's scale and digital expertise in areas like artificial intelligence, virtual reality, IoT, human science and others to provide even more innovative solutions and impactful experiences," said, Andres Angelani, Softvision's CEO.

"This is an exciting next step in our evolution started 20 years ago in Romania servicing cutting-edge technology companies and scaling to work with the world's top brands," said Softvision Founder and CTO Laurentiu Russo.

"Innovation and speed to market are paramount for our clients," said Gajen Kandiah, President, Cognizant Digital Business. "Softvision's unique culture, talented people, and agile model of small, multi-disciplinary client teams, fits well with Cognizant's collaborative approach of innovating with clients to tackle complex, mission-critical business initiatives."

Kandiah, added, "Extending Softvision's approach to digital engineering, integrated cross-functional teams, agile culture, and talent development across our own teams is a key element of our strategy. This synergy, together with Cognizant's deep technology and industry expertise, will enable us to deliver custom cloud-based software and platforms better and faster, helping more clients transform their businesses to become digital leaders."



---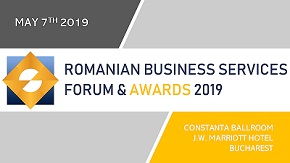 » Nomination are now open for Romanian B...
» PwC: The competitive advantages of Rom...
» Genpact, Luxoft and Oracle, top lessee...
» Philippe Beucher takes a new opportuni...
» CBRE: Romanian outsourcing industry ha...
» Romanian Outsourcing Summit 2016: Walk...
» Molson Coors started to grow its busin...
» Romanian Outsourcing Awards for Excell...
» The Outsourcing industry announces its...
» CrowdStrike opens a new center of inno...

Nomination are now open for Romanian Business Services Forum and Awards

Nominations have opened for the prestigious Romanian Business Services Forum & Awards. The 2019 awards will continue to recognize and reinforce the important contribution made by business services professionals
Read Full article »
Study: 89 per cent of finance teams yet to embrace Artificial Intelligence

Report by Association of International Certified Professional Accountants and Oracle shows that almost 90 per cent of finance teams do not have the skills to support digital transformation.
Read Full article »
Bucharest, in the top of cities in Europe with the largest number of experts in high-tech industry

Bucharest is among the top cities boasting the most experts in the high-tech innovative industry, with over 70,000 current employees, next to London, Dublin, Madrid or Budapest, reads a study conducted by CBRE
Read Full article »
CBRE study: Post-millennials, the happiest about their offices

During 2018, real estate consultancy company CBRE conducted the first study dedicated to work environment in office buildings in Bucharest. The respondents have been structured in four age segments, such as Z g
Read Full article »
Deloitte's Tech Trends 2019 report: Beyond the digital frontier

The recently released Deloitte's Tech Trends 2019: Beyond the digital frontier, as each Tech Trends report in the series conducted by the consultancy company, lobbies for embracing the increasing, often mind-b
Read Full article »