Google to offer free courses for young programmers and business incubators

Google announced the launch of the "Digital Workshop for Programmers", aimed at offering free courses to students who want to learn to program and young people who want to become technology entrepreneurs. These activities will be run in three hubs built in partnership with three universities in the country: Bucharest University, Technical University of Cluj-Napoca and Politehnica University of Timisoara.

The activity of Google hubs for programmers has two components, a company release states. First of all, in these spaces will be organized courses for students. Courses are free and run for 10 weeks. Interested students can opt for Java courses, Android development for beginners or advanced learners. More details here: https://goo.gl/AhCGGN. The three Google hubs for programmers will also act as start-up incubators, providing free co-working space for young people working on developing their own applications and wanting to launch a start-up. Young entrepreneurs benefit from support and individual mentoring sessions in Google hubs to identify start-up growth opportunities, Google expert training sessions, and access to Google Cloud for Startups. The program lasts for 6 months and ends with a Demo Day session where young people present their ideas to a community of investors and technology experts.

The Digital Developer Workshop is part of "Grow with Google" initiative, a global project that aims to create opportunities for everyone by offering free courses, resources and advice. Through the Digital Workshop, launched in 2016 in Romania, Google aims to help people find a job, advance their career, or develop their business by acquiring digital skills.


---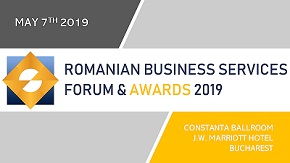 » Nomination are now open for Romanian B...
» PwC: The competitive advantages of Rom...
» Genpact, Luxoft and Oracle, top lessee...
» Philippe Beucher takes a new opportuni...
» CBRE: Romanian outsourcing industry ha...
» Romanian Outsourcing Summit 2016: Walk...
» Romanian Outsourcing Awards for Excell...
» The Outsourcing industry announces its...
» CrowdStrike opens a new center of inno...
» Tremend joins Mellanox in powering the...

Nomination are now open for Romanian Business Services Forum and Awards

Nominations have opened for the prestigious Romanian Business Services Forum & Awards. The 2019 awards will continue to recognize and reinforce the important contribution made by business services professionals
Read Full article »
Study: 89 per cent of finance teams yet to embrace Artificial Intelligence

Report by Association of International Certified Professional Accountants and Oracle shows that almost 90 per cent of finance teams do not have the skills to support digital transformation.
Read Full article »
Bucharest, in the top of cities in Europe with the largest number of experts in high-tech industry

Bucharest is among the top cities boasting the most experts in the high-tech innovative industry, with over 70,000 current employees, next to London, Dublin, Madrid or Budapest, reads a study conducted by CBRE
Read Full article »
CBRE study: Post-millennials, the happiest about their offices

During 2018, real estate consultancy company CBRE conducted the first study dedicated to work environment in office buildings in Bucharest. The respondents have been structured in four age segments, such as Z g
Read Full article »
Deloitte's Tech Trends 2019 report: Beyond the digital frontier

The recently released Deloitte's Tech Trends 2019: Beyond the digital frontier, as each Tech Trends report in the series conducted by the consultancy company, lobbies for embracing the increasing, often mind-b
Read Full article »