London Stock Exchange Group appoints Andreea Stanescu as General Manager for Romania

London Stock Exchange Group (LSEG) announced that Andreea Stanescu has been appointed General Manager, Romania. Andreea will be reporting to Dee Liyanwela, Head of Business Services Ltd (BSL) Sri Lanka and Romania.

In her new role, Andreea will oversee the Group' new Business Services centre in Bucharest. LSEG announced earlier this year that it had selected Bucharest as the location for one of its operational hubs. The new centre will initially employ up to 200 employees across a range of roles within the Group's Shared Services company, BSL. BSL currently delivers technology, data services and corporate functions across the Group's operating entities.

Andreea has held a number of senior operational and IT infrastructure roles, most recently at Stefanini, where she was Vice President EMEA Delivery. In her role, she was responsible for managing seven office locations serving global international clients. Andreea has also held roles at Optima Solutions and Services and Vodafone Romania, where she was a member of the Executive Council.

Dee Liyanwela, Head of BSL Sri Lanka and Romania, said:"I'm delighted to welcome Andreea Stanescu to London Stock Exchange Group in her new role as General Manager, Romania. Andreea brings considerable operational management experience to the role, which will be of great benefit as we establish our new Business Services centre in Bucharest. Andreea will also work closely with the Group's other operational hubs to deliver technology and data services across LSEG's global business entities.

"Romania offers a highly skilled workforce and we have been impressed by the calibre of candidates to date and we look forward to building our operations in Bucharest."


---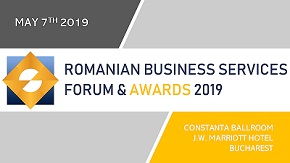 » Nomination are now open for Romanian B...
» PwC: The competitive advantages of Rom...
» Genpact, Luxoft and Oracle, top lessee...
» Philippe Beucher takes a new opportuni...
» CBRE: Romanian outsourcing industry ha...
» Romanian Outsourcing Summit 2016: Walk...
» Romanian Outsourcing Awards for Excell...
» The Outsourcing industry announces its...
» CrowdStrike opens a new center of inno...
» Tremend joins Mellanox in powering the...

Nomination are now open for Romanian Business Services Forum and Awards

Nominations have opened for the prestigious Romanian Business Services Forum & Awards. The 2019 awards will continue to recognize and reinforce the important contribution made by business services professionals
Read Full article »
Study: 89 per cent of finance teams yet to embrace Artificial Intelligence

Report by Association of International Certified Professional Accountants and Oracle shows that almost 90 per cent of finance teams do not have the skills to support digital transformation.
Read Full article »
Bucharest, in the top of cities in Europe with the largest number of experts in high-tech industry

Bucharest is among the top cities boasting the most experts in the high-tech innovative industry, with over 70,000 current employees, next to London, Dublin, Madrid or Budapest, reads a study conducted by CBRE
Read Full article »
CBRE study: Post-millennials, the happiest about their offices

During 2018, real estate consultancy company CBRE conducted the first study dedicated to work environment in office buildings in Bucharest. The respondents have been structured in four age segments, such as Z g
Read Full article »
Deloitte's Tech Trends 2019 report: Beyond the digital frontier

The recently released Deloitte's Tech Trends 2019: Beyond the digital frontier, as each Tech Trends report in the series conducted by the consultancy company, lobbies for embracing the increasing, often mind-b
Read Full article »