SMEs, micro-enterprises can access funds of over 29 million Euro to develop IT&C projects


More than 29 million Euro are available for small and medium-sized enterprises (SMEs) in the field of information technology (IT & C) for the development of research and development projects under state-aid schemes, Minister of Communications and Information Society Bogdan Cojocaru told a news conference quoted by Agerpres.


"As we can see every day, the IT & C sector is on the rise, and we see its contribution to the formation of the Gross Domestic Product (GDP), which is currently around 7 percent. Because we want to continue this trend, it is important to come up with business support measures, and we are doing that under state-aid schemes by encouraging entrepreneurs to invest at home. SMEs will be able to get funding for the development of innovative projects that have an effect on the industry as a whole. We had the opportunity to publish the funding rules for these state-aid schemes on October 16. We hope to secure European funding for projects with added value for IT & C. Funding will be provided under two aid schemes, namely a state-aid scheme and a de minimis aid scheme. The total budget we have is 94 million euros, of which about 29 million euros were made available for this first call. We want to finance such projects, because the required human resource exists in Romania," Cojocaru said.

He added that the total funding for Action 2.2.1 - Supporting an increase in the added value generated by the ICT sector and innovation through the development of clusters is 94 million euros and will be extended until 2020.

Of the budget allocated to the first call of this programme, 25 million euros (116,752,500 lei) come from the European Regional Development Fund (ERDF), and the rest from the national budget.


---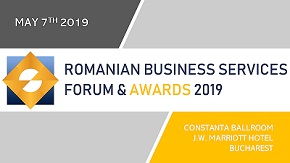 » Nomination are now open for Romanian B...
» PwC: The competitive advantages of Rom...
» Genpact, Luxoft and Oracle, top lessee...
» Philippe Beucher takes a new opportuni...
» CBRE: Romanian outsourcing industry ha...
» Romanian Outsourcing Summit 2016: Walk...
» Romanian Outsourcing Awards for Excell...
» The Outsourcing industry announces its...
» CrowdStrike opens a new center of inno...
» Tremend joins Mellanox in powering the...

Nomination are now open for Romanian Business Services Forum and Awards

Nominations have opened for the prestigious Romanian Business Services Forum & Awards. The 2019 awards will continue to recognize and reinforce the important contribution made by business services professionals
Read Full article »
Study: 89 per cent of finance teams yet to embrace Artificial Intelligence

Report by Association of International Certified Professional Accountants and Oracle shows that almost 90 per cent of finance teams do not have the skills to support digital transformation.
Read Full article »
Bucharest, in the top of cities in Europe with the largest number of experts in high-tech industry

Bucharest is among the top cities boasting the most experts in the high-tech innovative industry, with over 70,000 current employees, next to London, Dublin, Madrid or Budapest, reads a study conducted by CBRE
Read Full article »
CBRE study: Post-millennials, the happiest about their offices

During 2018, real estate consultancy company CBRE conducted the first study dedicated to work environment in office buildings in Bucharest. The respondents have been structured in four age segments, such as Z g
Read Full article »
Deloitte's Tech Trends 2019 report: Beyond the digital frontier

The recently released Deloitte's Tech Trends 2019: Beyond the digital frontier, as each Tech Trends report in the series conducted by the consultancy company, lobbies for embracing the increasing, often mind-b
Read Full article »