Oracle's Larry Ellison charts a course for the future of cloud technology

In the opening keynote at Oracle OpenWorld 2018, Oracle Executive Chairman and CTO Larry Ellison shared his vision for a second-generation cloud that is purpose built for the enterprise and more technologically advanced and secure than any cloud on the market.

While first generation clouds are built on decade old technology, Oracle's Gen 2 Cloud is built specifically to help enterprises run the most demanding workloads securely. With a unique architecture and capabilities, Oracle Cloud is able to deliver unmatched security, performance, and cost savings. Additionally, only Oracle Gen 2 Cloud is built to run Oracle Autonomous Database, the industry's first and only self-driving database, a company press release quoted upon the event.

The foundation for Oracle's Gen 2 Cloud, Oracle Cloud Infrastructure is designed to run any enterprise workload securely. Oracle's modern IaaS offers native support for Oracle Autonomous Database and delivers new levels of security from core to edge to protect critical data.

Ellison spoke at length about the current state of cyber defense, which he said, "is just not good enough." To address that paramount issue, he announced new Oracle Cloud Infrastructure security services that are highly automated, detective and predictive to help remediate threats. Reinforcing Oracle Cloud's unmatched security, Ellison illustrated how Oracle Autonomous Database uniquely scans for security threats and applies security updates while running to help prevent cyberattacks and data theft.

Oracle founder Larry Ellison explains how the revolutionary Autonomous Database Cloud keeps your data safe.

He also discussed Oracle Autonomous Database, the world's most popular and technologically advanced database. Revolutionizing data management, Oracle Autonomous Database manages, tunes and patches itself, enabling users to innovate faster on a highly secure platform that allows users to pay for only what they use.

Extending Oracle's autonomous database capabilities, Ellison previewed new deployment options, including dedicated Exadata Cloud Infrastructure and Cloud at Customer. Customers can choose to deploy their Autonomous Database on Dedicated Exadata Cloud Infrastructure for workload isolation to enable even greater security and reliability for mission-critical workloads. Oracle Autonomous Database Cloud at Customer is ideal for customers who choose not to move to a public cloud because of regulatory requirements but want the benefits of Oracle Autonomous Database in their own data center.
Ellison also shared benchmark test results during short demonstrations that highlighted the huge performance gap between Oracle and Amazon. The benchmarks compared Oracle Autonomous Database against key offerings from Amazon: Oracle Database running on Amazon Relational Database Service (RDS), Amazon Aurora, and Amazon Redshift. The direct comparisons also showed Oracle Autonomous Database's ability to continue running without interruption during database updates, highlighting the difference between Amazon's 99.95 percent reliability and availability SLAs, which exclude most sources of unplanned and planned downtime, and Oracle's 99.995 percent SLA guarantees.

Quotes from Ellison's keynote:
• "The design goal of Oracle's Gen 2 Cloud is one secure platform to run everything. It's easy to say, very hard to do, to build a secure cloud. It required a fundamental re-architecture of our cloud."
• "We've used a lot of the latest artificial intelligence and machine learning to find threats. You're not fighting with both hands tied behind your back anymore."
• "Our goal has always been as we move from one generation of computing to the next, to protect your investment in data and applications and make it easy to lift and move that into the next generation. We did that with Gen 2 Cloud."
• "With Oracle Autonomous Database, there is nothing to learn and nothing to do, which makes it really easy to use. Developers are more productive, they bring up new applications, they do a better job of analyzing data. Your system is more reliable. It never goes down."



---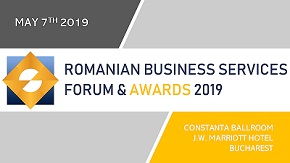 » ASE's HR Master – helping students i...
» Digital Transformation Conference to t...
» Romulus Caralicea: Meet the speakers a...
» Meet the winners of ROMANIAN BUSINESS ...
» Zitec launches its 1 million Euro Mirr...
» Deloitte Romania opens application for...
» Genpact's COO: Staying ahead of the cu...
» Marian V. Popa: Meet the speakers at R...
» Randstad Employer Branding 2019: Salar...
» Antoniu Panait: Meet the speakers at R...

Digital Transformation Conference to take place on June 19 at Bucharest

The Diplomat – Bucharest organizes Digital Transformation Conference to be held on 14 of June in Bucharest, at Hilton Hotel - Regina Maria Hall, starting 8:30 AM.
Read Full article »
L&D Conference by The Diplomat Bucharest to take place on June 4th at Bucharest

The Diplomat-Bucharest organizes the Third Edition of its Learning & Development CONFERENCE on 4 June, 2019 at InterContinental Hotel Bucharest starting 09:00 am.
Read Full article »
Meet the winners of ROMANIAN BUSINESS SERVICES AWARDS, 2019 edition

ROMANIAN BUSINESS SERVICES FORUM & AWARDS 2019, in its fifth year, brrought on May 7, in Bucharest, a new concept event with engaging keynote sessions by industry leaders, interactive panel discussions, network
Read Full article »
Few hours away from to the long awaited CEO Leaders Debate, a premiere of Romanian Business Services Forum and Awards

We are a few hours away to the long awaited CEO Leaders Debate, a premiere of Romanian Business Services Forum and Awards on May 7.
Read Full article »
Colin C. Lovering: Meet the speakers at Romanian Business Services Forum & Awards 2019, on May 7

Colin C. Lovering has been living and working in Romania since 2009 when he arrived to offer consultancy and advice to organisations looking for growth and profitability and founded Achieve International.
Read Full article »