Oracle delivers personalized digital assistants for companies

Oracle announced the availability of Oracle Digital Assistant, enabling companies to build personalized digital assistants to help employees work smarter and more productively.

With Oracle Digital Assistant, employees leverage one comprehensive digital assistant that can be trained to support domain skills from multiple applications such as HR, ERP, CRM and CX. Leveraging AI, Oracle Digital Assistant understands context, derives intent, and identifies and learns user behaviors and patterns to automate routine tasks proactively, such as expense approvals and meeting reschedules, on behalf of the user.

Built on Oracle Cloud Infrastructure, Oracle Digital Assistant goes well beyond standard chatbots available today that provide simple, single skilled, linear responses. By applying AI for natural language processing (NLP), natural language understanding (NLU) and machine learning (ML), Oracle is in a unique position to leverage its breadth and depth in enterprise applications, and offer a digital assistant that can truly span the enterprise.

"This is the next evolution of chatbots and a major milestone in delivering a smart digital assistant for the enterprise," said Suhas Uliyar, vice president of AI, Bots, Mobile, Product Management, Oracle. "Oracle Digital Assistant has the power to transform organizations, helping our customers achieve greater productivity and enriched user experiences."
By this, users can converse with the Oracle Digital Assistant via the voice interface but it is platform agnostic and is equally optimized to support popular messaging platforms including Slack, Facebook Messenger, WeChat, and Alexa. Analytics are built-in so businesses can monitor usage to gain real time insights into user behavior and app performance, for continued analysis and improvements, an Oracle press release informs.

---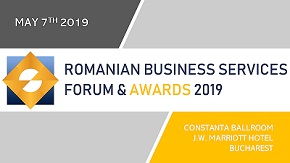 » Nomination are now open for Romanian B...
» PwC: The competitive advantages of Rom...
» Genpact, Luxoft and Oracle, top lessee...
» Philippe Beucher takes a new opportuni...
» CBRE: Romanian outsourcing industry ha...
» Romanian Outsourcing Summit 2016: Walk...
» Romanian Outsourcing Awards for Excell...
» The Outsourcing industry announces its...
» CrowdStrike opens a new center of inno...
» Tremend joins Mellanox in powering the...

Nomination are now open for Romanian Business Services Forum and Awards

Nominations have opened for the prestigious Romanian Business Services Forum & Awards. The 2019 awards will continue to recognize and reinforce the important contribution made by business services professionals
Read Full article »
Study: 89 per cent of finance teams yet to embrace Artificial Intelligence

Report by Association of International Certified Professional Accountants and Oracle shows that almost 90 per cent of finance teams do not have the skills to support digital transformation.
Read Full article »
Bucharest, in the top of cities in Europe with the largest number of experts in high-tech industry

Bucharest is among the top cities boasting the most experts in the high-tech innovative industry, with over 70,000 current employees, next to London, Dublin, Madrid or Budapest, reads a study conducted by CBRE
Read Full article »
CBRE study: Post-millennials, the happiest about their offices

During 2018, real estate consultancy company CBRE conducted the first study dedicated to work environment in office buildings in Bucharest. The respondents have been structured in four age segments, such as Z g
Read Full article »
Deloitte's Tech Trends 2019 report: Beyond the digital frontier

The recently released Deloitte's Tech Trends 2019: Beyond the digital frontier, as each Tech Trends report in the series conducted by the consultancy company, lobbies for embracing the increasing, often mind-b
Read Full article »